Rams Fall Short On Homecoming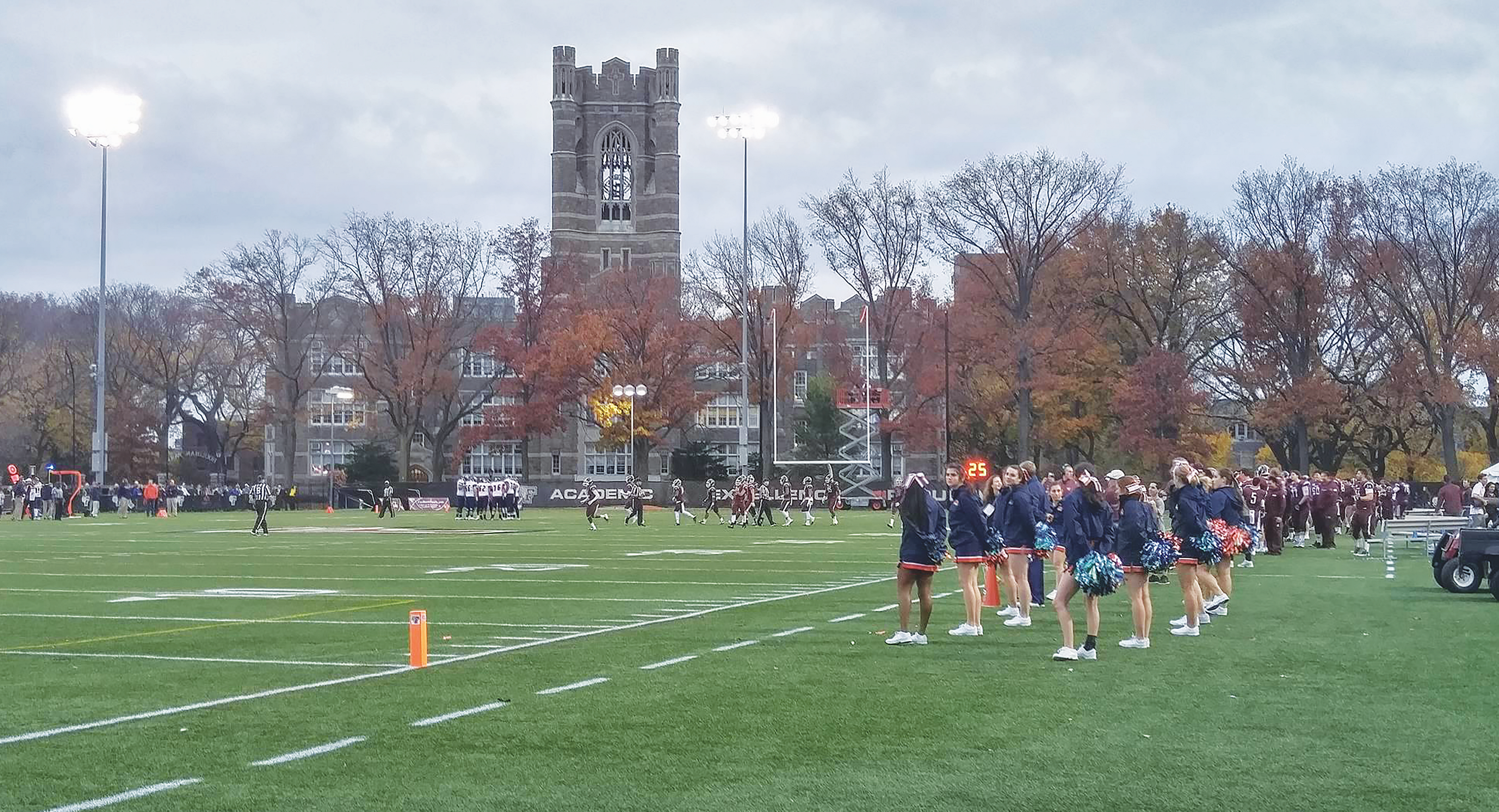 Rams old and new gathered together on Nov. 4 at Jack Coffey Field as Fordham University celebrated its 176th Homecoming in the Bronx. The event serves many purposes: a time of remembrance for all the University's proud alumni, a time of celebration for the seniors whose experience at Fordham is nearing its end and a time of excitement as the whole event centers around one football game. This year, that football game squared Fordham up against Holy Cross. It's an annual matchup, and years of close competition and strong fan turnout on either side has arguably made the Crusaders our fiercest rival in the Patriot League. This year's Ram-Crusader Cup match was no different, but the 42-20 Fordham loss capped off an event that did leave those travelling from Lincoln Center on the D Train or the friendly Ram Vans feeling underwhelmed.
The day started off like any other Homecoming. A sea of alumni and current undergraduate Rams filed into a massive tent, wherein burgers, hot dogs and coffee were made readily available. A mob swarmed around the understaffed and seemingly unprepared drink staff, where all Rams could freely exchange their purchased drink tickets for cups of beer or wine, as long as no one wanted anything during the actual game, or after the whole event had run dry (not ten minutes after halftime started).
Concessions notwithstanding, at 1 p.m. the Rams were as ready to take the field, or at least so they thought. On the sixth play of the game, graduate student and starting quarterback Kevin Anderson, GSAS '18, was sacked and injured, coughing up the ball in the process while the Crusaders' Nick McBeath jumped on the fumble and returned it 61 yards for the first score of the game. Anderson would return to the game after missing only a single three-and-out drive by backup Austin King, FCRH '19, only to re-aggravate his injury in the second quarter, leaving this match in the hands of King and fellow backup Luke Medlock,FCRH '18.
With their starting quarterback out of the game, the Rams were forced to lean further on what has been their game plan all year: give the ball to All-American running back Chase Edmonds, FCRH '18 and just let him go. As always, that's exactly what he was ready to do. Two quick scores had the Rams up 14-7, and in the process Edmonds became the Patriot League's all-time leading rusher, breaking the 5,621 yard mark set by former Colgate running back Jordan Scott. By the end of the game, Edmonds had reached 5,677 yards, to go with his career 7,184 all-purpose yards, another Patriot League record.
Another Holy Cross score came late in the second quarter, and after a disappointing and beer-less halftime, thing just got worse for the Rams on the field. An interception and a failed 4th down conversion on Fordham's first two drives of the half put them in a hole they wouldn't find a way out of, falling to a 42-14 score before a last minute touchdown on a pass from King to Hunter Harris, FCRH '21, (both recording their very first scores of the season on the play) gave Ram fans something to cheer about on their way back to Lincoln Center.
Joseph Longo, Fordham College at Lincoln Center (FCLC) '18, explained that "It was nice getting to see something like [the scoring play] right before heading back. That will help to keep my mind off the loss." Of course, even in the small victories the Fordham football squad hoped to take on their way out of Jack Coffey Field, not everything worked out to plan: The final extra point attempt was blocked by Holy Cross' Neil Vorster and fell short of the goalposts. A fitting summation of the Ram's season thus far, Fordham's record sits at 3-7.
With only one more game to play this season, Fordham will look to right the ship and finish on the upswing Saturday Nov. 18th vs. Bucknell, who have gone 5-5 on the season, and their 2-3 record during conference play matches that of our Rams.