Is Fashion Modern?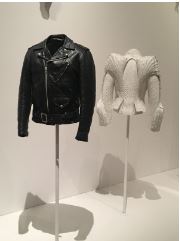 Is Fashion Modern? That is the name of and question being asked at The Museum of Modern Art's (MoMa) latest installment. The exhibit features 111 pieces of clothing, accessories, beauty products, tattoos and anything else that has something to do with fashion. Upon entering  the exhibit, you are met with a list of the items on display and an introduction to the exhibit, both plastered on the white walls in large black text.
The exhibit is staged in a huge, high-ceilinged room, so it was a lot to take in at first. I decided that the best way to approach the exhibit was to just choose somewhere to start and go from there. Almost right away I was surprised by the similarities of the items on display and the items in my own wardrobe. Among these things were a leopard printed coat, thigh high boots, a black leather jacket and a chunky knit sweater.
Other pieces featured were a collection of classic little black dresses, Nike Air Force 1s, a Hermes Birkin bag and a Tiffany engagement ring. Most, if not all, of the pieces shown are items that many would consider timeless. Some of the items featured were vintage pieces that I never knew were as popular decades ago as they were now. I saw black bodysuits, bandanas, statement belts and huge fur coats. I got to find out the background to many of these popular pieces, most of which I had no idea how or when they first became popular.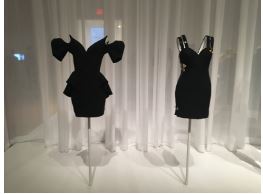 "Is Fashion Modern?" also showcased classic items like sports jerseys, but made them relevant to today by including a Colin Kaepernick jersey. It also displayed a Michael Jordan jersey, depicting the timelessness and significance of a sports jersey. Not only did these stand out to me because they were not something I would expect to see at this type of exhibit, but it also taught me the history and the origination of sports jerseys. The replication of famous players' sports jerseys was started in 1974 in the United Kingdom. The placards next to these pieces on display were one of the most interesting parts of the exhibit.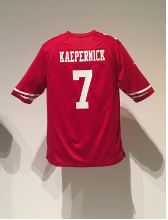 If I had not checked out this exhibit, I would have never known that the design of the bottle of one of my favorite perfumes, Chanel No. 5, has remained unchanged since it was first released in 1921. I also wouldn't know that one of my most worn pair of shoes, the Nike Air Force 1 was discontinued after its initial run. Since it was continued in 1985, Nike has released over 2,000 models of the shoe. The stories behind our clothes and shoes are something that we often don't think about.
If you want to find out the history behind some of your favorite pieces of clothing, you should definitely check out this exhibit. The main point of this installation at MoMa was to make you ask yourself "Is fashion modern?." After visiting this exhibit twice in the span of a week, my answer to that question is a resounding yes. The pieces that I didn't already own from the exhibit were pieces that I wanted to own. I got some serious fashion inspiration from this exhibit, one of the main reasons that I think fashion is modern.
It is hard to think of a piece of clothing or an accessory that has completely disappeared after it had its time in the light. Fashion is an ever-going cycle, playing a large part in how we distinguish different time periods from our own. Fashion inspires art, music and the clothes that we see on our favorite celebrities or in a museum inspire our next purchases. Once a piece of clothing is popular, everyone wants to have it and every store wants to sell it. Fashion is the past, present, and future.
If you want to decide for yourself if fashion is modern, I encourage you to check out "Is Fashion Modern?" at the Museum of Modern Art. Whether you love fashion, or your go-to is a pair of sweatpants and an oversized t-shirt, you will learn something about the clothes you wear at this exhibit.