A Trip to the Guggenheim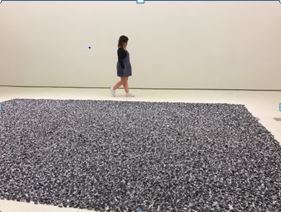 The Solomon R. Guggenheim Museum hosts a wide variety of unique art pieces that spark exploration into modern artistic endeavors and engage in social commentary of the world's past, present and future.  During an end-of-summer, spur-of-the-moment visit to the Guggenheim with some close friends, I got a look at many beautiful exhibitions (some of which are will be removed in the coming months) and learned about a few of the exciting new collections coming soon.
Going into this trip, I was quite eager; I had never been to the museum before and had heard nothing but positive things about it.  From first inspection I felt my excitement was justified. Architecturally, the "swirled" style of the building guides patrons smoothly from one wing to the next, and its size and designs allow for one to easily walk through the entirety of the museum in one visit.  The museum encompasses a variety of artistic expression, including late 19th century mysticism, impressionism (and postimpressionism), minimalism, and the wide umbrella term "modern art," which ranges from interactive sculptures and experiences to videos challenging one's sensory experiences, and, of course, interpretive paintings.
My friends and I meandered about and engaged in such genuine discussions because of the art.  While we were unable to see the infamous "America" gold toilet piece by Maurizio Cattelan, we found several items depicting its image in the gift shop, and from there we had such a meaningful talk about the state of politics.  Even when we passed through the Thannhauser collection full of French impressionist and post-impressionist paintings, we began to reflect on the simple look of some of the images that undoubtedly took days or even weeks to perfect.
Personally, my favorite exhibition was "Untitled (Public Opinion)", created by Felix Gonzalez-Torres.  Composed of specifically arranged individually wrapped pieces of black licorice, it represents desire, loss, and anger.  Because of its rod-like shape, many see it as the cost constant involvement in war: the empty shells that encased the bullets and the lives lost in fighting.  It was startlingly relatable to any point in American history and a poignant political and social statement.  It was also an interactive piece, in which patrons could take a piece of the licorice home with them, which to me also conveyed the invasive nature of war— how it has become a thing of normalcy for many, and a reality without it is seemingly unimaginable.
The museum's final piece at the top of its spiral is Jackson Pollock's "Alchemy", one of his earliest poured paintings that sparked a new way to create art: utilizing unconventional tools (i.e., sticks) and methods (i.e., pinning unstretched canvas on the floor) to create poured and splattered paintings in which lines exist not to enclose other colors, but are the dominant force at the front of the drawing.  Up close, it is erratic slashes across a canvas. From a distance, it becomes a scene— a moment captured in time of a scene subjective to the audience.
The Guggenheim does change exhibits on occasion, and the Mystical, Brancusi, and Pollock collections will be closing in the coming months. However, exciting new pieces, including a late 20th century look in Chinese art, Josef Albers's photos of Mexico and Peru, and Danh Vo's views on American history will be coming later this fall or early next winter.