Behind the Jellicle Ball: An Interview with Christopher Gurr
I am waiting outside the Neil Simon Theatre for Sunday's matinee performance of "Cats" to end. As the doors open, hundreds of patrons flow from the theater into the daylight on 52nd Street. Christopher Gurr, who plays Bustopher Jones and Gus the Theatre Cat in the current Broadway revival of "Cats," exits the stage door and makes his way through the autograph line. Once he's signed every Playbill and snapped every selfie, he will re-enter the Neil Simon, this time with me in tow. When the time comes, he greets me warmly, "You must be Cat!" After about two months of anticipation after Gurr had responded enthusiastically to my first inquiry about getting together for a chat, my nerves are quickly replaced with excitement and joy as he directs me through the dark backstage and brings me into the Jellicle cats' junkyard.
Gurr is an American actor who moved to New York City only in his forties. He immediately hit the ground running, booking his first commercial theatre role as Sir Bedevere and later King Arthur in "Monty Python's Spamalot" in the 2008 first national tour. Gurr claims he was "born in the Deep South, educated in the Midwest, ripened by the sun and sea of California and matured in the mountains of Appalachia before making home in New York City."
Gurr takes a moment to show me around the Neil Simon stage, one he is intimately familiar with. In 2014, Gurr made his Broadway debut in the play "All the Way" on this same stage. However, the sets could not look more different. The stoicism of the formal political setting has been replaced with absurdity in the form of oversized heaps to create the junkyard that the Jellicle cats call home. We end our tour in the balcony, where we sit only a few rows in front of where I sat the first time I saw the revival. We begin to chat about his journey from a 15-year-old theatre fanatic to actually living out his dream by breathing life back into two beloved musical characters that have been off Broadway for over 15 years. Turns out, Gurr's love for his favorite character, Gus, dates before the New York production of "Cats" had even began.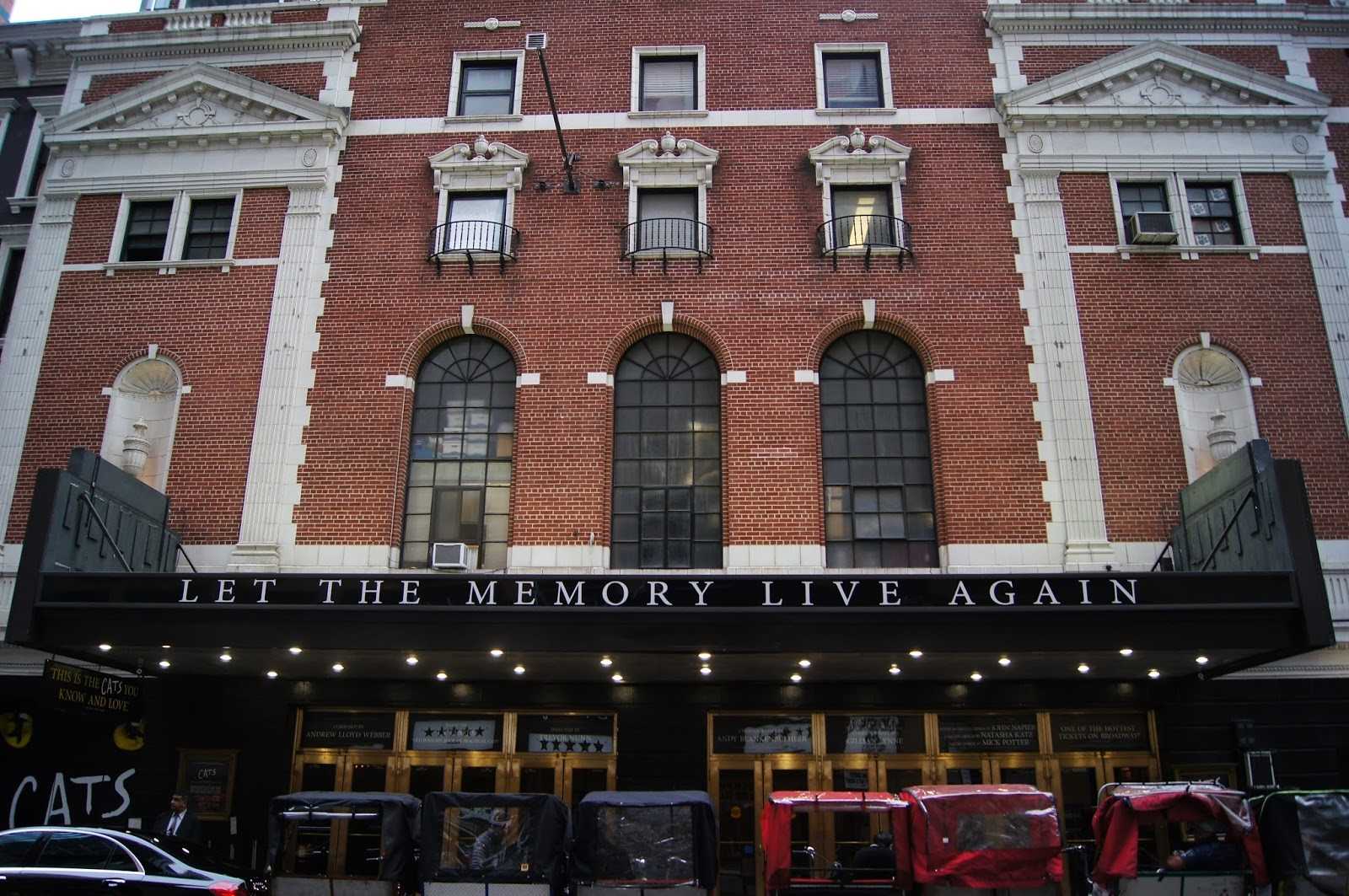 "I'd been thinking about Gus oddly enough since I was 15," Gurr begins. When Gurr first heard the song "Gus the Theatre Cat" as he listened to the original London cast recording of "Cats," he realized, as he puts it, "Oh! That's the song! That's the thing, right there!'" In high school, Gurr would imagine himself as the elderly Gus, singing along with the London cast into his mirror, a practice of imagination many musical theatre nerds know well. "On this stage every night, I do very much what I used to do in my bedroom," he reveals.
His familiarity with Gus allowed for what Gurr describes as, "the most calm audition processes." By committing to the Gus Gurr knew, he claims he was announcing to the casting team of the revival, "If you want me, if you would want me to play Gus, this would be the way I would do it, because he feels really close to me and I really love him and this is the way I would want to tell the story…Luckily for me," he adds, "they all agreed."
The decades of informal rehearsal clearly paid off, as Gurr landed the role, doubling for Bustopher Jones as well. However, many may argue that the luck wasn't so much Gurr's landing of "Cats" as it may have been the creative team of "Cats" landing Gurr. On opening night of the revival in an interview with Broadwayworld.com, a little man named Andrew Lloyd Webber—yes, that Andrew Lloyd Webber—said, "It's a fabulous company, and I think several of the performances are probably the best that I've ever seen it. Particularly, Gus the Theater Cat…That's extraordinary! A wonderful performance!"
For those unfamiliar with the world of musical theatre, Andrew Lloyd Webber is one of the most prolific and successful composers of modern musicals, creating classics such as "Evita," "Phantom of the Opera," "Joseph and the Technicolor Dream Coat" and, of course, "Cats."
"Cats" itself is a show about, well, cats. It is based on T.S. Elliot's collection of poems, "Old Possum's Book of Practical Cats." The musical is best summed up by one of the first numbers in the show, "Invitation to the Jellicle Ball," in which the cats tell the audience, "Jellicle cats meet once a year/At the Jellicle Ball where we all rejoice/And the Jellicle leader will soon appear/And make what is known as the Jellicle choice/…/[Old Deuteronomy] announces the cat that can now be reborn/And come back to a different Jellicle life." From this point on, a number of cats tell their stories through song and dance in hopes of having the honor of being chosen to ascend to the Heaviside Layer and be reborn. Don't know what a Jellicle cat is? Don't worry. Nobody does. Nobody really knows what's going on the entire show, to be quite honest.
According to Gurr, that's what makes "Cats" a show for the romantics. "You have to be okay with not knowing exactly what the hell is going on. Not only do you have to be okay with it, but you have to kind of like that! You have to kind of like having enough space to invent your own story…I think that people who love it deeply, it is the quality of the layers and the depths of it."
Gurr has the opportunity to experiment with one of three reflections on dying that "Cats" includes as Gus the Theater Cat, an old actor cat far past his prime. This meditation on death may seem like a heavy-handed subject to approach with cats, although it is the cats that make the difficult issue approachable. "It's the power of metaphor," explains Gurr. "It puts us at a distance and therefore it's safer for us to think about this. I worry about, every once in awhile, how frail to make Gus? How sad to make Gus? Because I know that there are audience members who sit here who are either approaching that age or who are taking care of people that age or who have grandmothers that are that age, and that is sad and scary and a lot of things to deal with. It's just a little tick safer if it's a cat, you know? It's just a level of removed of metaphor and poetry that makes hard things to grapple with easier to grapple with."
Aside from the prudence the character requires, Gurr is able to enjoy the freedom and unpredictability he experiences as Gus each night. Gurr is brought onstage as Gus by the actress who plays Jellylorum. Waiting to go on in the wings, Gurr places his hand in hers right before they walk onstage, turns to her and says, "Let's see what happens."
The freedom of interpretation isn't only Gurr's. "What the audience knows for sure about Gus and [Jellylorum]," the younger female cat who accompanies Gus, "is that she takes care of him, but that's kind of the only thing. They don't know why and they don't know how long." Gurr even revealed that this relationship has changed between different actresses who have played, or are playing, Jellylorum. The details of these relationships, although, remain a mystery as Gurr kept his secrecy.
The audience isn't the only one left in the dark about certain onstage relationships and backgrounds of and between the cats. One of the first days of rehearsal, Trevor Nunn, who serves as the Director of the revival, whispered secrets of each character into the corresponding performer's ear. It's been over a year since rehearsals began for "Cats," and Gurr says that he still discovers secrets, overhearing fellow cast members discussing their characters' relationships backstage.
Unfortunately, it has been recently announced that "Cats" will play its final show Dec. 30 of this year. When questioned about what he will take from this show in the future, Gurr says the freedom. "I have never been this free in a role," he shares. "The metaphor in my head is, 'Gus wakes up in the place that he lives, and he knows where the pub is, kind of…And then he wanders the street until he gets there…' And that's how I've been treating this. And I hope that whatever my next project is, even though I won't be playing a senile cat, that I still go, 'That's okay!' You know? As long as your prep is really good, as long as you have a really deep understanding like the underpinnings are good, to be that free."
It is this freedom and ultimately unpredictability that helps keep the show fresh every night to Gurr. These factors as well speak to the actor's talent and understanding of the role to have such tremendous flexibility and confidence in his relationship with Gus. The uncertainty that Gurr embraces while playing Gus would not be successful, nor perhaps even possible, if Gurr were not able to completely embody and emphasize with Gus, demonstrating his connection to beloved cat.
Because of his ability to play character roles, Gurr was told on his graduation day from Webster University, "Congratulations on graduation! You know you're not going to work until you're 40?" While to some it may seem harsh—it was the reality. Gurr didn't begin auditioning for commercial theater until he reached his 40s and booked his first commercial contract in the "Spamalot" national tour. "One of the best tricks I've ever pulled off in my life is showing up in New York City at 45 as a brand new, middle-aged guy," Gurr says.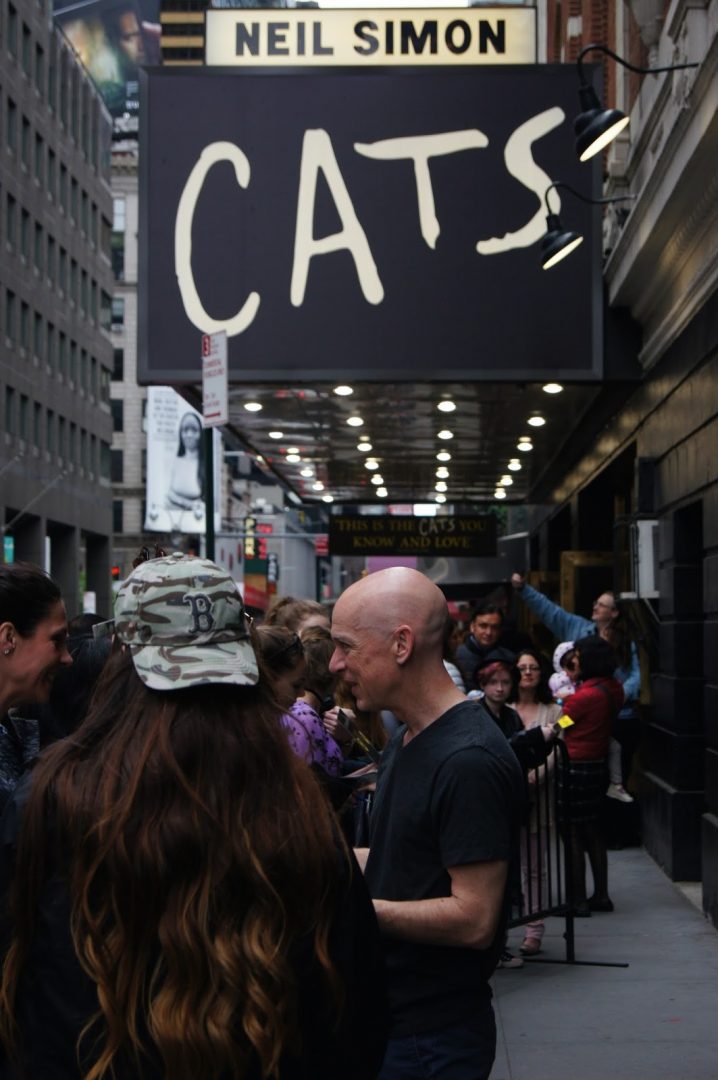 Gurr is even working on a book about his own work as a character actor. The book will include interviews with casting directors, other character actors, writers and other members of the theater community. Gurr is creating the book with Michael Dean Morgan, whom he worked with during his time at "Amazing Grace." The two came up with the idea when they both realized that there aren't any books written for character men and women. However, that's all the information Gurr could share with me at the moment, so following Gurr on Twitter @christophergurr is the best way to keep up with the actor and his other creative endeavors.
As our time together came to an end, I asked Gurr two important questions. I first ask him what he believed the responsibility of theater is in today's world. Gurr says that theater is a "great place to rehearse empathy." "As an audience member," he continues, "and as an actor. It is a gymnasium for empathy. We all come together, we're here at the same time and same place, that's what makes it different than from on camera, is that you have to agree to sit and we all have to agree to be in this room for two and a half hours. And concentrate on one…event, or telling of a story. But it's empathy…it's agreeing that you're not the only person on the planet, which I think right about now is a really important thing to be rehearsing."
I saved my most pressing, dire question for last:
How do I convince my friends and family to come see "Cats" with me for the fourth time?
Gurr assured me, "Either you are a hater or you are a lover of 'Cats.' No one runs temperate on 'Cats,' which is kind of cool. I mean actually that's a sign of good art, frankly, if people respond strongly one way or another."
And what does he tell his friends and family when they come to see "Cats"?
"Have a cocktail. Get in a looser state of mind. And sit down, and go on the ride."