UPDATED: Investigation of Cunniffe House Incident Finds No Evidence of Excessive Force
Hang on for a minute...we're trying to find some more stories you might like.
An independent investigation of an April 27 incident involving a confrontation between student protesters and Public Safety Officers (PSOs) found that the Public Safety officers did not use excessive force and acted in accordance with established University rules.
T&M Protection Resources conducted the investigation and sent their report to the University. In an email sent on June 15 at 11:50 a.m., Bob Howe, assistant vice president for communications and special advisor to the President, briefly discussed the reports finding, and provided a link to the document.
The released pages of the report can be found on the Fordham News website. They include pages 9-14 and 65-66 of the report, which encompass the categories of "Summary of Relevant Results" and "Conclusion."
The names of those mentioned in the report have been redacted. No sources have disclosed the identities of those mentioned in the report to The Fordham Observer, but we have used context and publically available information to deduce the identities of individuals involved. All individuals whose identities were indeterminable are referred to as they are in the report.
T&M states that they interviewed 20 individuals, "most of whom were present, involved in, or witnessed the Incident," reviewed 13 videos, reviewed the university's Department of Public Safety safety procedures, the university's Demonstration policy and "numerous media articles and social media content."
"SEVERAL PROTESTERS APPEAR TO HAVE INITIATED PHYSICAL CONTACT WITH PSOS BY PUSHING, SHOVING — AND POSSIBLY EVEN PULLING, GRABBING, AND KICKING PSOS."
In addition to finding "no evidence of PSOs excessive force," the investigation concluded that protesters had been trespassing. A "review of video and eyewitness accounts" found that a student–referred to as Student E in the report–posing as a flower delivery person gained entry to the Cunniffe House and waited for a text to open the doors of the foyer until the group of protesters arrived. Video footage of Sapphira Lurie, FCLC '17–referred to as Student L in the report–reveals her texting in front of the closed doors, walking up to them just as they opened from the inside. She denied in her Student Statement that the flowers were used to obtain entrance to the Cunniffe house, stating that the flowers were meant to be delivered "as a nice gesture."
T&M add that their "review of video and eyewitness accounts of the Incident found that the protesters were trespassing, had gained entry to the foyer area in question by means of a pre-planned ruse designed to gain access to what was clearly known to be a locked and private area, and that several protestors appear to have initiated physical contact with PSOs by pushing, shoving – and possibly even pulling, grabbing, and kicking PSOs."
In the report, the investigators cite the "Unusual Occurrences" section of the Safety & Security Department Manual of Procedures, which includes the statements "remove all from harm's way" and "coordinate strategy to ensure the safety of the University community is paramount."
Multiple PSOs noted that at the time they were worried about protesters breaking and falling through the glass wall of the foyer. Video evidence shows Director K telling the protesters to back out of the foyer. "I don't want anyone going through this glass. Get out" K said.
The report also states that the PSOs were following the university's Demonstration Policy, which states "No group may be admitted into a private office unless invited…Passage through reception areas leading to a private office must not be obstructed."
Additionally, "PSOs clearly appear to have adhered to the Level 2 Emergency Response section of the University's Emergency Management Plan which states, 'Campus demonstrators' civil rights will be protected at any demonstration site. However, demonstrators will be disallowed from blocking sidewalks, streets, access points, building entrances/exits.'"
As a part of the investigation, T&M interviewed students and PSOs, and consulted many of the videos circulated on social media, including those posted by Fordham Students United, The Fordham Ram, and the FU Paper.
One interview references the Fordham Students United video, which shows a closeup of Sarah Lopez's "face under PSO M's armpit amid chants of 'Let Her Go.'" Lopez is referred to also Student L in the report.
"These optics suggest that [Lopez] is being held; however, based on PSO interviews with T&M, these appear to be images taken out of context that don't show the the force used by protestors," the report details.
According to an interview held with the public safety officer referred to as PSO M, the PSO said that "[Lurie], Student P, and [Lopez] physically assaulted him in efforts to pry him from his position blocking the foyer's half-glass door, alleging that Student L pulled his shirt and jacket, and Student P pulled his shirt and kicked his right leg and Student L kicked his left leg" [both Lurie and Lopez are referred to as "Student L" in the report, making their identities indeterminable in this instance].
Lurie and Student P admitted to using force against PSO M, but said that their efforts were "actions to help [Lopez]."
PSO M states that he did not assault anyone, a claim with which the students involved agreed. However, according to the report, PSO M's forearm made contact with the head of an undisclosed individual, "but he stated he 'does not know if it was incidental or intentional.'"
However, Lopez  "sounded like she was crying while describing her encounter inside the foyer with PSO M" on a phone interview with T&M, "saying she felt like she couldn't breathe and thought she was dying."
She made similar statements in a first-person account published in the FU Paper on May 4, noting that "Nobody asked us if we were injured." Dean Rodgers and VP Carroll–identified as Dean R and VP C in the report–told T&M that they personally asked her if "she needed medical help," with a video showing them approaching her when she rested on the porch following the incident.
In response to her statements, PSO M and another public safety officer identified as PSO F said that it was "[Lopez's] own persistent grip on the handle of the foyer door that kept her against the glass wall."
The report also details multiple statements from students claiming that students present were injured, including assertions that students were injured, and were only injuring PSOs because the PSOs were harming Lopez. The report also references a statement made on Facebook by Student L that Dean Rodgers had "personally assaulted a student on [April 27]." The university and T&M have found this claim to be false.
On May 23, the university published an "April 27 Incident Fact Check" in order to "help members of the University community sort out the facts from exaggeration or outright fiction," according to an email from Senior Vice President for Student Affairs Jeffrey Gray to the Fordham community sent that day. Many of the claims the university makes in this document are corroborated by T&M's fundings, including the assertion that Dean Rodgers had harmed students and that PSOs had used excessive force.
The university has consulted T&M Protective Resources in the past for other incidents of alleged misconduct. In November 2015, the university consulted T&M to investigate an incident where a student alleged that Fordham University Emergency Medical Services (FUEMS) had mishandled a sexual assault case. McShane described the organization in a Feb. 2, 2016 email as "a firm which employs former prosecutors and other law enforcement experts, and specializes in investigating claims of misconduct."
The decision to employ a private investigation is, "made on a case-by-case basis" according to Assistant Vice President for Communications Robert Howe. "The seriousness of the allegations (subsequently found baseless) against Public Safety and the need to avoid the appearance of a conflict of interest were the determining factors," Howe said.
The university had previously conducted its own investigation, performed by a Public Safety supervisor who was not a firsthand witness to the incident. The university also interviewed students following the conflict, and both processes ruled in favor of the innocence of the PSOs.
About the Writers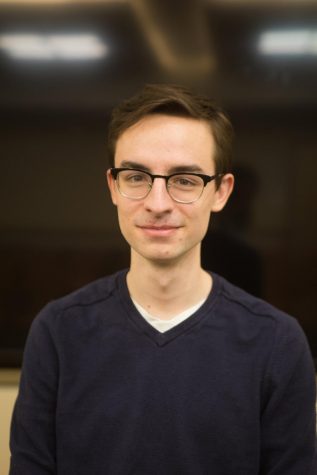 COLIN SHEELEY, Editor-in-Chief
Colin Sheeley is the editor-in-chief of The Observer and a senior at Fordham University. He has covered campus protests, university finances and the Office of Title IX, but he would really just like to write about rocks and baseball.