Billy Recce to Premiere Solo Cabaret Show at Famed 54 Below
Finals Week: the time where most Fordham Lincoln Center (FLC) students can either be found in the library with their noses stuck in books or at Midnight Breakfast eating Fr. McShane's famous breakfast sausage. But Billy Recce, Fordham College at Lincoln Center (FCLC) '19, had something else besides breakfast food on his plate: a solo cabaret show at Feinstein's/54 Below to plan.
Recce will be making his Feinstein's/54 Below debut on July 7 with "The Perks of Being a Snowflake," a collection of satirical and outrageous musical melodies that discuss everything from Secretary of Education Betsy DeVos and conservative internet personality Tomi Lahren to the time he thought his roommate freshman year was going to be a neo-nazi.
Playing at 54 Below has been a dream of Recce's since the supper club opened in 2012. "A lot of new musical writers get their start writing in cabaret idioms, so I really want to follow that suit," he explained. One of these writers is Tim Minchin, the composer and lyricist of Broadway's "Matilda" and "Groundhog Day," whom Recce listed as one of his biggest idols in the comedy writing business.
Recce has enlisted the help of several Fordham students as well as some notable theater talent to help him showcase his work. "I have someone who was in Lazarus Off-Broadway and…Lindsay Nicole Chambers ("Submissions Only"). Those are the definites right now," he said. Recce continued, stating "There are a lot of Fordham people lined up as well. Roger [Dawly, FCLC '19] is doing something. Rachel [Ravel, FCLC '19] is doing something. Sarah Lazarus [FCLC '19]…it's a good mix of people."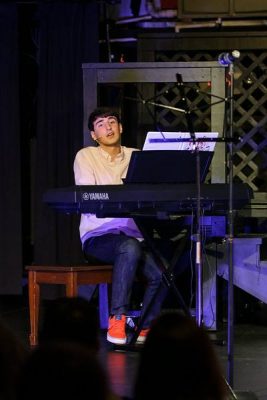 With a catalogue of songs that include subjects like Justin Bieber's alleged shapeshifting abilities and Barron Trump, one must be curious as to how Recce decided to title his show "The Perks of Being a Snowflake."
"It's hard for young people to make their voices heard without the older generation just calling us 'snowflakes,' and I think that's just hilarious," Recce laughed. "I thought, 'Oh my god, we have to call it "The Perks of Being a Snowflake!' That's what a lot of my stuff looks at— understanding how we as young people and young liberal people kind of fit into the world. The show is a celebration of being the special, precious little snowflakes that we are."
Though only 19 years old, Recce has already made his mark on the musical theater world. At 17, Recce became the youngest writer to ever present a musical at the New York Musical Theatre Festival (NYMF).The musical, aptly titled "Balloon Boy: The Musical," is a satirical take on the sensational 2009 news story of Falcon Heene, the six-year-old boy who supposedly got stuck in a homemade weather balloon. "Balloon Boy" has won several awards and was produced by a high school in Colorado located right outside of the city where the actual event took place. Last summer, Recce's work was also featured in a show produced by the York Theater.
So, what can attendees expect from Recce's upcoming show? To laugh and think which, after all, is the point of satire. "This world is nuts. You need an outlet to be able to laugh and enjoy yourself for two hours. I think people will laugh a lot with this show, but it will also make them think which is what I love," he explained. "[It will give] people laughter in the moment and then something to think about on the train ride home."
Tickets to "The Perks of Being a Snowflake" can be purchased online at the Feinstein's/54 Below website. If you can't wait until July 7 to hear Recce's songs, portions of his catalogue can be found on Recce's personal YouTube channel.
Featured image by Jim Esposito Photography