Brandon J. Ellis' Life in the Theater
Between laughter and bites of food before a Friday evening performance, Brandon J. Ellis, star of the Tony-nominated new musical "Bandstand," and I chatted on the phone about his life in the theater. Nothing was off limits—he discussed his unique road to the stage, the differences between performing on Broadway and the West End and the challenges of originating a role on Broadway. Though he is not a household name (yet), Ellis' latest role in "Bandstand" could be the role that gets him there.
A trained cellist, Ellis always assumed he would pursue music as a career. That all changed when he began acting in plays at 17. "I kind of got bit by the bug," Ellis laughs. He decided to attend the University of North Carolina at Greensboro (which has a great music and acting program) and let fate decide what he should pursue: his age-old love of music or his newfound passion for acting. Ellis recounted the story of that fateful day where the trajectory of his life was altered forever: "I auditioned for their BFA program and kind of said to myself 'You know, I am going to put it all in here and if I get into the BFA program, then perhaps this is meant to be.' I got in and the rest is history."
Turns out, although he majored in theater in college, Brandon didn't have to choose between becoming a musician and an actor after all— he has utilized his musical skills throughout the various projects he has taken part in, everywhere from Broadway to the West End of London. Laughing, Ellis commented that he "never actually thought that [his] musicianship was going to play into [his] career so much." However, when it started to, Ellis decided he was "just gonna go with it."
Ellis made his Broadway debut as a standby for two roles and four instruments (cello, drums, double bass and guitar) in the 2006 revival of "Company." From there, he continued his trend of working as both a musician and actor on Broadway in 2012's "Once." This time, Ellis was charged with understudying five roles, each of which also required some musical ability. When the production ended its run on Broadway and moved to the West End, Ellis got the chance of a lifetime to become a full cast member in the new London production.
"Oh, it was incredible. It was a dream come true," Ellis said of his time in London. Getting the chance to perform in London, often dubbed as the mecca of theatre, as an American is something most actors dream of but never get the opportunity to do. Ellis was especially thankful of the experience because, as he described, getting promoted from an understudy to a full-time performer is not a common phenomenon.
"As a swing, or an understudy, or a standby, the dream is that you do a good enough job that they recognize you and they eventually bump you up. It's very rare for that to happen because you are so valuable as an understudy," he explained. "[In 'Once,'] I understudied five parts. It's much easier to find one person than a person to do five things. So, it's rare to get bumped up. The situation just happened to occur that our show closed, so they needed someone and they asked me. And what a dream come true that was. "
After experiencing both the European and American theater scene, Ellis said that the two were fairly similar. In London, casts are required to participate in mandatory group warm ups, something that Broadway companies are not required to do. Other than that, the biggest difference to Ellis was the culture. "It took me a while to warm up to it. Mostly the food…just trying to find where the good food was," he said between laughs. "The big part of going over there for me was just the experience of getting to perform and get bumped up in the show. And being on the West End."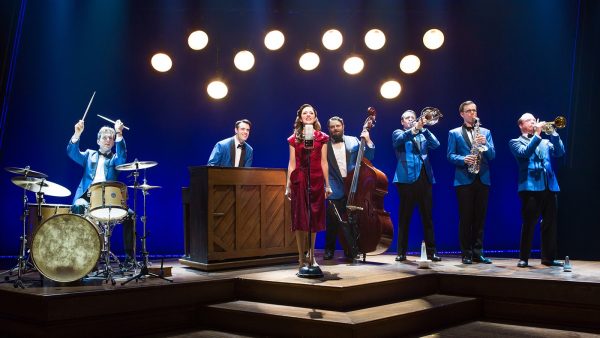 Now, Ellis is back on the Great White Way starring as Davy Zlatic, the bass-playing, alcoholic war vet that helped liberate Dachau in the new American musical "Bandstand." Set in the smoke filled, swing fueled night clubs of 1945, "Bandstand" brings the against-all-odds story of singer/songwriter Donny Novitski and his band of mismatched fellow WWII veterans to the stage. Directed and choreographed by Andy Blankenbuehler of "Hamilton" fame, "Bandstand" made its world premiere last season at the Paper Mill Playhouse in New Jersey before transferring to Broadway this spring.
Ellis, who had been involved with the production since its initial lab at Lincoln Center in 2015, said it was a dream come true to be able to see this work that is so close to his heart transfer to Broadway. "I knew [transferring to Broadway] was the goal. I mean it's a great show so there was that, but it's always incredible when [a transfer] happens because in this industry everybody is always going to Broadway," Ellis commented. "Every show says so. Every workshop you do, every reading you do every show is going to Broadway, so for this one to actually happen is like another on a list of dreams come true."
The day producers called the company into a meeting at Paper Mill to inform them of the impending transfer is one Ellis will never forget. "I sat down in the house [where] we had a meeting with the producers. When a producer calls a meeting, you never know what it's going to mean or what they are going to tell you," he explained. The meeting that day could have gone one of two ways: the show was either going to move to Broadway, or the last performance at Paper Mill would be where the show's journey ended. "They sat us down and said we are going to Broadway," Ellis said. "I mean, I can't describe the feeling that gives you…it's incredible."
Although Ellis has performed in several shows before, both on Broadway and regionally, this was the first time that he got the opportunity to originate a role, something he has wanted to do since moving to New York. "When I moved to New York, even when I was in college as an actor, I said my dream is to be cast in a brand-new show and get to create a role from the ground up. Even when I signed with my current agent, they said what are your goals and I had several of them, but one of my main goals was I wanted to be in the original cast of a new show and I wanted to originate a role," Ellis explained to me. Eleven years after his Broadway debut, he got to do it. "[Originating a role is] something that everybody hopes they get to do and I got to do it. I mean, every single night is an absolute blessing."
For Ellis, the first step in finding Davy was to figure out what he resonated with the most about the character. In this case, it was his humor. "We use humor as a shield, a mask or a weapon. The way [Davy] deals with what he's going through is to make a joke out of it," Ellis explained. "What I wanted to connect with first was the reason why Davy was always cracking jokes. He's not cracking jokes for joke's sake—those jokes are there any time darkness creeps in."
Ellis, who comes from a family of veterans, also turned to his immediate family to hear their experiences with war to try and connect more personally with Davy's story. After scoring the script, "like any good actor should," Ellis purchased a copy of "The Liberator" by Alex Kershaw. "That book is about a soldier who traveled the path that Davy would have traveled had he been on the team that liberated Dachau. I was able to pull from that experiences that I could apply directly to Davy," he explained.
However, though Ellis was able to find ways to resonate with Davy through his own research, it was not until he and the other cast members sat down with Got Your 6 that they truly began to understand their characters on a deeper level. Got Your 6, a term in the military that means "I've got your back," is a nonprofit organization that works to empower veterans. One way they do this is by fighting to ensure popular culture paints an accurate picture of the life of veterans in the media.  Ellis explained that Got Your 6 "reviews performances and certifies them as to whether or not they are an accurate portrayal of the experience. ["Bandstand" is] the first theatrical performance to ever get certified for its portrayal of the veteran experience."
Ellis describes the cast's conversation with veterans of recent conflict organized by the Got Your 6 organization as "one of the most powerful dramaturgical things [he's] ever done." The conversation, which lasted three hours in length, was spent with the Broadway performers just listening to the experiences and stories that the veterans had to share. According to Ellis, the conversation helped the entire Donny Novitski Band figure out how to approach the show, not just as individual actors, but as a unit.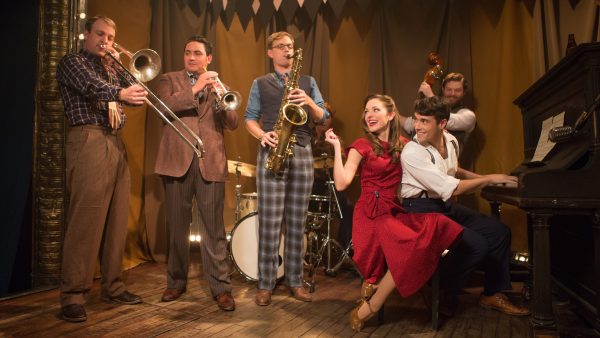 Although the entire conversation was helpful for the performers, one specific action resonated with Ellis, which he incorporated into the choreography for "'Counterpoint," a dance number in the show where the veterans can be seen literally carrying around their ghosts from the war. "One of the guys said that one of the things that a lot of [them] go through when [they] come back is that [they] are so used to having a weapon on [their] hip… [they'll] find [themselves] reaching for it and realizing it's not there because it was a comfort thing to reach for and have it," Ellis recounted. "That really resonated with me, so I put that into 'Counterpoint' where I reach for my weapon. That was a big thing that helped me and I'll say that for every guy in the band—going to that Got Your 6 talk was just the absolute best thing we did to prepare for the show."
However, knowing that the musical is getting so much outside praise for its accurate representation of the veteran experience only adds more pressure to the actors who are responsible for keeping the performances raw, vulnerable and real. "All of us guys talk about it all of the time," Ellis said of the additional pressure added by the fact that there are real veterans flocking to their show since it has been certified.
"The number one thing for us is to have those guys come and feel proud and feel like we're doing it right and accurately representing them. One of the greatest joys for all of us is speaking with the veterans after the show," Ellis detailed.
Of his several backstage experiences with veterans, one in particular involving a Vietnam vet stands out in his mind: "A Vietnam vet said that there was a stigma that came along with being a Vietnam vet. He carried that with him and he stopped putting 'veteran' on job applications. He was kind of… I don't know, obviously I can't understand it I wasn't alive and didn't experience it, but he was ashamed. He came backstage after the show and he said that this was the first time since [he'd] gotten back from Vietnam that [he felt] proud to be a veteran again,"
"Bandstand" is currently playing at the Bernard B. Jacobs Theatre, located on 45th Street between 8th Avenue and Broadway in Times Square.