Virtual Reality Dominates at 2017 Tribeca Film Festival
While many may associate the annual Tribeca Film Festival with its incredible selection of movies, the two-week long event has also become notable for its appreciation of technological advancements in storytelling—particularly through virtual reality (VR). For the past few years, the festival has hosted a Virtual Arcade featuring groundbreaking developments in storytelling that make the impossible a reality. This year's display did not disappoint, showing moving stories in the most interesting ways.
The Virtual Arcade was held in the Festival Hub on the 5th floor, a narrow room covered from side-to-side with a plethora of curtained-off partitions showcasing the latest in interactive storytelling. Each activity utilized state-of-the-art technology such as Oculus headsets, subwoofer backpacks and sound-inhibiting headphones to create as immersive of an experience as possible.
From animated tales in dystopian settings to real-life explorations of the world we live in, the experiences in the arcade varied drastically, transporting viewers to worlds never thought possible. One of the notable highlights included "Tree," an experience where you can see and feel what it is like to become, well, a tree. Your arms are the branches, your body is the trunk and you are able to watch yourself grow from the tiniest of seedlings into a magnificent being in the rainforest.
The experience molds technology with physical effects—before even putting on the headset and subwoofer backpack, you are required to plant a seed in the soil to symbolize your avatar's growth. Real fans blow in your face as your virtual tree grows, and the floor shakes as suddenly chainsaws buzz and you fall dramatically from your roots—a victim of deforestation. "Tree" was created by VR experts Milicia Zec and Winslow Porter, who are working hand-in-hand with The Rainforest Alliance to spread word about the importance of preserving forestland. When you put on your headset and look around at how magnificent life is as a tree, it is much easier to connect with them on an emotional level and appreciate their role in the world.
Another incredible experience with nature was "Under a Cracked Sky." Sponsored by the New York Times, this cinematic encounter takes place in the heart of the Arctic Sea, where a group of expert divers take you on their explorations below the ice. This experience allows you to view the ocean in its true form—a beautiful, entrancing world that we often forget exists. The Arctic holds the clearest water on Earth, where seals roam freely and ice caves linger in the distance. There are certain worlds that one would never think possible to visit, and this magnificent experience allows you to see the ocean for the splendid body it is and the mysteries it holds in its depths.
Typically, one would associate virtual reality with a video game or movie. However, "Hallelujah," a project honoring the late Leonard Cohen, welcomed viewers to a powerful experience through song. Placing the Oculus headset on, you come face to face with Bobby Halvorson, a Los Angeles-based composer and vocalist, who performs a moving a capella rendition of Cohen's most famous song. The experience is notable for its usage of light—as the headset moves, the light around Halvorson moves as well, making it seem like you are able to observe him in real time. The result of such realistic qualities is a breathtakingly moving experience, one that will leave even the slightest fans of the song in awe.
However, the real stars of the Virtual Arcade were the different Storyscape selections, two standouts being "Blackout" and "The Last Goodbye."
"Blackout" is a completely immersive documentary experience that takes viewers into a replication of an NYC Subway train where they are able to hear from a group of New Yorkers about their daily lives and struggles. From first glance, all one may see in the installation is a clean representation of a subway car—sterile, white benches match the walls and floor, the only different color being the metallic gray of the poles and bars. However, with the Oculus headset on, this model car suddenly becomes a platform where average New Yorkers all meet to tell their own life stories to audiences.
Created by the founding team at Scatter consisting of Alexander Porter (Director), Yasmin Elayat (Co-Director), James George (Technical Director) and Mei-Ling Wong (Producer), "Blackout" introduces virtual reality technology as a tool to bring audiences closer to home rather than to another dimension. The experience utilizes Scatter's own DepthKit technology, which is a volumetric tool that allows you to physically walk around the space and thus interact with each New Yorker on an intimate level.
Speaking of which, the New Yorkers featured in "Blackout" are as real as they get. The creative team managed to find a hodgepodge of people of different ethnicities, races and genders all willing to share their stories with the world. When placing your headset on, you see them either sitting or standing in the car, and the longer you approach one, the more of their story you will hear. From a native Syrian worrying about her family's turmoil in the nation to an African-American man discussing the gentrification of Harlem, the subway car merges tales of political, social and ethnic identity in an ever-changing and tumultuous world.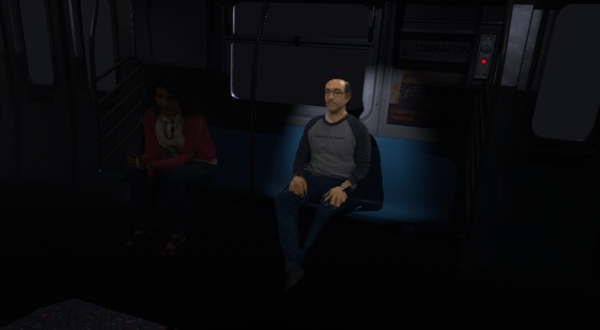 "The reason we call this project a documentary is that [the New Yorkers] are not actors, they are people we spent two to three hours interviewing," explained Porter in an interview. More than anything, Porter wanted to be sure that each New Yorker's representation in the experience would bring light to their story in the best way possible.
However, "Blackout" is also a unique experience in that it changes every day. The people you see in one experience will not be the same in the next. Throughout the festival, the Scatter team will be interviewing and scanning New Yorkers into the project in real time.
"The main idea of this episode is that we are making it here in Tribeca. We are capturing new people and adding them to the train, so what you see is a work in progress, adding people in throughout the festival," explained Elayat. "And the main idea is that every person's experience is different."
In a city as diverse as New York, the subway is the common meeting point where people of all walks of life sit together. In a world where the political climate is becoming increasingly threatening, it is important to look into the minds of those who feel the most oppressed in order to spark a conversation and encourage a change. "Blackout" is the type of VR experience that the world needs—a way to look into the eyes of another and hear their story for what it is in its rawest form. It is an ode to the average person, a way for the ones who feel oppressed or victimized to speak. Each day welcomes new voices and encourages more people to stop and simply listen.
Where "Blackout" thrives in the present, "The Last Goodbye" takes a look into the past. A co-production between Gabo Arora and Ari Palitz of Here Be Dragons, the USC Shoah Foundation, MPC VR and OTOY, the experience follows Holocaust survivor Pinchas Gutter as he toured the Majdanek Concentration Camp in July 2016 to cope with the loss of his family. The documentary-style piece entails the viewer visiting the camp with Gutter and exploring it in ways never seen before, all while listening to his heart-wrenching story of perseverance and loss.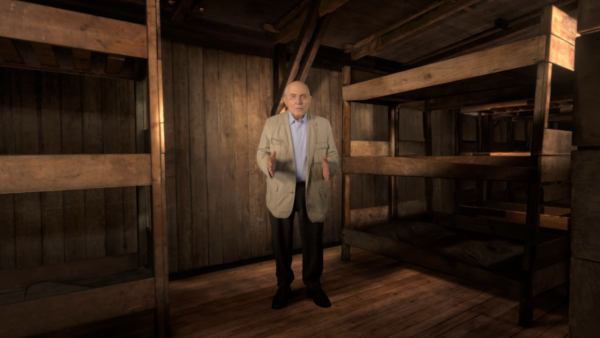 It is one thing to read about the Holocaust in a textbook, but to be virtually transported to a concentration camp along with a Holocaust survivor produced emotions I never thought could be obtained while wearing a headset. Gutter's story was remarkable, and to see him return to the camp that brought him and his family so much torment was powerful in and of itself. However, it was the emotion that he expressed throughout the experience that made it so captivating. It was as if he were conversing directly to me—I could see the pain in his eyes as he stood in the same rooms that gave him so many terrible memories, and at times it was his bravery that prompted me to keep my headset on. His emotions were raw and real, and his messages of peace and harmony should be heard during this unstable time.
Because of the sensitivity of the material, the VR installation was in itself another work of art. Designed by award-winning scenic and production designer David Korins, the installation is a metallic cylinder, its entrance facing the back to mentally prepare viewers for their one-on-one meeting with Gutter. The interior of the cylinder is a soft white box, a soothing area to smooth the transition in and out of reality. However, one of the most interesting and solemn parts of the installation is that, in order to enter, one must remove his shoes just as so many Jews were forced to decades ago. From beginning to end, "The Last Goodbye" was a captivating experience—a permanent record of the Holocaust preserved forever for future generations to embrace.
Overall, Tribeca's Virtual Arcade was a hodgepodge of different stories, but each experience possessed a common theme of unity. Viewers were connected to different parts of the world never thought possible in order to witness firsthand the tales of people persevering. From a tree standing tall in the rainforest to the haunting lyrics of Leonard Cohen's  "Hallelujah," the arcade expressed that we must be willing to connect with nature itself and those who live in it to really create a world worth living in. Virtual Reality is the newest form of storytelling, and Tribeca's selections all conveyed their tales in a captivatingly realistic way worthy of a standing ovation.