Student Protesters Clash with Public Safety
The Fordham community's social media was lit up Thursday afternoon by videos showing physical altercations between members of the Office of Public Safety and two Fordham students during a protest outside the office of University President Rev. Joseph M. McShane, S.J. Two Public Safety supervisors were later treated for injuries.
In the live stream uploaded by Fordham Students United (FSU), a suited man, identified by FSU as Security Services Investigator William J. McSorley, and Sarah Lopez, Fordham Rose Hill '18, appear to be locked in a physical battle against the wall of the hallway at Cunniffe House at Fordham Rose Hill (FRH) at the start of the video.
"You're hurting me!" Sorley repeatedly yells. "Ow, my leg, you're pulling on my leg!"
He appears to be blocking Lopez's movement with his body, as she shouts "It's honestly getting hard to breathe back here."
"Then get off me," he replies.
"I'm not on you!" she screams back.
In the original live streamed video that was published to the Fordham Students United (FSU) Facebook page, another student could be seen allegedly shoving a public safety officer and grabbing his collar. The video has since been taken down and replaced with an edited version that omits this part of the altercation.
The person holding the recording phone at one point falls to the ground, and after a few moments is asked to leave the area.
The FSU protest, the latest in what has become a string of rallies in favor of Fordham Faculty United (FFU)'s push to unionize, met on the steps of Walsh Library around 1 p.m. Participants marched to Cunniffe House, where last week they say they were told that McShane "had more important things to do" than respond to their requests for conversation.
According to the University statement, a group of student protesters forced their way into the foyer of the president's office. Public Safety supervisors blocked the entrance, the statement reads, and "demonstrators vigorously attempted to physically remove a supervisor from in front of the door," refusing "multiple commands…to leave the entrance."
Student organizer Sapphira Lurie, Fordham College at Lincoln Center (FCLC) '17, said the supervisor who "pinned" a student against the wall, seen in the video, "ran ahead of" the protesters to block the door. "[The student] was kind of trapped behind him and eventually he started to crush her…Eventually she was allowed to get out but only after protesters were chanting 'Let her go,' 'She can't breathe,' because she was saying that she was having difficulty breathing as he was crushing her…She's traumatized."
In the video, the student can be seen screaming and grimacing.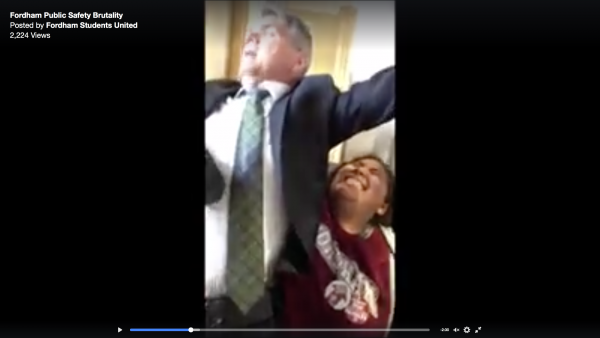 A statement from FSU called Public Safety's response "brutal force on multiple students," and accused the office of using "deception, physical violence, and coercion" "appalling and antithetical to our Jesuit values."
"[Our intention was] to speak to [McShane] about how he's been ignoring contingent faculty who make up the majority of the faculty here," said Lurie. "For him to send about 10 public safety, top administrators to deal with us rather than to actually speak to us about these issues that matter so much to the faculty and students here is really telling of the way that Fordham pushes people aside when they want the things that they deserve."
She also said she was pushed and sent "flying through the air."
The university statement said that the director of Public Safety at FRH sustained a gash on his left hand and was treated at Montefiore Hospital, and that a second Public Safety supervisor received a cut to his forearm which was treated at the University Health Center. The Fordham Ram reported via Twitter that the director's gash would require stitches.
Lurie said she had seen the gash and thought it might have been "due to friction."
"The man was very old, I don't know why he got involved in this, he shouldn't have been there," she said. "But he had very thin skin."
After the group was cleared from the door, the protest was allowed to continue, and although the statement says no protesters were injured, those who were there say it was "intense" on both sides.
"today's actions by protesters mark a regrettable departure from the civility and care for one another that is a deeply ingrained characteristic of Fordham culture."
Outside, a second altercation took place between three Public Safety officers and Kyle Prütz, FCRH '17, in which his glasses were broken.
Prütz said that this was his first time participating in a protest for the Fordham faculty, and that after following the movement of the crowd upstairs, he left the hallway when the altercation became an "intense and hostile stalemate." He said that he held a banner over the building's balcony while speakers continued the protest on the front steps, but when he descended the stairs he was stopped by the campus director of public safety.
"He immediately grabbed me in a restraining hold, and said that he wanted to ask me questions and that the dean wanted to speak with me," Prütz said. After he refused and "forcefully pulled" himself out of the hold, he was allowed to walk out of the building. But past the hedges, he was stopped again by three Public Safety officers.
Prütz says he thought he heard them threaten to suspend his account if he did not comply with their request to speak with the dean and provide his ID. "They were holding me back and I was trying to get out of it, it was a pretty significant struggle," he said. "I was definitely intimidated…I definitely didn't have a sense of will and autonomy in that moment."
A video provided by Gunar Olsen, FCLC '17 shows the officers holding Prütz by his shoulders and the two bags he carried. "They didn't accuse me of anything other than violating school policy, by refusing to show my ID," Prütz said. "And they also said I was 'obstructing an investigation.'"
Lurie called the interaction with Prütz a physical assault. "They grabbed him to try to identify him, which I would say is also a gross violation of their duties as public safety officers," she said.
In the video, the officers let Prütz go after students begin to loudly question why he was singled out. Now, he says, as a veteran he will need to visit a Veterans' Administration hospital to get another pair of glasses.
The statement from the university did not directly address specific actions in either altercation, but said, "Peaceful demonstrations are certainly part of the normal discourse the University expects and encourages on campus, but using physical force against any person is counter to Fordham's academic and Jesuit values. The University condemns the actions of those protesters who used physical force to make their point, and in the process injured two members of the Fordham community. We expect more from our students and are rarely disappointed, but today's actions by protesters mark a regrettable departure from the civility and care for one another that is a deeply ingrained characteristic of Fordham culture."
Update: A previous version of this article stated that Prütz was not close to the first physical altercation. It has been updated to reflect that he was.
Update, April 29 at 1:19 p.m.: The article has been updated to more accurately reflect what allegedly happened in a deleted portion of a Fordham Students United live stream video of the event. 
Update, May 1 at 6:23 p.m.: The article has been updated to reflect the identity of the student in the fore of the first video from the Fordham Students United live stream.