Banitt Thrives in Theatre Arts Administration Major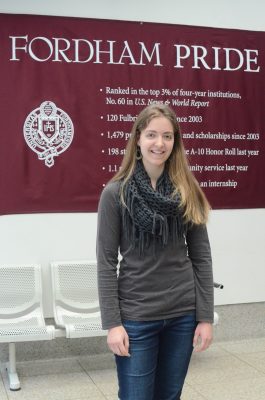 Maya Banitt, Fordham College of Lincoln Center (FCLC) '19, is currently completing a degree in Theatre Arts Administration. If this major sounds unfamiliar, that's because it should—Banitt designed it herself.
Banitt originally intended to major in International Studies but found herself constantly drawn to New York City's incredible theatre scene. During her freshman year alone, she saw over 60 shows. She also joined the Theatre Intern Network, a program sponsored by The American Theatre Wing, through which she attended monthly meetings and learned about possible careers in the theatre industry, besides just performance art, from working professionals. As a member of the Theatre Intern Network allowed Banitt to receive complimentary tickets to Broadway shows, volunteer at the Obie Awards (Off-Broadway Awards) and even attend the 70th Annual Tony Awards. After a year full of amazing theatre experiences, Banitt said to herself, "Wait a second, I spend all my free time being involved with theatre in the city. That's telling me something!"
Banitt knew that she did not want to major in theatre performance, but still wished to remain in the industry. By working closely with the Sophomore Dean, Dr. Pancza Graham, Banitt was able to design the Theatre Arts Administration major, which combines economics with theatre. Designing a major is not an easy process, and only a couple students decide to do this every year. In order for Banitt to accomplish this, she had to find two faculty members to mentor her, write a proposal explaining her intentions and research a potential capstone project to be completed senior year. The resulting major consists of eleven courses in business, economics and theatre which will all contribute to Banitt's success in the industry.
Through her coursework at Fordham, Banitt has had some amazing opportunities. For example, she was able to shadow the stage manager of the Broadway musical, "In-Transit." She also interns for Magis theatre company, where she assists with research to help the company get grants. Ultimately, Banitt hopes that these experiences will help her achieve her goal of becoming a company manager for a Broadway show.
"The theatre Intern Network had a panel of company managers and I remember hearing them talking about their jobs and it sounded really interesting. They're the direct liaisons between the business side of theatre and the actors. The company managers handle a lot of the budgeting, financial and logistical situations within the company. Everyday they're at the theatre talking with the actors and they're also at the offices dealing with the budgets and the business side of things. I'd love to be a company manager one day."
Besides learning about the business side of theatre, Banitt is an expert audience member. She attends more shows in one semester than most people attend in a lifetime. She even writes reviews for shows on show-score.com.  Her favorites include "Hamilton,"  "Dear Evan Hansen" and "Finding Neverland," which she's seen a total of 15 times. Banitt is an inspiration for anyone who wants to see the wildly-popular "Hamilton," and was able to get tickets by waiting in the cancellation line at 5:30 a.m. This season, Banitt is particularly excited to see "Miss Saigon," and "Amélie," starring original "Hamilton" cast member Phillipa Soo.
Despite a heavy course load, Banitt still makes time for all of her various interests. She has taken several semesters of ballet at The Ailey School and is a member of the Fordham University Choir, with whom she recently embarked on a tour of Puerto Rico. Banitt is proof of the endless opportunities New York City can provide for exploring interests and following passions.
Of her unique academic career, Banitt said: "I think if someone has a really strong idea of what they want to do with their life and what they're passionate about, they should follow that. If that means building a major because they can't find the right major within the school they're at, then I definitely recommend it. I feel like this is definitely the right course for me. It's not for everyone and it does take a lot of work and time, but it's going to pay off because it means I get to do what I'm passionate about."