OP-ED: Community: It takes inclusivity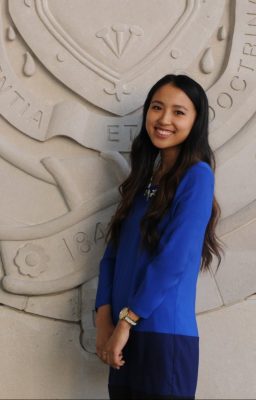 What defines a person? Is it their personality? Their intelligence? Their goals? Personally, I think it's the communities they are a part of. I believe that we are all part of a community – many communities in fact. These communities shape who we are, and in turn are also shaped by us. In my life, I have been a part of many communities that have brought me to who I am today, and to which I actively contributed. My high school lacrosse and debate teams, my church youth group and my family have all built me and made me into the person I was when I enrolled here at Fordham. Being an Orientation Leader, co-chair of the Winter Ball Committee and USG Vice President for Student Affairs have all helped to mold me into the student leader asking for your vote for USG President today.
I think one of Fordham's admirable traits is the celebrated sense of community that we as students strive to uphold. I regard the Fordham community as intimate, scholarly and welcoming to all. For these reasons, I place great value on being a part of Fordham and I further value working consistently to make this community better because although I consider us great, I know we are not perfect—yet.
To me, a community of individuals creates an opportunity to form fellowship with others through a feeling of common attitudes, interests and goals. When incidents of prejudice, or violations of free speech happen on campus, Fordham's feeling of fellowship weakens. If we hope to consistently improve our community, we need to ensure that we do the work to consistently make others feel welcome within it. I feel it is our responsibility to work together on the issues that leave so many feeling unheard. As USG President, I pledge that I would always be the first to make sure that the marginalized among us know they are welcomed and loved in our community.
If I am lucky enough to receive your vote and be elected as USG President, I will make improving the Fordham community at large the utmost priority of my USG administration. For example, one of the issues in my campaign platform is giving the international student community a greater voice; the international student community is a valuable part of our institution, but we so rarely include these students in our decisions and activities.
I also wish to ensure that every student voice will be heard by USG and the Fordham administration. As I'm sure you all know, USG general meetings are open to everyone and will remain as such, but I recognize that many students are unable to attend these meetings. Therefore, I plan on creating an online form so students may anonymously submit any comments or concerns they have regarding issues surrounding our community.
I am also willing to answer any questions you may have before the election, so please do not hesitate to reach out to @rebeccasongforusgpres on Facebook, or [email protected] Thank you for your time and (hopefully) your vote!