With Win, Skelton Earns Comparison to Reigning Rookie of the Year
Published: October 8, 2009
Fordham's John Skelton has been tagged with the "future NFL draft pick" label since the beginning of the season.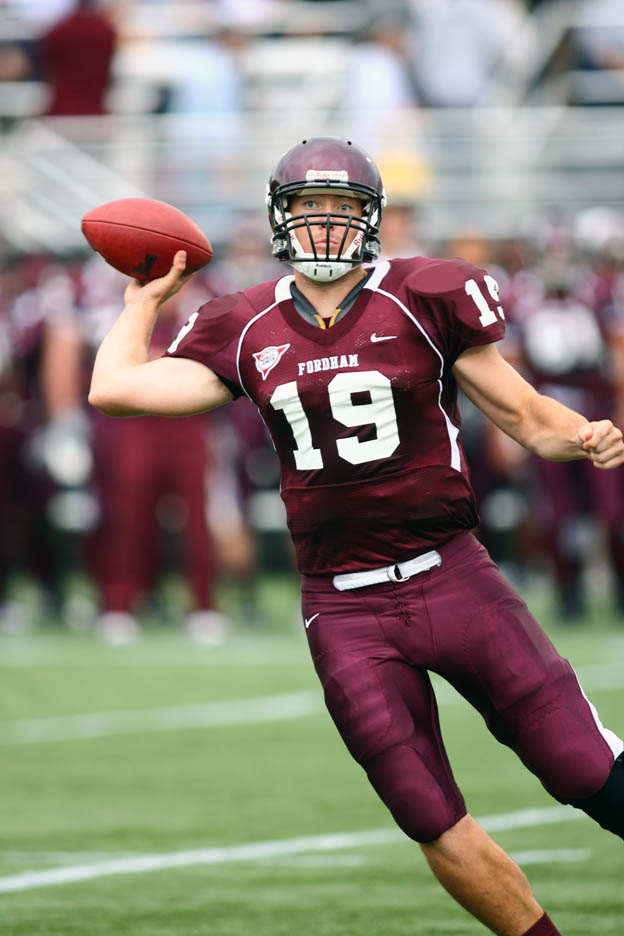 After engineering a 34-29 comeback win against Old Dominion University to claim Fordham's first victory, the NFL predictions seem a little more appropriate.
Old Dominion coach Bobby Wilder offered an impressive comparison.
"I coached against Joe Flacco at Maine," Wilder said. "And Skelton's better at this stage of their careers."
Flacco, quarterback of the Baltimore Ravens, was a first round draft pick in 2008 out of Delaware, a small NCAA Football Championship Subdivision school.
In his final season there, Flacco compiled 3,300 yards and 18 touchdowns, leading the Blue Hens to an 8-3 record and a post-season birth.
An impressive showing in the Senior Bowl and NFL combine boosted Flacco's draft profile, and he was selected 18th overall by the Ravens.
After an injury knocked out Baltimore's starting quarterback at the beginning of last season, Flacco managed an 11-5 record in his new role as a starter, amassing 2,971 yards and 14 touchdowns.
Even more impressively, Flacco won his first two postseason starts, defeating the Miami Dolphins and Tennessee Titans before falling to the Pittsburgh Steelers in the AFC Championship game.
Flacco earned AFC Rookie of the Year Honors for his performance.
Aside from attending schools with equally inauspicious football programs, Flacco and Skelton display similar size and ability: Flacco is listed at 6'6", 230 pounds, with Skelton measueing in at 6'5", 258 pounds, and both quarterbacks can unleash a big throw at any time.
"[Skelton is better] because of the mobility," Wilder said. "He's got the size and strength and can make NFL throws from hash mark to hash mark, but the difference is Skelton can flat out run."
After months of draft talk and an increased profile of Skelton and the Fordham program, Wilder's evaluation was a welcome one, especially since it followed a Rams win.
"I've been getting those comparisons all year," Skelton said. "But to hear it from an opposing coach who played against him is gratifying. Being mentioned with [Flacco] is an honor."
Skelton's 402 passing yards against Old Dominion was a career high, bringing his Fordham career total to 7,552 yards and 51 touchdowns. Both marks are all-time Fordham records.