NFL Kicker Reflects on Fordham Football Career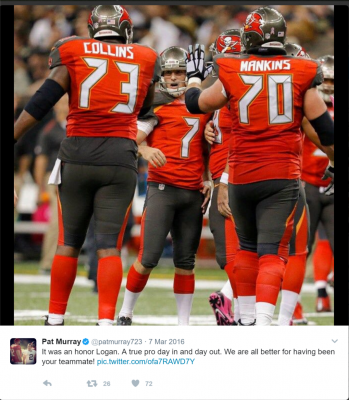 As the National Football League (NFL)'s season came to a close a little less than a month ago, most Fordham students moved on to watching basketball, hockey or waiting for the baseball season to begin. However, for one Fordham alumni the NFL season never stops; The season's close was was his chance to get back onto an NFL field. Patrick Murray, Gabelli School of Business at Rose Hill (GSBRH) '12, is currently a free agent kicker in the National Football League.
Murray grew up not far from here in Mahwah, New Jersey and attended high school at Don Bosco Preparatory. While at Fordham, Murray was the punter, placekicker and kickoff specialist during his four years. Murray appeared in 44 games, was named a First Team All-America placekicker by the Associated Press during his senior season and set a new Fordham and Patriot League record with 25 field goals.
This success on the field as a kicker led Murray to sign a future contract with the Tampa Bay Buccaneers in the NFL. Murray recalled receiving that phone call and stated that "getting that call just left me speechless, I felt pure elation." While appearing in all 16 games for the Bucs during the 2014 season, Murray went 20-24 on field attempts including five for six from beyond 50 yards. After being waived by the Bucs in May of 2016, Murray signed a contract with the Cleveland Browns only a month later. Unfortunately he would he would come down with an injury early in the 2016 season, released by the Browns in December 2016.
The NFL is known for having players who enjoy flash and lavish lifestyles. Murray, on the other hand, simply enjoys the opportunity to play the sport that he loves. When asked what his favorite perk of being an NFL player is, Murray simply responded that free cleats are all he needs. This outlook on the NFL lifestyle stems from the fact that Murray tries to stay grounded when it would be so easy to lose himself. This originates from one of the most important ideals that he took with him from Fordham. This ideal is: AMDG, or ad majoreum de glorium, for the greater glory of God. The football team wore these initials on their helmets every game Murray tries to embody this idea, and take it with him wherever he goes.
God and his family are two of the most important factors for getting through the daily grind of training, practicing and being a professional athlete. For all of the trials and tribulations that Murray has had to deal with, he did not have to do it alone. His family has been his may source of support since the first day, and has been a constant reminder for why he works all of the grueling hours, and puts himself through the difficult workouts, and training sessions.
In addition, God has been his guide. Growing up in an Irish Catholic household, Murray has consistently been reminded of the power of God, and said that "If God was not with me every step of the way, I would have never made it this far." Murray feels that God helps motivate him to do better, and set the world on fire.
Amongst all of this Murray said that his biggest motivation, and his driving force is: "Playing for a reason other than myself." In his freshman year of college, one of his close friends passed away after a car crash, and ever since then he has worn his initials, VC, on his wrist to remember him. This also is what being an athlete means to Murray; using his platform responsibly for good, and honoring and rejoicing the memories of all of those before him is what he strives to do most.
Murray prides himself in rejoicing those around him. When asked about his All-American season, he immediately praised his long snapper, Joe Sullivan, and his holder Brian Wentzel. According to Murray, "they are as much All-Americans as I am, and I couldn't have done anything without them." In addition, he feels that his coach while at Fordham, Joe Moorhead, not only helped him grow as a player, but also as a better person. Murray said that Coach Moorhead is a true Ram through and through was an absolute wealth of knowledge. Moreover, when talking about playing for the Cleveland Browns, Murray did not care about their poor record or the negative media attention which is driven towards the team, Murray focused on the history of the team. He talked about playing where one of the all time greats, Jim Brown, played and being able to play after Phil Dawson, who is one the best kickers of this generation.
This sense of amazement and glory that Murray feels is especially impressive when you take into account how difficult and tedious it is to stay in shape and prepared for NFL life. Part of staying in shape involves keeping his leg healthy. Since Murray is a kicker, in an average day he can attempt up to 40 kicks in practice, and on days closer to games, he can try up to 60.
Not only is Murray extremely talented and living the dream that many have, he is able to do so with the utmost respect for his opportunity and truly exemplifies the many values that are taught at Fordham. His appreciation for Coach Moorhead's is a prime example of this attitude. He stated, "Words can't describe how much everything that [Coach Moorhead] did for me meant, and helped me through this journey." He also extended a note of appreciation to his former roommate at Fordham, Greg Wilson, who is currently in the Canadian Football League, but was with the Broncos when they played the Seahawks in the Super Bowl, and is an extremely hard worker.
Murray is currently in discussions with various teams to get back on an NFL roster. Murray has been able to do seamlessly what many struggle with when transitioning to a life in professional sports, and that is staying humble and remembering his core values. Murray may have graduated from Fordham in 2012, but regardless of what team he lands up with he will always be a Ram.