Fantasy Football Gurus, Media Giants and the Bloggers that Criticize Them: Discussing Sports in the Digital Age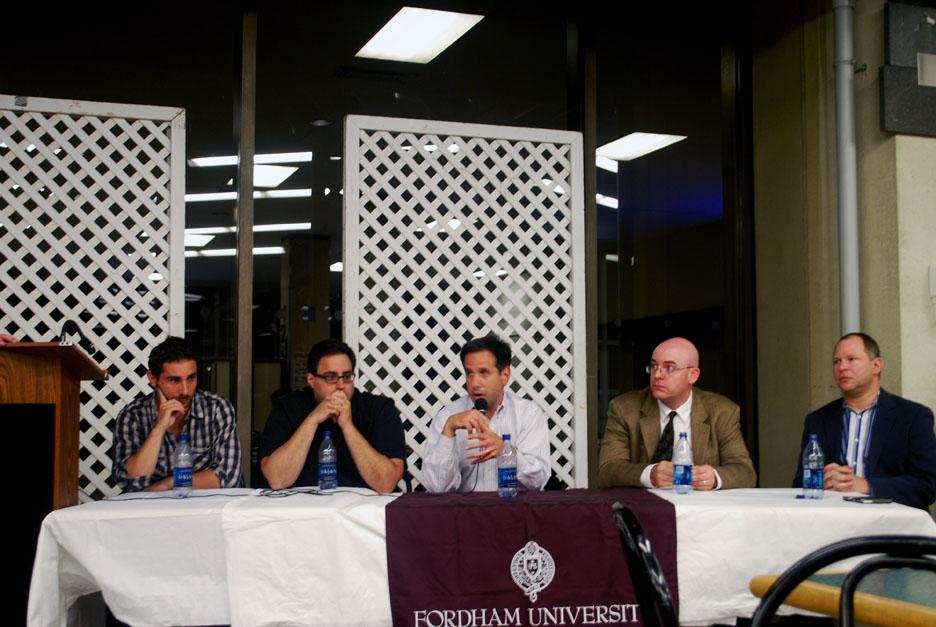 Published: October 8, 2009
The rise of digital media has suddenly and completely changed the way sports fans understand and follow the games they love. And the experts are still trying to figure out how to catch up.
A Sept. 22 discussion hosted by Fordham's new Sports Management Club sought to examine the issues facing sports in the digital age by assembling a collection of panelists from a diverse range of publications.
Club founder Emile Avanessian, a Fordham University Graduate School of Business student and moderator of the event, said he wanted the discussion to "examine, in terms of digital media, how we've gotten here and where we're headed."
The very makeup of the panel was an indication of how the digital age has leveled the playing field for sports media. A.J. Daulerio of Deadspin.com and Jimmy Traina of Sports Illustrated's "Extra Mustard" online feature represented the new importance of online journalism.
Deadspin, in particular, is an example of the democratizing power of the Internet. The site was founded four years ago as an alternative to giants like ESPN, offering criticism and a sometimes off-color sense of humor; now the site is viewed as a legitimate voice in sports media.
"The challenge for us used to be figuring out what those guys [ESPN, Sports Illustrated] aren't writing about," Daulerio said. "At first, blogs linked to other things and criticized stories, but now they break some news on their own."
As blogs have become relevant sources of news, traditional media outlets have changed their perception of online journalism.
Daulerio said, "My first day as Deadspin's editor ESPN's [public relations] reached out to me. ESPN used to be very anti-blog but now that's changed."
Traina's "Extra Mustard" feature represents the complicated evolution of original online content from oddity to necessity.
"Sports Illustrated is a journalistic entity with a history of great writing, but you need to do other things on the Web," Traina said. "Extra Mustard is SI's version of trying to be a little hipper. I try to reach the guy at work who has 10 minutes on his lunch break, or the college kid who wants a different type of humor. Print guys are smart enough to know that we live in an age where being on the Internet is a necessity."
While Deadspin and "Extra Mustard" are examples of how digital media have changed the way fans read about sports, Matthew Berry of ESPN.com exemplifies the new ways in which fans experience the games.
Berry is ESPN's chief fantasy football analyst, covering the NFL based solely on how each actual game will impact players' fantasy matchups. Critics have labeled fantasy sports a sign of decreasing loyalty and a threat to game attendance and TV audiences, though Berry insisted that that is untrue.
"Going to a game is a social event," Berry said. "It cannot be replaced."
Instead, fantasy sports have opened up entirely new ways for leagues to reach fans, according to Chris Russo, CEO of Fantasy Sports Ventures.
"We found that the crazy people who play fantasy sports are an engaged and passionate group," Russo said. "This created a lot of business opportunities. There was a misnomer that online content could divert people from watching games. Instead, we've found that the people who consume the most online content watch and go to the most games."
As CEO of a business seeking to connect fantasy sports enthusiasts and advertisers, Russo said he recognized that accepting the validity of digital media is a necessary step.
"As media companies and sports leagues look forward, they're going to see more and more revenue coming from these new digital platforms."
One such platform in particular received great attention from the panelist: Twitter.
"This is a monster; this is something we have to watch every day," Daulerio said. "There are [athletes] that are saying things on Twitter they won't say to a reporter in the locker room."
Traina said, "You must be on it. That's how I get most of my news. Media people are on it and they use it first."
Though the panel discussed a wide array of topics, the underlying fact that the event was conceived by a business student demonstrated a central theme of the night—the rise of digital media has opened a new market for anyone to reach sports fans. Russo predicted that younger people, like the business students making up the audience in the cafeteria atrium, might grasp that better than industry veterans.
"Recent graduates, current students, in some ways, are better equipped than some of us who have been around the business for 25 years," Russo said. "They use [digital media] more intensely than we do. Who better to know how to tap into that market than young people?"