Newest Mainstage Show Rocks Pope Auditorium
Fordham College at Lincoln Center (FCLC) is currently in the process of performing the play "Luck of the Irish," written by Kirsten Greenidge as part of this year's Mainstage series. Greendige wrote "Luck of the Irish" about the struggle her grandparents faced as a black family buying a house in a white, Irish neighborhood. She has written many other plays, in which she tries to bring the voices of underrepresented groups to the stage. She won an Obie award for her play "Milk Like Sugar" in 2012.
"Luck of the Irish" is a play about an African-American family, Hannah and Rich Davis, trying to make it in an all-white neighborhood. The play highlights the struggles the family faced while attempting to live normal lives in 1950s Boston. A white family, the Donovans, ends up "ghost-buying" their home, a tactic employed by many African-Americans that involved the black family paying a white family to purchase a house for them, because realtors are much more likely to sell the home to a family like the Donovans. The play switches from the 1950s to the 2000s, when the white people who "ghost-bought" their home decide that they want it back.
By switching back and forth between the two time periods, the continued struggle of the Davis family is seen. They had been living in their home for close to fifty years when the Donovans came back into their lives, wanting to claim the house they had signed over years ago. In highlighting the continuing struggle, the injustice for the family can be further seen.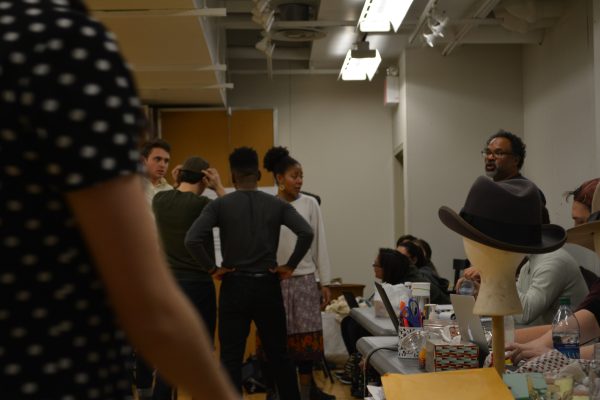 Jacob Hill, FCLC '17, said that he has enjoyed the experience, commenting that "The best part of this play has been the opportunity to work with the talented cast and creatives. I love getting to know new actors and design teams, as well as building or maintaining  connections which you already have with them." These aspects, as well as the challenges every new production poses, are what makes plays "such exciting endeavors." He, along with many of the others involved with "Luck of the Irish" plan to work on more productions in the future.
In light of the tensions seen in the play, the Fordham Theatre Department will be hosting an event called "Redlining: Past. Present… Future?" This event will be held Friday March 3rd in Pope Auditorium from 5-6:30 p.m. Hill comments on the relevance of the panel to the play, saying "Everything [in the] play is built on is the question of trying to fit in, to exist in a place where you are not necessarily welcome. The redlining panel brings to light the reality of these types of questions." It is free to attend and will be "detailing how decades of discriminatory politics turned the American Dream into today's Housing Nightmare."