Lessons in New York Fashion Week: Student Covers Backstage Beauty
I discovered my affinity for fashion when I was 10 years old. After growing out of my favorite pair of jeans, I bluntly snipped off the legs, sewed the bottom shut and affixed a bright pink strap to either end, marking the beginning of my (short-lived) purse business. While I experimented off-and-on with fashion design for the years to come, I simultaneously morphed into a book-obsessed teenager with a pen glued to my hand and a notebook always by my side. When I arrived at Fordham College at Lincoln Center (FCLC) in 2015, I began combining my two passions—solidifying my voice as an English major, all the while tapping into my creativity as a Fashion Studies minor. FCLC's location is ideal for anyone interested in or intrigued by fashion, and since arriving, I've wanted to attend one of the city's most coveted events: New York Fashion Week (NYFW). This year, my goal came to fruition, and through my internship, I was given the opportunity to cover the backstage beauty of the Jason Wu Fall Winter 2017-18 Collection.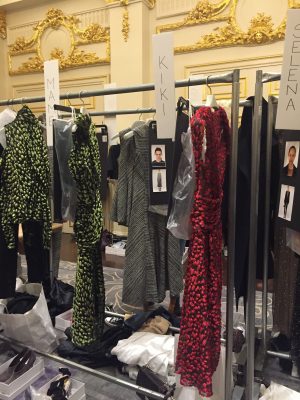 I work as an editorial intern for the fashion, beauty, and lifestyle website StyleCaster and am surrounded by women with years of experience in the industry. In January, talks of NYFW began circling the office, and many of the editors began to map out what the stressful, action-packed February week would look like. My boss created a fashion week schedule that noted which editor would attend the various shows, and by the beginning of February, the schedule was stacked. One day at work, I glanced at the schedule only to notice that my name was marked next to the Feb. 10 Jason Wu show.
With little authority or recognition in the industry, I was surprised that I was assigned to cover such an important show. Regardless, I agreed wholeheartedly and anxiously waited for the day to arrive. As the show approached, my boss gave me a brief run-down on her expectations. I was to attend the backstage of the show on behalf of StyleCaster's beauty team, where I would interview the makeup, hair and nail artists and get a glimpse of the looks that would be sent down the runway shortly after. She described the experience as a cattle-like atmosphere, where editors were quickly orchestrated around the room in a stressful 30-minute exchange. While I wouldn't be an audience member for the actual show, I was excited to have the opportunity to attend the backstage presentation under an editor capacity.
The show was set in the St. Regis Hotel in Midtown Manhattan. I arrived promptly at 3 p.m. and was ushered to the second floor ballroom. The room was stunning, with cream-coated walls adorned with gold trim. I was immediately greeted by pure chaos as I watched stylists, designers and assistants run frantically throughout the room. The energy was high, and it was exciting to see the work of these dedicated individuals coming together. I walked into the fitting room, which had each look organized and labeled with the assigned model's name. It felt special to see the first look at Wu's latest collection.
"The energy was high, and it was exciting to see the work of these dedicated individuals coming together."
The various editors and I were split into groups—my first stop was with nail artist Deborah Lippmann. I was standing next to editors from Elle and the New York Times, and as Lippmann began, a sea of recorders jutted out from the crowd. Lippmann spoke of her latest nail polish launch and of the specific color for Wu's show. "His draping this season is off the charts, very, very strong, bold colors. We decided for the nail that it needed to be really, really sheer. And this is a shade that I just created, it's brand new, and it's called 'A Brand New Day,'" Lippmann explained. "This idea for [Jason Wu] was just that the nail really didn't detract at all from how strong this woman is." As Lippman wrapped up, I stepped into the hair station, which was overwhelmed by a thick cloud of heat from the rapid blowdryers and flat irons.
The makeup artist, Yadim, began speaking and the editors darted to the makeup station. The artist, who was working in collaboration with Maybelline, had to yell in order for us to all hear him. Yadim sat a bare-faced model in a chair in front of us, and began to create the makeup look as he explained each product and movement. The makeup rested on dewy, natural-looking skin. "Jason really likes that. He likes to be able to see the natural beauty of the girls," Yadim noted. As he began applying a red lip (that only a few of the models were donning), Yadim highlighted the importance of breaking up the makeup looks, explaining that he didn't want each model to look like a replication. Yadim focused on "perfecting the makeup to each individual girl," which resulted in a very fresh and modern ensemble.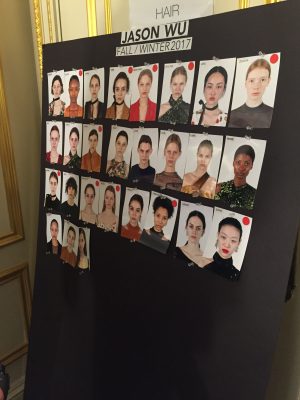 As Yadim concluded his presentation, various assistants began running around the room, exclaiming, "Jason needs everybody out now." The countdown to the runway had officially started and chaos was spreading around the room like wildfire. I was escorted out of the ballroom alongside the other editors and was relieved for fresh air as I stepped onto the street.
My 30-minute venture backstage at the Jason Wu show was a whirlwind. It was inspiring to be around a plethora of talented and experienced editors, and it offered me a glimpse into what my future could one day hold. Next year, I hope to attend a show as an audience member, but until then, I'll revel in the excitement of my first experience at New York Fashion Week.