Alex Trebek Records Special Dodransbicentennial Message for Fordham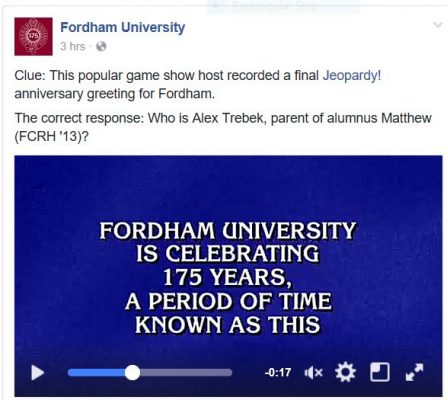 "What is a dodransbicentennial?"
While Fordham students often need to answer that question when they encounter people outside of the Fordham community, it was the corresponding question to a Jeopardy! answer in a special message to the university from the show's host, Alex Trebek.
On Jan. 3, Fordham University's Facebook page posted a recording of Trebek reading a final Jeopardy! question under the category "19 Letter Words." The corresponding answer was "Fordham University is celebrating 175 years, a period of time known as this." The correct response, of course, was "What is a dodransbicentennial?"
"So happy anniversary to all of our friends at Fordham," Trebek said to conclude the short video.
Trebek received an honorary degree from the university in 2011, and his son, Matthew, graduated from Fordham College at Rose Hill in 2013. In Oct. 2015, Trebek donated $1 million to the university to endow a scholarship for students from North Harlem. The idea for the scholarship came from discussions between Trebek and Fordham University President Rev. Joseph M. McShane, S.J., according to the Wall Street Journal.