Unraveling "Rachel Unraveled"
"…I win an Emmy and it allows me to host the Emmys and then Kerry Washington presents Rachel and I with an Emmy and I stand by her side and then we do a bit and it becomes a gif,"  Austin Spero, Fordham College at Lincoln Center (FCLC) '19, explains through laughs. Looking expectantly at his iPhone on the side table in front of him, Rachel Ravel, FCLC '19, doesn't miss a beat over speakerphone, immediately responding through her own muffled laughter "I get an Emmy and then I cry Emmys." "And then I am an Emmy for Halloween," Spero nudged in before Ravel concluded "And then we turn into Emmys."
Those who know Spero and Ravel won't be surprised by this late-night Wednesday banter between the two FCLC sophomores. These two are not putting on a show—this is simply who they are. Talented actors and best friends, Spero and Ravel first met during their freshman year at Fordham and have been close friends ever since. Now, these two are finally putting their undeniable comedic chemistry to the test through "Rachel Unraveled," a soon-to-be-released musical-satire web series that the two are creating. Through lots of social media posts, a successful Kickstarter campaign, and the help of talented friends, what started off as a joke about Ravel's life is becoming a reality.
Neither Spero or Ravel originally came up with the concept for the web series—it was the subject of a long-running gag of Fordham alum Garrett Kim, FCLC '16. "He was just joking with Rachel about if her life was a web series it would be about a girl named Rachel and it would be called 'Rachel Unraveled,'" Spero explained. "Yeah," Ravel continued. "We kind of turned it into a running gag of what the skit would be like." Now, a year later, it is actually happening.
"Rachel Unraveled" is an exaggerated parody of Ravel's actual life in the city. "We're trying to show the quirky realities veering into the almost kitschy world of what it means to be 20 and want to work in entertainment and live in New York City on your own for the first time," Spero said.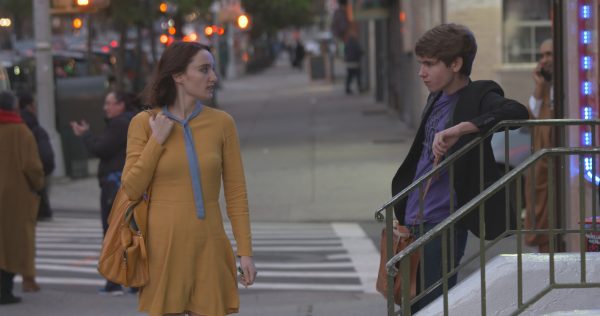 Every title character needs a nemesis and Ravel finds hers in Austin Spatterman, the 15-year-old annoying neighbor played by Spero. "They have it out for each other ever since the great Annie debacle of 2005," Spero explained. As for what exactly happened in 2005…you'll just have to watch the series to find out.
Other principle characters on the show include a wide range of  Broadway veterans, Hollywood stars and television personalities. Jon Rua, a company member of the  Broadway hits "Hamilton,""In the Heights" and "Hands on a Hardbody,"  makes an appearance as Gus, the homeless man who lives outside of Rachel's apartment. William Youmans, best known for Broadway's "Wicked" and the box office hits "Birdman" and "Extremely Loud and Incredibly Close," will play the part of Rachel's dad, an established therapist and pugapoo enthusiast. Olivia Caridi, best known for participating on Season 20 of ABC's "The Bachelor," stars in the series as Rachel's best friend Marie Claire.
FCLC acting professor Maria-Christina Oliveras is also participating in the web series, playing the role of Jaclyn, a big-shot casting director. "We wrote a role for our acting professor, and for some miraculous reason she said yes to us," Spero said. "Working with her…was a dream come true. She took our words, these words that we wrote at midnight via google docs on our laptops, and turned them into… an emmy-worthy performance."
Both theatre majors on the performance track, Ravel and Spero have their hands full between writing, filming, producing and marketing "Rachel Unraveled," and finishing their demanding coursework. "We're crazy and we cry every night," Spero laughed. "Yeah, we're crazy," Ravel agreed. "I'm always like, 'Rachel this is the end of my life.' But then, I think we're just really committed to it," Spero continued. "It almost feels like this is something that could have happened to us 10 years down the line, but we're making it happen now which is really exciting. That's what's been motivating for me."
Ravel and Spero were also quick to sing the praises of other FCLC students and staff for helping them make "Rachel Unraveled" a reality. "Along the way, [there have been] a ton of Fordham people helping us out. It's been great to have the support and the resources that Fordham is able to give us and to use that network now," Spero said. "So many Fordham people," Ravel agreed. Billy Recce, FCLC '19, who is a theatre major on the playwriting track, acts as the head writer and composer for the web series. Chloe Morrell, FCLC '19, and Jennifer Leary, FCLC '18, worked as the show's production managers, while Elizabeth Wilson, FCLC '19,  and Ellie Ryan, FCLC '19, are wardrobe consultants for the series. The duo of Danica Martino, FCLC '17, and Anna Michael, FCLC '17, tackled makeup for "Rachel Unraveled," while FCLC alum Avery Bart, FCLC '16, is the still photographer for the production. Asa Lipton, FCLC '17, rounds out the Fordham portion of the production crew, acting as the web series' lighting designer.
After winning Indiewire's project of the day, week and month with the help of 8,000 strangers, "Rachel Unraveled" is now in the running for Indiewire's project of the year. "We gotta win," Ravel exclaimed. "[If we win,] we get a really nice camera which would be so cool and helpful." Spero urges everyone to vote for "Rachel Unraveled" once voting commences in the upcoming weeks. "Project of the year voting will happen within the next month, so I hope everyone votes and supports our project again," Spero said.
So what can fans expect to see in the show? "A mind reading dog," Ravel said. "Oh yeah, a mind reading dog and lots of blonde wigs," Spero added. "A lot of pictures of me," Ravel said before Spero cut in saying "A lot of headshots and a hammer…oh yeah there's a lot of muffins in [the first episode]. SO many muffins." Sighing, Ravel finished, saying "Headshots, hammers and muffins, oh my."
FEATURED IMAGE COURTESY OF AVERY BART