Prof. Scafidi Designs the Future of Fashion Law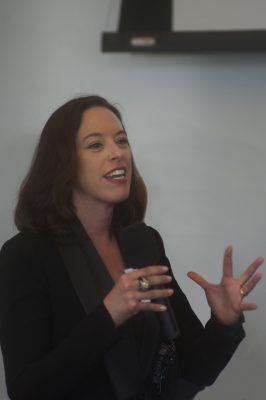 It's not every day that you encounter someone like Professor Susan Scafidi. After noticing a deficiency of law specializations within the fashion industry, Scafidi took matters into her own hands, pioneering the first (and only of its kind) Fashion Law Institute at Fordham Law School. But it hasn't been an easy road—Scafidi has had to prove colleagues and nonbelievers wrong, promoting and proving that the fashion industry is something to take seriously.
As I walked into Professor Scafidi's office, I was anticipating the stereotypical faculty space. Instead, I was greeted by a plethora of bold statements, from stacks of Chanel books to bright pink accents, that I would soon discover to be the perfect embodiment of Scafidi herself.
Scafidi was clad in a chic and classic Diane Von Furstenberg dress, adorned with a grey cashmere sweater. She greeted me warmly and began detailing her journey in the creation of fashion law. "It's really accidental. It's not unlike the myth of the people who crash into each other with their peanut butter and their chocolate and make Reese's," she joked.
Before beginning her career at Fordham, Scafidi was a junior professor at a different institution, working in the area of intellectual property. While she had an enduring interest in fashion, and even a deep family background in the garment industry, Scafidi never considered it professionally. However, she soon began researching the intersection of intellectual property and fashion, noticing how unrepresented and unprotected the industry is. Scafidi started asking questions such as, "How do we view different areas of human creativity and why is there a differential?"
Scafidi's tenure committee advised her to halt these research questions. "[They] said, 'You can't write about fashion. It's too girly. It's too frivolous. No one will take your seriously.' But I said, 'It's a multibillion—now it's a trillion—dollar industry, and this is an interesting theoretical question.'"
Scafidi paused her research questions, writing instead about cultural creativity, touching upon cuisine, dance and music. "But once I got tenure, I went straight back to fashion," she explained. "About that time I came to Fordham…and I very quickly realized that it was not just fashion that was unusual with respect to intellectual property questions, but there were all sorts of legal questions throughout the fashion industry, and while obviously designers and fashion houses have always consulted lawyers, there was no field of fashion law."
"It turns out, bizarrely, that I'm a rockstar in Brazil," she laughed. "Truly, I had never had an experience like that. I was signing books, I was signing conference programs, I signed T-shirts. I took selfies."
Scafidi propelled her research efforts forward, and in 2006, Fordham gave her the opportunity to create her own seminar. Scafidi's choice was obvious: Fashion Law. "It defined the field and it went from there." The seminar received an overwhelming response and Scafidi's concept of fashion law began to flourish.
Scafidi took a moment to call my attention to two mannequins in her office, one wearing a pink dress, and the other wearing a nearly identical dress in purple. "The dresses are a quiz," she declared, asking me to identify the original and the knock-off. "I ask that question of people— whoever wanders into my office, students, faculty, staff, people who are lost and looking for directions, everyone—over about the course of a year and a half, and only about 75% of the people got it right," she explained. "They really honestly weren't sure— and what's interesting is that this is completely legal in the US, but the copy is illegal in Britain (where these dresses are from) because throughout Europe, and Japan, and India, and a number of other countries, there is protection for fashion." Scafidi's quiz affirmed just how great the need for fashion law is.
As the seminar expanded , Scafidi was also working alongside Diane von Furstenberg in Congress on a bill to protect fashion designers. Alongisde von Furstenberg, former President of the Council of Fashion Designers of America (CFDA) and current Chair of the Board,  they created the Fashion Law Institute in 2010.
The Institute has expanded into nine unique courses in fashion law. The Fashion Law Institute additionally holds pro-bono clinics and public programming that offer non-lawyers and law students insight into the field of fashion law. In attendance are "usually emerging designers who have no money, no clue and don't happen to have a college roommate or a cousin who is in law and knows about fashion. But also, some of the largest companies in the world who call us quietly because they want to have a second opinion, they want to have a conversation, they want to have a place to get additional advice and to double check their policies and procedures," Scafidi noted.
Scafidi's Fashion Law Institute is beginning to expand past its birthplace of Manhattan. "It's gone global," she told me. The Fashion Law Institute has hosted programs in Italy, a symposium in Hong Kong, and just last month, Scafidi was in Rio. "It turns out, bizarrely, that I'm a rockstar in Brazil," she laughed. "Truly, I had never had an experience like that. I was signing books, I was signing conference programs, I signed T-shirts. I took selfies."
Scafidi said, "It was really touching and really moving and beyond anything I had ever expected, that there were so many people whose lives had been changed by the defining of fashion law as a field. It was designers who finally felt empowered in the development of their businesses, and lawyers who found that this is an area of practice that really inspired them."
In addition to creating each class and program so delicately, Scafidi spends time in the fashion designers' realm in order to fully understand their needs. Unlike most professors, after an academic meeting on campus, you can often find Scafidi in the garment district. "It's useful to see them in context in their studios, so I spend a lot of time in the garment district…It matters to people in the industry that I understand their work. There are plenty of lawyers out there who are great lawyers, but if they don't understand the technical side of fashion to some degree, or the business of fashion, they will never really understand the law of fashion." Not only does this help Scafidi grasp her client's concerns, but she also uses these hands-on-experiences to inform her class.
If a professor who spends time in ateliers isn't alluring enough, Scafidi also attends New York Fashion Week. She elaborated, "I think what people outside of the industry don't understand about the shows is that it's the show itself, of course, and it's all the five minute business meetings you have in heels standing next to the runway before and afterwards."
Scafidi doesn't let the glitz and glamour of the industry detact from her original mission or her dedication to law.  "At the end of the day, fashion law is law. And if you don't love law, you will hate doing it." While contract and real estate leases are commonplace in the field of Fashion Law, Scafidi does note the excitement she experiences in seeing, feeling and wearing the product that she advocates for. "Whether you're working on the transactional side and helping people set up their companies and do deals, or you're working on the litigation side and advising companies…you can still see the results, wear the results, live the results, see other people wearing those results. And so you are affirming not only the designers dream, but the way it funnels creativity into the world."
Scafidi urged students to use their time and skills in a valuable, yet flexible way: "Have an expertise, develop something that sets you apart and makes you unique, but have the big picture too. And never stop learning."
Our conversation circled back to fashion being mislabeled as merely feminine, or frivolous. "The f-word: frivolous," she laughed and affirmed, "It really is the f-word." Fashion holds an interesting stigma and working in the field raises a variety of connotations, ranging from trivial or unnecessary, to pink and feminine. "I think it's part of the cultural perspective on fashion, as being somehow lesser and somehow feminized, and oriented to the body and not the mind, whereas I think the two are inextricably integrated."
Scafidi shared that she has learned to flaunt her personal relationship with fashion and dressing, ignoring the naysayers. From the many shades of pink and purple in her office, to her bold jewelry, Scafidi embraces her flair. "I will tell you that when I was in grad school and dressing as I do, I had a colleague pull me aside and say, you know if you're serious about going into academia, you can't look like you care about what you wear… I nodded politely and changed not a thing."
Scafidi paused. "I teach at a podium, but I always teach on a platform, and that platform is a good three inches high."
With Scafidi's passion, knowledge and poise, the Fashion Law Institute can only continue to grow. She notes that she sees the Institute now "thinking about influencing policy, whether that means that the state level or at the federal level through the courts, through the legislators or through cultural conversation, I think that it's always been important for us to think of ourselves as public intellectuals, and thought leaders, and to engage whatever issues are coming up."
Scafidi, on a last note, urged students to use their time and skills in a valuable, yet flexible way: "Have an expertise, develop something that sets you apart and makes you unique, but have the big picture too. And never stop learning."