Art as Exchange: Director of JUNTOS Reflects After Mexico Trip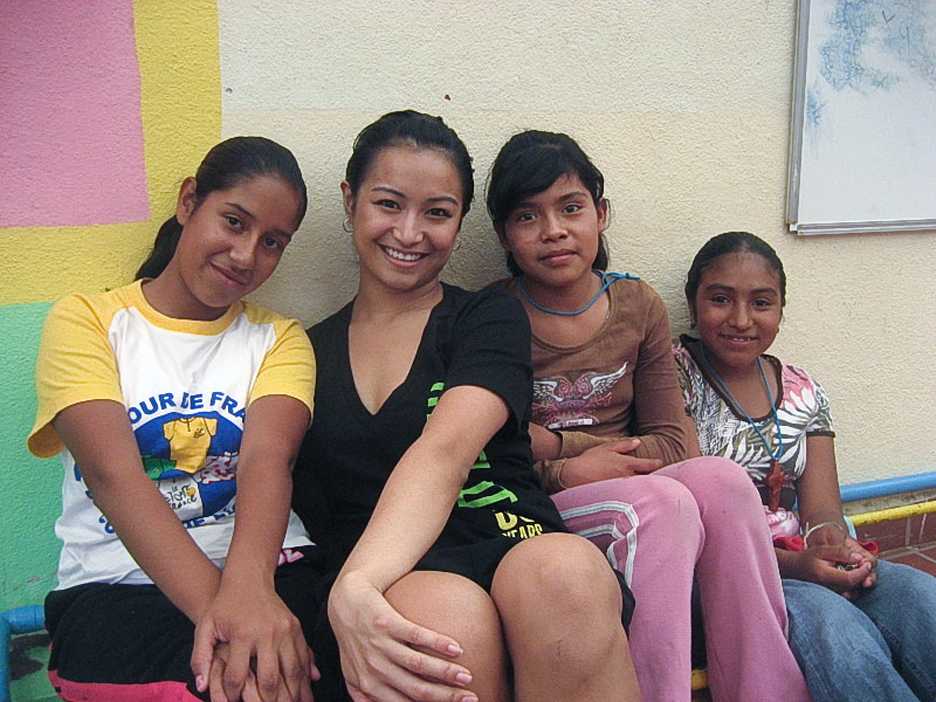 Published: September 24, 2009
When Joanna Poz-Molesky, FCLC '10 and a student in the Ailey/Fordham BFA Program in Dance, was a little girl, she used to weave yarn all around her house—from the doorknobs to the sofa to the table—creating webs throughout the rooms. Her aunt once told her that when you're young, you do the things you're meant to do all through your life.
"I liked to weave a lot, and a lot of the parts of my life have been woven together," Poz-Molesky said. "I'm biracial and bicultural. So a lot of my work is about bringing cultures together—not to make them one, but to share and to see each other understand that."
Over a year ago, Poz-Molesky founded JUNTOS, an organization created for the purpose of artistic and cultural exchange. JUNTOS, meaning "together" in Spanish, is currently comprised of dancers from the Ailey/Fordham BFA Program in Dance, The Juilliard School and SUNY Purchase. This past August, the collective traveled to Mexico for two weeks.
"Art comes from the very center of your being," Poz-Molesky said. "When you perform, you share the real you. If dance is about who you are inside, don't you have to learn who you are? To do that, you need experiences." With JUNTOS, dancers from different cultures and backgrounds are getting the opportunity to garner those necessary experiences.
The collective, accompanied by Adam Salberg, FCLC '10 and the photographer for the trip, began its four-city journey on Aug. 3, first traveling to Mexico City where they focused on artistic exchange.
"The dancers in Mexico are not judgmental," Poz-Molesky said. "They are supportive, encouraging, laid-back and curious about who you are and where you're from. In New York, that can be so rare because everyone is competitive."
From Mexico City, the group made the trip to Querétaro where the focus was primarily on performance, with shows at both La Fábrica and the Cineteatro Rosalio Solano.
JUNTOS then moved on to San Miguel de Allende. With the goal being teaching and outreach, the dancers split themselves into three groups which were dispersed to three different schools. Two of the schools were orphanages and the third was a baile folklórico dance camp for low-income families.
Poz-Molesky was the only fluent speaker of Spanish on the trip, and though language was admittedly a barrier for the rest of the group, she explained that the dancers simply "made it work" and that "the little girls in the schools were so attached to us despite the language difference."
In San Miguel, the dancers also had the unique opportunity of staging an outdoor performance with a baile folklórico company in front of hundreds of people. Most of the JUNTOS dancers had never performed in an outside atmosphere before, and the experience was so positive that they were invited to perform at one of the city's festivals in November.
The group later journeyed to Guanajuato where they were able to bring the experiences of their trip together and explore the land.
Poz-Molesky's ultimate goal has been to "break into a completely unknown territory." While her work has undeniably found a link between the arts and social and cultural outreach, she says that this is not something she has purposely sought out. "It's not something I really try to find a link between. It's just something I see and when I see it, I try to do it," she explained. "I see opportunities for other people, and I want to help people open those doors—dancers, kids, people we come across."
Poz-Molesky began dancing around the age of three or four after her parents enrolled her in classes with the Berkeley Ballet Theater (BBT). She stayed with BBT up through her high school years, after which she came to Fordham. At the age of 12, she, along with one of her friends, founded the En Pointe Youth Dance Company, which was entirely youth-directed, -organized and –produced. The Company is currently in its tenth year.
With two minors—Latin American and Latino Studies and Theology—Poz-Molesky is currently taking three academic classes in addition to the five dance classes she's enrolled in this semester. At the moment, she is working on her senior choreography project. This is the lightest workload she's had since the first semester of her freshman year. Last semester, she took four academic classes and seven dance classes (26 credits). She also made the Dean's List.
However, Poz-Molesky's studies haven't been enough to keep her emotionally content, and for years, she has worked on finding ways to bring dancers from various schools in the area together.
The collaboration between the three different schools that make up JUNTOS is one of the great achievements of the group. Because Poz-Molesky believes that so much of the arts in the United States focuses on individuality—which can certainly be a positive—it can foster separation and non-collaboration between artists.
"People get what they need and go," she said. "With JUNTOS, [the dancers] spent time with each other, learned with each other and they had a shared experience – they want to keep feeding that and sharing that."
Poz-Molesky, who says she's "good at seeing pieces of things and connecting the dots," hopes to bring JUNTOS to Guatemala in March and to Mexico next August in addition to bringing the baile folklórico dance company Ollin Yoliztlin to New York in May.
While JUNTOS has taken great leaps with seemingly few flaws, Poz-Molesky admits that being the leader of such an organization, just as she was with the En Pointe Youth Dance Company, can be both a blessing and a curse.
"I found what I wanted to do at such an early age," she said. "I know what message I want to share in my life. It's great that I know what I want to do, but there's no time where I have to figure it out or to explore other areas."
Despite her workload, Poz-Molesky insisted, "Projects like this are so important right now. The economy's not good, there's the swine flu epidemic, there are wars going on. Why in all of this time do we need art? Aren't the basic necessities food, clothing and shelter? So, why art? Because it is what it is. It doesn't discriminate. It just shares."
When asked if she ever gets tired, Poz-Molesky said, "I'm figuring out how to balance things." JUNTOS, despite the great time commitment, has become a vital part of Poz-Molesky's life. Why? "Because I need to fill my soul. My mind and my body are fulfilled by school, but not my soul."