The Mitchell Show: A Look at a Fordham Violinist
Published: September 24, 2009
At 19 years old, electric-violinist Alex Mitchell is already an accomplished musician, composer and performer. He has performed in locations such as Carnegie Hall, Disneyworld and Ireland, to name a few, and he has released two albums. The Fordham sophomore combines his love of non-traditional violin styles (or perhaps his lack of love for conventional, classical violin performance) and his improvisational talent to create a unique sound.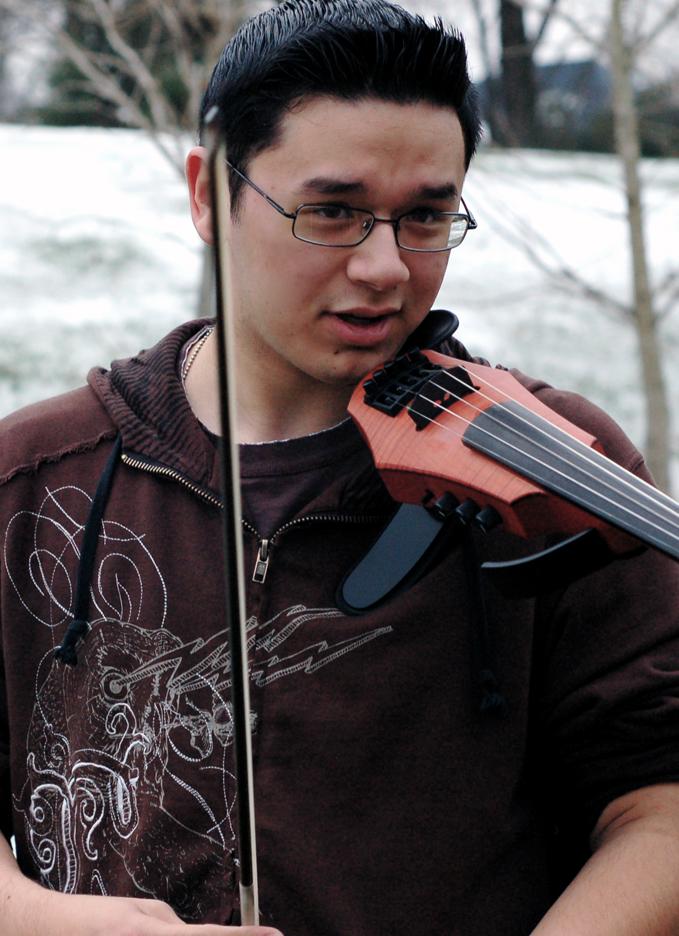 He is known for his live performances, which involve a wide array of effects pedals and "looping" (the musician records a bit of music and plays it back using a pedal) onstage. His YouTube videos have received comments like, "This brings a whole new appreciation to violin…" and "Superb, masterful, new and interesting." His songs are meditative and graceful, yet raw and powerful. He is working on a new album this year and he hopes to perform at Fordham in the near future.
Mitchell answered a few questions about his work while absent-mindedly playing guitar:
Observer: You're primarily a violinist. What do you play?
Alex Mitchell: I play contemporary violin, which is basically using the violin in non-traditional ways to play non-traditional violin music, like jazz, rock, hip-hop and contemporary classical music. The point is that the violin can do all sorts of things that aren't just "Mozart-y." There are several people in the world doing this sort of thing, and our goal is to sort of change people's views about what the violin can do.
O: Musicians hate to label their music, but what would you consider your genre to be?
AM: Hmm. I try to play a mix of jazz, psychedelic rock and classical, so there's really no genre, and I kind of don't want there to be one. The only thing this music has in common is that it's being done with a violin. Contemporary violin has kind of become its own genre because the sounds you can make with it are very unique.
O: Who are your influences?
AM: Mark Wood. Hendrix—even though I know that's lame, but it's true. Jean-Luc Ponty—he's an amazing musician. The Turtle Island String Quartet. They're a jazz quartet.
O: When you perform live, do you perform solo or with a band?
AM: I do my own stuff solo, but I also play in a band. When I play solo, it's looping; I record a part and then solo over it. I also play with a band, with Ben Ruttenburg.
O: Are your loops improvised on stage, too?
AM: Usually I write the loops in advance, but sometimes, under certain circumstances, I screw up the loop and have to try to just go with it. In a way, that's more fun, and it seems like people really like it. It's kind of a game.
O: When did you start playing music?
AM: I started with classical violin, when I was really little. And I played classical forever and I hated it, hated it, hated it. So going into middle school I was going to quit, but then I saw Mark Wood play, and I thought, "Hey, I want to do that," because I really liked rock music, and I started playing electric [violin] and it clicked. And then the YouTube thing happened, which made my parents take it seriously.
O: What was the "YouTube thing?"
AM: I uploaded a few of my first performances from school because some of my friends couldn't come to my performances but I wanted them to see them, and then I got a bunch of views from other people. Since it was back when YouTube was just getting big, I was one of the first things that came up when people searched "electric violin." And I guess that's how I got my start professionally, too.
O: What did you mean about your parents taking "it" seriously? Did you mean the electric violin, or you as a musician?
AM: Both. My mom still really wants me to go into law. Even now. I mean… I don't want to rule anything out, but… it's not going to fucking happen.
O: Your albums must cut out the improvisational part of your music, since you obviously have to go back and re-record things. You've said before that you hate your recordings. What about your next album?
AM: Well, last year with my producer, Andrew Felluss, we tried to capture the spontaneity of a live performance for my single, "Evolution." We laid down the loop and then he let me improvise over it seven times, and then we picked the best one. So that's what we're trying to do with this album.
O: How do you balance school and music?
AM: Umm, I don't sleep much. The balance of school and music was really tough last year, as I pulled just under a 3.0 and lost half my scholarship. I take it as a learning experience for this year.