Faculty Senate Reacts to Controversial Halloween Decoration, Saying "Public Letters Are No Longer Enough"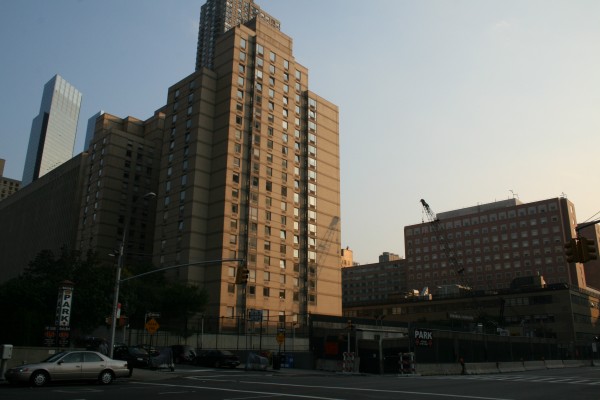 The Fordham Faculty Senate has issued a statement on the controversial Halloween decoration temporarily displayed in the window of a McMahon Hall apartment on Oct. 24. The statement also responds to President of Fordham University Rev. Joseph M. McShane's email on the effigy sent to the Fordham community on Tuesday morning.
The decoration, although intended to be seen as a mummy, was interpreted as representing a lynching by members of the Fordham Community.
President of the Faculty Senate and Professor of English and Women's Studies Anne Fernald, Ph.D., sent an email statement at 2:19 p.m. on Oct. 25 "on behalf of the Senate Task Force on Gender and Race Equity and Faculty Diversity in solidarity with those students who have expressed outrage and dismay at the racially insensitive Halloween display in McMahon Hall."
Fernald said "while we share many of the sentiments of outrage and dismay, care and desire for healing expressed therein, we have also received too many open letters in the past year," in response to McShane's email statement 
"While the photograph that letter circulated seemed to show a Caucasian, the view from outside– which was, after all, the intended view for the display–appeared to be a mummified body hanging from a noose with an exposed black face," she added.
Fernald continued in the email, "A series of so-called 'isolated incidents' comes to look more and more like a culture urgently in need of some serious and painful interrogation of its persistent structures of racism."
"Open letters including the President's and ours do not do enough to effect meaningful change," she said. "Their audience is too broad. After all, we are a community that includes insensitive people, as well as those oblivious to such incidents, and the many more who are shocked and upset by them. Each of us needs to hear and learn different things from this incident."
Fernald and the Senate Task Force on Gender and Race Equity and Faculty Diversity ended by urging the administration "to immediately release the Report from the President's Task Force on Diversity, to take public and meaningful steps toward change, and to provide systematic race training for all members of the Fordham community including students, faculty, and administration."
"Public letters are no longer enough," the email concluded.
The statement was cosigned by Fernald, Chair of the Senate Task Force on Gender and Race Equity and Faculty Diversity Amir Idris, and committee members Andrew Clark, Aimee Cox, Arnaldo Cruz-Malave, Thomas De Luca Jr., John Entelis,Jeanne Flavin, Daniel Alexander Jones, Hector Lindo-Fuentes, Matthew Maguire, Fawzia Mustafa and Sarah Zimmerman.
Fernald further stated in the email that individuals can "ask questions and listen to the answers you hear," while Fordham faculty can also "educate yourself [themselves] about the history and imagery of racial violence, especially lynching, and provide resources for your student to do the same." Fernald also encouraged recipients of the email to "support your students, emotionally and logistically, by helping them organize and facilitate conversations about the impact of racism in our community.
She further encouraged faculty, students, staff and alumni to sign the letter via email at [email protected].