Fordham Honors Mary Higgins Clark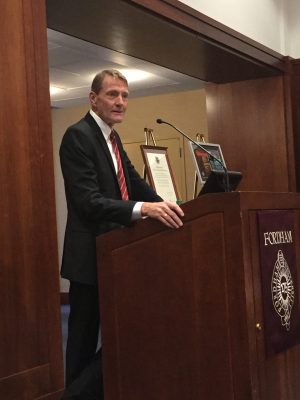 The newly-endowed Mary Higgins Clark Chair for Creative Writing was officially dedicated on Oct. 6, with bestselling authors Lee Child of the "Jack Reacher" series and Fordham College at Lincoln Center (FCLC) alumna Mary Higgins Clark, FCLC '79, appearing as the featured speaker.
In addition to being a Fordham alumna with a degree in philosophy, Clark has written 34 suspense novels, two of which have been made into films. She has endowed a chair of Creative Writing and funded scholarships for Fordham Lincoln Center students.
Rev. Robert Grimes, S.J., Ph.D., dean of FCLC, introduced Professor Leonard Cassuto, Ph.D., who has taught Fordham classes on, and published books about American crime stories.
"We're talking today about the social value of crime fiction," Cassuto said when introducing Child. "Lee Child is a great choice for the inaugural holder of the Mary Higgins Clark Chair, because he's one of the good guys. He is a friend and supporter of his fellow ink-stained wretches."
Child is a British thriller writer of 21 volumes, whose popular "Jack Reacher" novels have given rise to two Tom Cruise movies and have won Child a host of awards.
As Child took the stage, he thanked Cassuto and the University. "I accepted the invitation for one reason only, which is so I can say nice things about Mary without her shushing me or slapping me, which she undoubtedly would because Mary is a very modest and self-effacing person."
He told an anecdote to illustrate Mary's dedication to her craft, describing her reaction to a chance at respite from the summer heat of a public event: "Mary says, 'No. Somebody might show up, and if I'm not here, they'll be disappointed.' That's an example for us all."
Child then lectured on the value of fiction and crime fiction as parts of contemporary culture. He began with the conception of fictionalized information. "For possibly 100,000 years, we lived in a nonfiction world," he said. "Then, we started telling stories about things that did not happen to people who did not exist. That is a very fundamental change in language."
Child related the appearance of representative drawings, at about 50,000 years ago, and music, at 63,000 years ago, to the evolution of the creativity fueled by stories. "A lot of people say it filled the time, it was a leisure activity," he said. "Which is nonsense. We did nothing back then which did not enhance our chances of survival. So what is it about storytelling that would make us more likely to still be alive in the morning?"
"It must be some kind of encouragement, empowerment, consolation, maybe a little instruction through parable, but really I think it's showing the bright side," Child said. "People still read stories for those same reasons, to feel a little bit better, to feel that the world actually is survivable."
He described how the only serious, socially realistic novels being written now are by crime writers. "In a hundred years when people look back at this era and they want to know how did it feel, what were people like, what was society like, what were we doing? They will find that nowhere else."
After Child finished, Cassuto introduced "the 'Queen of Suspense' and the school's dear friend," Mary Higgins Clark.
"It is such a pleasure to have you with me for this wonderful adventure of being able to contribute to the writing center, to those who love writing or want to know more about writing," Clark began.
"I graduated from Fordham when I was 50 years old. It's not because I'm that slow," she quipped. "But after high school, I went to secretarial school. And I always missed having a college education, and I took many, many courses along the years. But then when I sold 'Where Are the Children?' and suddenly the choke collar was off my neck, I thought, what do I want to do? I wanted to go to Fordham and get a college degree."
Clark remembered that one of the happiest days of her life was when she graduated and that she still enjoys being part of the University's community.
Rev. Joseph McShane, S.J., president of Fordham University, offered closing remarks, thanking the large audience for attending. "Mary, you are enshrined in the hall of honor," he said. "You live to be generous. You live to bring the light to people. You live to inspire our students. And you do it in a very wonderful, humble way, which in a sense makes it possible for students to hear your message, which is filled with hope and challenge."
After the event, attendees were treated to, among other hors d'oeuvres, cupcakes with small replicas of Clark's books on top.