Career Advice from the Designers of NYFW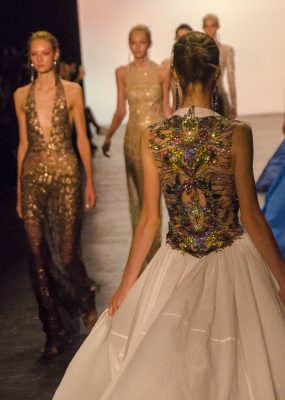 New York Fashion Week (NYFW) is back, and fashionistas everywhere are rejoicing. It's time once again to put on the black leather Roberto Cavalli's you've been saving all season and strut your stuff for the waiting paparazzi. Young designers studying fashion in Manhattan wait outside praying to be awarded with a simple standing ticket, the green light to view the fresh collection their favorite designers have been preparing to showcase all season. Students dream of one day having their own name on the NYFW schedule. Thankfully, this season's designers have some advice for college students trying to make their way into the fashion world.
In a collection that she describes as "powerful, sexy and gentle," Vivienne Hu showcased her fifth NYFW runway show on Sept. 11 at ArtBeam Gallery, giving a heartfelt tribute to our fallen soldiers before the show.  Hu had some pointers for young designers. "Everything is timing," she stated, talking about breaking into the fashion business. She advised prospective designers to keep "looking forward and [stay] very strong."
Tadashi Shoji, known for his red carpet gowns, showcased his collection later that day at The Arc at Moynihan Station in Midtown. He stays relevant in the business by being honest to himself and his fashion. He explains, "I can't change myself," and advises young designers to follow that same ideology. Shoji offers internships for college students which are truly hard work, he says. This is not something many fashion companies can say, but Shoji believes in giving his interns the full hands-on experience. "[Many interns think] 'Oh, we're interns, we can come anytime.' If you think like that, no way [you will make it] in this business." In the real world, you have to work diligently to earn your keep, and Tadashi Shoji teaches the same mentality to his interns.
In 2008, Benito Santos decided to leave his medical career and become a fashion designer. "Inspired by the night and the mystic of magic," his collection is made to dress the woman who is the "center of attention." Like many designers, Santos offers internships to support young designers. University students from all over "will come and spend months and months" learning and working for the brand. He has interns coming "from New York…to Mexico to spend time with [him]." He agreed that interning for his brand is a full experience. When asked if his international interns were compensated, he responded "They go on their own. They're learning. They will take care of their own expenses because they want to be with Benito," implying that there's clearly a lot to learn from the man who designs for elites in Mexico. For someone who dresses Victoria's Secret Angel Candice Swanepoel and the First Lady of Mexico, Angélica Rivera, learning from an international brand is surely a priceless experience, though the plane ticket might not be.
Six fashion shows later, another NYFW has successfully graced Manhattan, spreading prints, patterns and colors throughout the city streets. What's left of the commotion is the advice these couturiers have given in their efforts to foster the passion of young professionals in the fashion industry. It's what you make of it, and you'll only get out what you put in.