Fordham Raises Tuition by 3.75 Percent
Fordham University's tuition went up this summer by 3.75 percent, bringing it to a total of $47,850. This increase continues the University's trend of raising the tuition rate on an annual basis.
"Though I wish we did not have to raise tuition at all, we have been able to limit the increase through careful management of our budget and aggressive fundraising," Rev. Joseph M. McShane, S.J., president of Fordham University, said in a letter to students regarding the rise in tuition sent in May.
McShane added that the University offers financial aid to more than 85 percent of students and drew attention to Tuition Management Systems and Financing Fordham Online, which "help families plan for their educational expenses." The average amount of financial aid that students received from Fordham in 2014-15 was $23,508, according to the National Center for Education Statistics.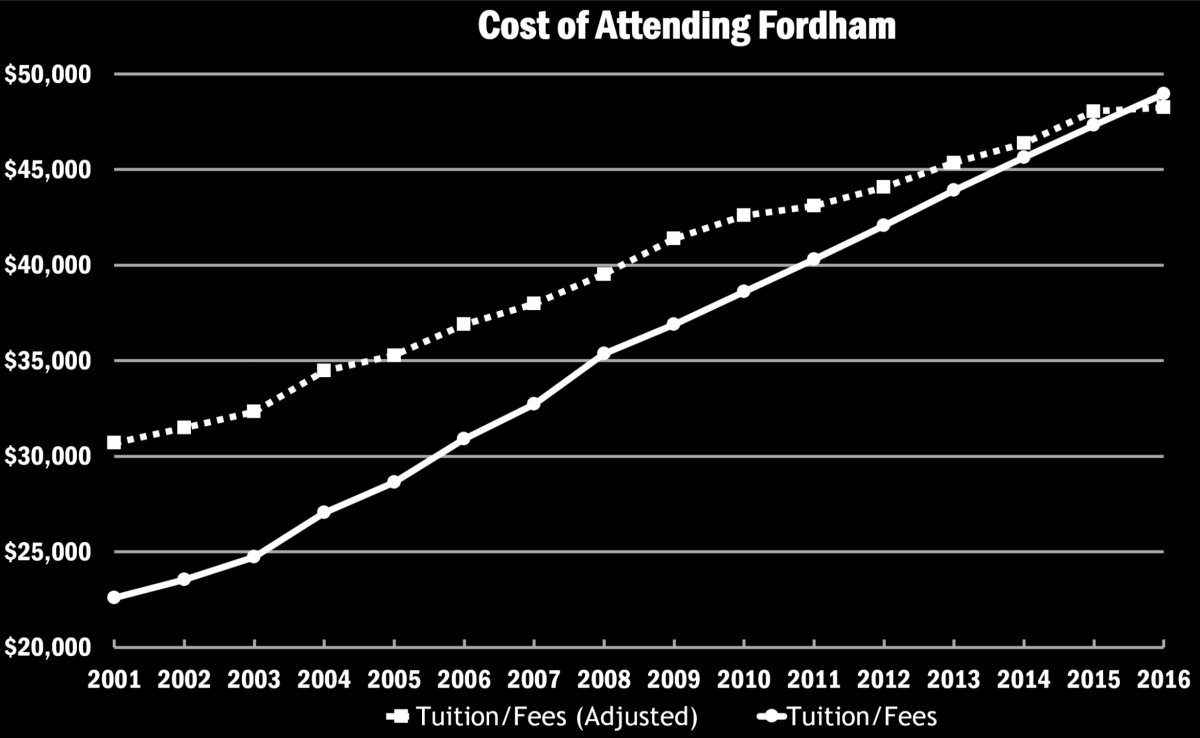 "We are deeply aware of the financial sacrifices students and their families make in obtaining a Fordham education," he noted. "We deeply believe that education is worth the price and more, and at the same time we are doing everything we can to reduce the burden. As a Jesuit university, we cannot do otherwise."
The increased cost of attending Fordham—$48,958 after factoring in the technological fee and general fee—is not unprecedented. Fordham's tuition and fees have been increasing since 2001, the first year on record on the National Center for Education Statistics' website.
Since 2001—when tuition and fees together were $22,585—the cost of attending Fordham has increased by approximately 116 percent. Adjusted for inflation, the change is 59.53 percent.
On record, the highest percent increase in cost from one year to the next was between 2003-04 and 2004-05, when tuition and fees went up by 9.41 percent from $24,720 to $27,047. The largest amount increase in cost from one year to the next was between the 2007-08 and the 2008-09 academic years, when tuition and fees went up by $2,637.
"Regarding tuition rate-setting, rates are established by considering a number of factors that revolve around affordability for our students and their families, our mission, and the costs of operating in a very expensive metropolitan area," Nicholas Milowski, vice president of Finance, said in an email statement.
"It is difficult to evaluate tuition alone without consideration of financial aid, which significantly discounts tuition," he continued in the statement.  "In fact, the institutional discount rate for our fall 2016 entering class exceeded 45% (more than $47 million) and further, financial aid has been awarded to more than 90% of Fordham undergraduates (this excludes restricted and governmental aid). In addition, the University is currently in the midst of a financial aid campaign with the hopes of making a Fordham education even more affordable for students."
During the Middle States accreditation evaluation in April, the evaluation team had cautioned the university that "we don't have the financial resources to do everything that's planned that at the present time we would need," according to Rev. Robert Grimes, S.J., Ph.D., in an interview at the time.
"In terms of additional expenditures of resources, we need to work on developing new sources of revenue and emphasizing development and fundraising, that kind of thing," Jonathon Crystal, vice president of Academic Affairs in the Office of the Provost, also said at the time. He added that we want "to think in terms of developing a long term budgeting model to help us make those decisions effectively."
Both Grimes and Crystal pointed to the Continuous University Strategic Planning (CUSP) that would work to address these issues.