Fashion Trends Subvert Gender Expectations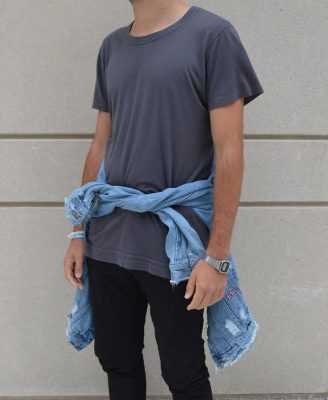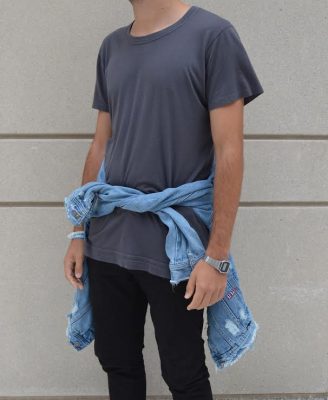 By KARIN HADADAN
Contributing Writer
Years ago, the world of fashion was strictly divided in two: womenswear and menswear. In the past five years, that line has blurred, making women's clothing and men's clothing more similar than ever. Gender-fluid fashion has taken over the runway, the streets and even here on campus at Fordham Lincoln Center (FLC).
If you scroll through your Instagram feed, you'll come across famous models such as Cara Delevingne or Hailey Baldwin rocking oversized sweatshirts, knitted beanies and structured blazers while running errands or posing on the red carpet. Search Jaden Smith, who was once the face of Louis Vuitton's womenswear campaign, and you'll notice how he regularly sports feminine pieces such as skirts or tunic shirts. While his outfit choices were once considered out of the norm, people are actually loving it with their positive Instagram comments.
This emergence of unisex clothing isn't brand new—in 1966, Yves Saint Laurent (YSL) introduced Le Suiting, a tuxedo style suit made for women. During that same decade, while women's fashion was becoming more masculine, men's fashion was also taking a turn with floral prints, slimmer suits and brighter colors. Fast forward to today and those turns are even wider.
In 2011, Kanye West wore a black leather Givenchy kilt while performing on stage at his "Watch The Throne" tour. Just last month, Young Thug released a mixtape along with cover art, which was a photograph of him dressed in a Japanese kimono-inspired garment. In Gucci's Fall/Winter 2016 collection, although female models were featured in super girly ruffles, there was also a wide array of male models walking down in garments with floral prints and embroidery.
Pink, known as a soft, delicate and pretty color, has lately been the palette for structured blazers, slim fit pants or clean cut sneakers. On the other hand, boxy cuts, high-top sneakers and oversized tees are now closet staples for the average New York girl. FLC students are also seeing this change, such as Alan Gelman, Fordham College at Lincoln Center (FCLC) '20, who feels that many styles look good for both men and women.
Gelman, a natural science major and possible fashion studies minor, is a fashionable freshman who's only been at Fordham for two weeks. Gelman expressed, "In this day and age, people wear more masculine or more feminine clothes to encourage unity between the genders. Things like bomber jackets happen to look great on girls, and long tops with floral prints do look good on guys." He added, "Fashion has no boundaries, and aesthetics aren't always associated with a gender." When it comes to his own personal style and while describing his wardrobe, Gelman said, "I have plenty of light peach, baby blue and pink."
This rise of gender fluidity in fashion shows that an outfit is no longer made for just men or women; it is merely a form of self expression. Women are wanting garments that would be traditionally found in the men's section, and men are being inspired by what is seen in the women's section.
Rhea Dandashy, FCLC '19, is an anthropology major who is known for always wearing a different pair of sneakers while on her way to class. When asked if she's ever purchased merchandise other than in the women's section in a store, she stated, "a good 30 percent of my clothing is from the men's section," Dandashy explained. "I love shopping in different sections and seeing what kinds of things I can pull together to look good."
Some women are more comfortable in oversized apparel or loungewear, while others feel more confident wearing a skirt and a silk blouse. Dandashy is "most comfortable in relaxed clothing and a nice pair of sneakers." She added, "Whenever I have a pair of kicks on, I am physically comfortable and always internally feeling good." That's what an outfit should be about — being comfortable and feeling good.
In the past few years, society's take on gender issues has encouraged the fashion world to expand horizons and be more equal. Designers are no longer creating a defined line between what is created for men or women and consumers are using their creative minds to sport personal looks that represent what they believe in. Griffin Hull, Gabelli School of Business at Lincoln Center (GSBLC) '19, is often seen around campus sporting fashion forward looks. Back in the day, the majority of designers were males who were creating womenswear rather than menswear. According to Hull, "More and more brands are creating men's lines and often blur the lines with what should be considered men and women's clothing."
"Two brands that have produced feminine-inspired clothing are Rick Owens and Hood by Air, specifically in their recent collections," Hull stated, both of which have gained incredible, positive reactions in recent shows. Hood By Air had men walking down the runway in skirts, while women were wearing pants. "I also believe society's progression on homosexuality has encouraged the use of men's clothing on women and women's clothing on men," Hull added.
In the heart of Manhattan, FLC students are advocates of gender fluid fashion. Some women own more pairs of sneakers than heels, and many men have pompom keychains hanging off their backpacks. Hull also noticed a fluidity in fashion on campus. He explained, "I have seen women wearing men's clothing, but have also seen men using bags as backpacks."
Whether it's a new trend that will last less than a year or if it's a revolutionary moment in history, fluidity in fashion has changed the definition of masculinity and femininity. Today, people are creatively expressing themselves outside of gender norms. As Gelman suggested, "Anyone can wear something that is considered for the opposite gender and make it look fantastic."