Creativity and Controversy Surround Brooklyn Art Store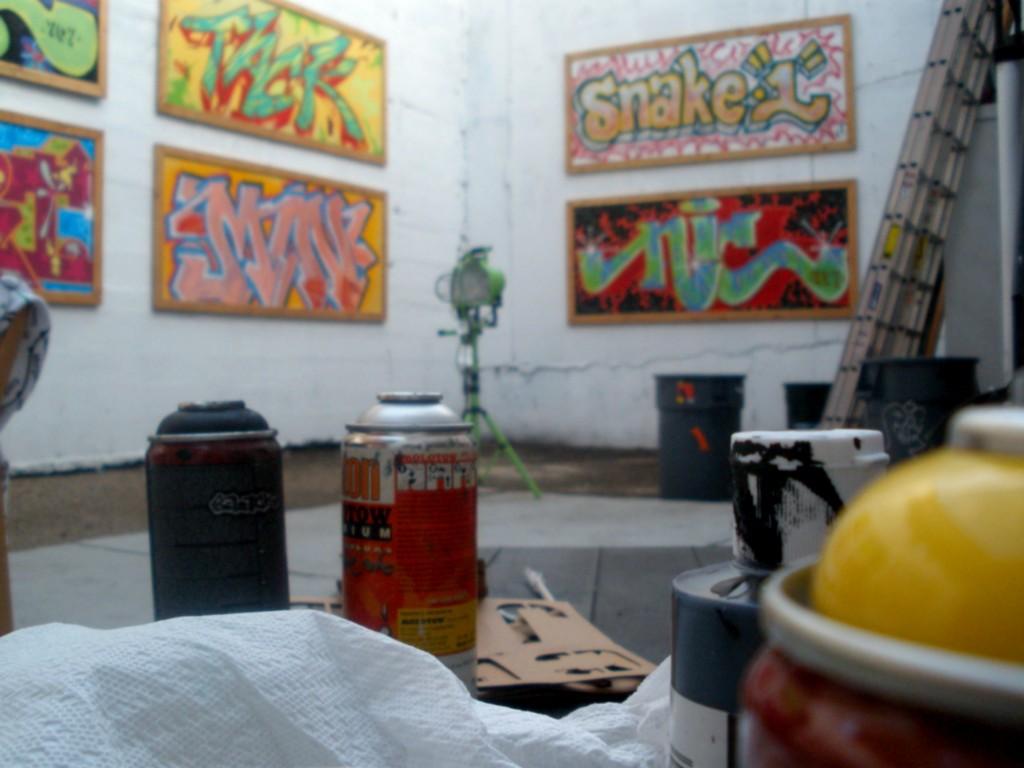 Published: October 02, 2008
The store blends in with the buildings surrounding it.  You would walk right by it if you weren't looking for it.  You walk through the entrance and see a sparse but lively interior.  A collection of clothing embedded with art designs sits to the right.  Near the back of the store, cans of spray paint sit next to each other in a locked cage.  While the store appears small, the back door opens up to a huge, outdoor event space with graffiti hanging from the walls and ceiling.
Welcome to Alphabeta, Brooklyn's new alternative art store.  Alphabeta opened its doors this summer, due to the efforts of its co-founders, Charlie Halsey and Leif Mcllwaine.  The purpose of the store is to create an environment where all types of musicians and performers can create conceptual works of art that represent the personality of today's youth culture as well as "fill the gap missing in Brooklyn," Mcllwaine stated.
The store created almost instant controversy when it opened, due to the association between graffiti and vandalism. According to New York State law, a person is guilty of criminal mischief from the fourth to the second degree when he or she intentionally damages property. The degree of criminal mischief is determined by the amount of damage that is caused.
This is the main concern of New York City Councilman Peter Vallone, Jr. In an article at npr.org, Vallone stated that only a small amount of graffiti art is legal. He doesn't believe the store will "cater to legal graffiti art, because there is just not enough of that to turn a profit."
However, the amount of legal graffiti art appears to be on the rise, with an exhibit at the Brooklyn Museum in 2006 and another one at the Tate Modern Museum in London earlier this year. A discussion about graffiti art also occurred in 2004 at the Chelsea Art Museum in Manhattan.   Halsey reacted to the idea of graffiti-as-vandalism by stating, "It's fairly narrow-minded. Like saying all rock and roll is devil's music."
Halsey also mentioned that while both he and Mcllwaine promote spray cans as alternative art products, they do not discriminate against any customers. The only requirement to buy spray cans is that the customer must be over the age of 18.
The controversy over graffiti wasn't the only obstacle for the co-owners in opening their store. "The whole building process was a huge hurdle. The place is a living organism. It's constantly changing," said Halsey. He also mentioned that another challenge that the owners still face is promotion for Alphabeta. All of their business has been through word of mouth, though they hope to have a Web page up within a couple of weeks.  The address for the store's future Web site will be www.alphabetabyc.com.  For now, they can be found at www.myspace.com/alphabeta.
Even though there may have been some hurdles, the owners agree that the business is doing well.  "Every artist we thought we'd have in here has come in.  We've gotten a lot of support from artists, investors and sponsors," Halsey stated.
Musical artists, such as the Rock Steady crew, and a group of artists represented by the Graffiti Research Lab in Geneva have made appearances at Alphabeta to perform in the open, 5000 sq. ft. event space behind the store. With a combination of live painting, music and other forms of artistic output, these host parties highlight the talent that exists both within and beyond Brooklyn.  The outdoor backspace isn't just for performances, though.  Artists can rent the event space with the approval of the co-owners, who are always interested in finding talented artists.  "People adapt to the practice and take it to a whole other unreal level," stated Halsey about graffiti artwork.
Alphabeta is located at 70 Greenpoint Ave. and is open between 12 p.m. and 8 p.m. Some upcoming shows at Alphabeta include a performance by graffiti artist Lady Pink next month and a show on Oct. 16 featuring 60 female artists. Their works will be displayed until Nov. 17.  A listing of all upcoming shows can currently be found on the store's MySpace page.