New York Needs More Organ Donors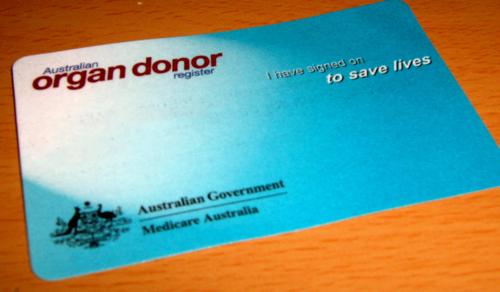 April is National Donate Life Month: a time to encourage people to register as eye, tissue and organ donors and appreciate the lives that such gifts have already saved. However, the sad situation of the present day is that, according to the New York State's Department of Health's official website, "More than 10,000 New Yorkers are on waiting lists as the need for organ donations far exceeds the supply." Because of this, New York state currently ranks last in the amount of organs donated. Popular health insurance company Blue Cross Blue Shield has also reported "Approximately 1,500 New Yorkers have been on the waiting list for five years or longer." It is time to change that.
One of the major reasons why New York ranks last in organ donation is the lack of public awareness. Until recently, I personally didn't even know that April is National Donate Life Month. In fact, LiveOnNY is one of the only organizations responsible for promoting awareness, and even then such events seldom get appropriate coverage from popular media outlets. The remedy for this is to work with the Department of Health to plan public, visible events in schools, universities, hospitals and libraries to encourage New Yorkers to register as donors. Most know the importance of organ donation and how it can save lives, but they do not know much information about the process.
These campaigns are important in helping to put an end to many of the doubts when it comes to organ donations. According to The Atlantic, "Studies have also shown that the less people trust medical professionals, the less likely they are to donate." The American Transplant Foundation states that some of the major doubts that plague potential donors include questions like, "If I register to become a donor and I survived an accident and went to the hospital in a bad condition, will the doctors and hospital staff try as hard to save my life?" Another question is: "Can they announce that I died to take my organs before I actually die?" The answer to these questions is simple—the doctors' main mission is to save everyone's lives. According to the Mayo Clinic, a nonprofit medical practice and medical research group founded in 1889, "People who have agreed to organ donation are given more tests (at no charge to their families) to determine that they're truly dead than are those who haven't agreed to organ donation." We need public awareness campaigns in order to build trust between doctors and patients so they feel more comfortable registering as donors.
The increase of public awareness will also help to clarify several misconceptions around the organ donation process. One of the major misconceptions is age requirement. If you type "myths about organ donation" on Google, you will find age requirement on each link you click: including websites of organ donation organizations, medical centers and hospitals, and newspaper articles. People think that there are certain age requirements to become a donor. However, that is not true. There are no age requirements determining who can be an organ donor. According to LiveOnNY, "Individuals who were 92 years old have donated their livers in the United States." In addition, individuals who are younger than 18 years old can be donors as long as their parents authorize that decision. Your age does not matter—it is your health condition and medical history that matter. Even cancer patients can be donors; they can donate corneas.
Eight hundred words is not enough to clarify all the misconceptions about organ donation, but at least it can be an encouragement for the readers to think about that issue. There are lucky New Yorkers who find their needed organ quickly; others spend years on the waiting list, fighting for their lives. We see them on our subway rides and we walk by them in the streets, and we may even know them personally. At the end of the day, it is a personal choice whether to donate or not. Nigel Heaton, a professor of transplant surgery at King's College Hospital in London, said: "When most people die, nothing good comes out of it. But donors' families say that the only comfort that comes out of their loved one's death is the knowledge that through their death they have saved other lives." On average, 22 people die per day due to a lack of available organs, according to the American Transplant Foundation. It is our obligation to do all we can to help them.