Chill Out! 5 Ice Cream Spots You Need To Try in NYC
As the harsh winter winds start to die down making room for the springtime sun, that can only mean one thing: ice cream. Or at least, that it's now socially acceptable to have ice cream. But sometimes when the spring and summer months roll around, we can fall in a rut with our humdrum Baskin Robbins or Dairy Queens of the neighborhood. We've gathered a list of five of the most uniquely delicious ice cream spots that are sure to keep your summer chill.
Ample Hills Creamery
Situated only a stone's throw away in Hell's Kitchen's Gotham West Market – which is far enough away to feel like you've stepped outside at least once this semester – you can set your sights here for a whole afternoon's worth of meal time. Dedicated to handcrafting their ice cream the old-fashioned way, satisfaction is guaranteed with their combination of both a smooth consistency and their unique flavors (The Munchies is the ultimate comfort cone: pretzel-infused ice cream with clusters of Ritz crackers, potato chips, pretzels, and mini M&Ms).
10Below Ice Cream
With a line that takes up space in the entire store and runs around the corner of the block, it's no wonder why 10Below Ice Cream is a huge commodity in the city. Located in the heart of Chinatown, the simple and delicious flavors aren't the only thing that make this place a fan favorite, after all, it's the method to their madness that makes them so popular. Using cold plates that cool down to below 10 degrees Fahrenheit, they freeze fresh liquid ice cream and then scrape it up into swirled and floral designs, right into your cup.
Big Gay Ice Cream Shop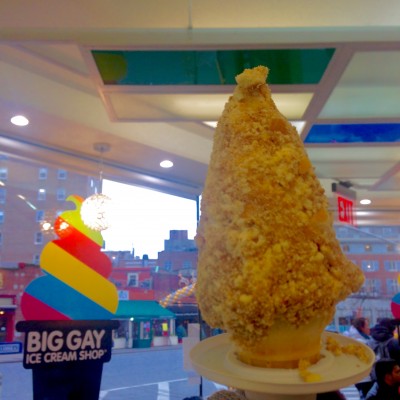 A classic favorite and a staple in the West Village, everyone that knows anything knows about the Big Gay Ice Cream Shop. With a focus on everything chocolatey and sweet, they serve up their ice cream just right (aka customizable to your liking). Whether you want something covered in chocolate, dipped in peanuts and caramel, or plain and simple, they serve it up sweet with a smile. Big shout out to American Globs, if you're a fan of salty and sweet mixed together like me, because nothing tastes better than chocolate, pretzels, and caramel all in one.
Popbar
Another favorite in the West Village that you could have been taken to during your Freshman year excursion, their sights are set on gelato done right, with a twist. Nothing screams neo-classic like frozen handcrafted gelato on a stick. Choose from numerous tasty flavors, and then swing it any way you want – dipped in chocolate, covered in peanuts, sprinkled with coconut flakes or all the above. And don't worry, they also carry sorbetto, so if you're into the fresher flavors (I highly recommend the mango), then they've got you covered.
Morgenstern's Finest Ice Cream
Housed on the Lower East Side, this was the farthest trek into the concrete wilderness I took – but I don't regret it for a second. If you're looking for retro vibes and flavors from all over the world, Morgenstern's is the place to be. Designed like a classic 50's ice cream parlor, you'll feel like you've stepped into Grease with the sudden urge to do the hand-jive, baby. Besides the great atmosphere and friendly staff, the unique flavors will have you culture-shocked. For reference, try their Szechuan Peppercorn Chocolate, Cardamom Lemon Jam, and if you're adventurous, anything with Durian.
Honorable Mention: Holey Cream
As an honorable mention, since it isn't strictly an ice cream shop, Holey Cream is a Fordham Lincoln Center favorite, and a place that students have turned to (on Seamless) for many a long night in Quinn. Noted for their delicious donut ice cream sandwiches, how could you go wrong with something sweet and something sweeter? That's right, you can't. While their flavor selection is standard, the inclusion of multiple other sugary treats like brownies, cookies and cupcakes, there'll always be something to appease the palate, whether or not ice cream is your jam.