America Magazine Sells Offices, Moves Jesuit Residence to St. Paul's Church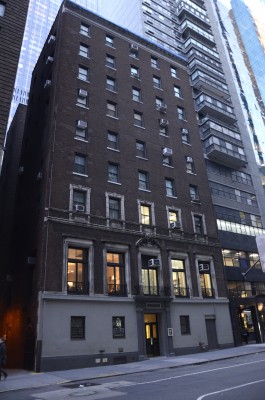 America Media, the Jesuit magazine and media company with close ties to Fordham University, announced that it had sold its former headquarters at 106 W. 56th St.
This move will split the former America House into two residencies: offices at a yet to be determined location in Midtown West and a Jesuit residency at 120 W. 60th St., a former convent attached to St. Paul's Church, one block from Fordham Lincoln Center.
According to Matt Malone, S.J., president and editor-in-chief of America Media, "This move represents a shift into the 21st century, shifting away from a 20th-century idea of a magazine."
"The old building was purchased in 1962 and it's more designed for a mid-20th century magazine, and we'll be moving into a building that represents a 21st-century magazine," Malone said. He explained that this change will also lead to infrastructure upgrades to increase the online presence of America Media. Alongside the magazine, America Media also produces podcasts, film and other multimedia ventures.
The sale of the old headquarters will be put into an investment fund that will subsidize the organization's current operations and future expansion. According to Malone, this achieves three goals, including creating a new modern production facility, expanding the multimedia platforms America Media operates on and creating baseline financial security.
"The old building housed about 20 Jesuits who will be moving to St. Paul's, and while there is still a core group of Jesuits working at America [Media] including myself, the face of the company is changing," Malone said.
He also acknowledged that having the Jesuits in closer proximity could affect Fordham Lincoln Center. "Although it is ultimately up to the provincial of the Jesuits and Father McShane if they would teach or work at Fordham, the proximity will definitely have an impact, and our move does create a lot of opportunities for students to interact as well." Malone also noted that McShane has been very welcoming and supportive in helping with the logistics of the move.
Fordham students, rising seniors specifically, would have an opportunity to interact in one way through the newly-established Joseph O'Hare Fellowship, a postgraduate journalism fellowship that will be inaugurated this August.
"The fellows will be living at [Fordham] Lincoln Center and working with us closely, and it will help us engage with younger audiences and our journey as a 21st-century media ministry," Malone said.
The fellowship is limited to graduates of Fordham University, 27 other American Jesuit universities and Campion College at the University of Regina, Canada.  It was established through a donation from William J. Loschert, Fordham College of Business Administration '61 and namesake of the Rose Hill campus's Loschert Hall.
"Bill deserves a lot of the credit for this; we could not have established the fellowship without him," Malone said. The fellowship itself is named for Joseph O'Hare, S.J., a former editor-in-chief of America Magazine and the former president of Fordham University. O'Hare himself was succeeded by McShane, in 2003.