RestauranTOURISTS: Ramen Noodle Edition
Mee Noodles
Dish, Location, Price, Delivery: #20 (Ramen with roast chicken and boiled egg). 795 9th Ave, corner of 53rd and 9th. Across the street from Holey Creme. $8.05. Free Delivery via Seamless.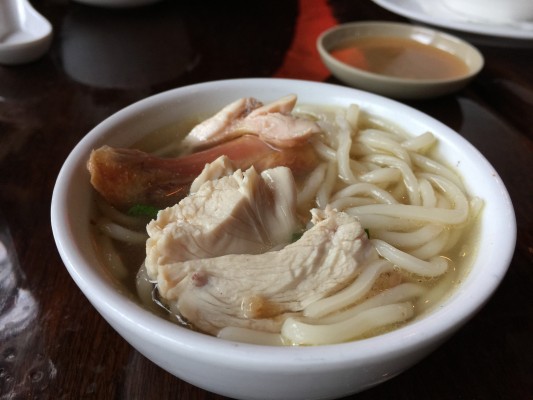 Rachel: Smelled fishy, tasted dodgy. I would stick to a microwaveable cup-a-noodle if this were my only option, because this was disappointing. Don't get ramen from places that don't specialize in ramen. For starters, it took forever for them to make and when we finally got it, the broth was clearer than ramen broth should be (like it didn't simmer long enough) and the noodles tasted like mushy spaghetti. But it looked pretty in the bowl.
Elena: I was not entirely sold on this bowl of ramen. Although the presentation was nice, the taste fell through for me. It almost had a chicken-soup-like consistency to it, but with a fishy taste and smell. Would definitely take a cup of Top Ramen over this. The restaurant itself had a very nice ambiance, however. The service was quick for the most part. The restaurant also played smooth jazz, which is pretty much a selling point for me. I would come back here to sample some of the other items on the menu, but not the ramen.
Morgan The restaurant itself is the perfect location for a nice gathering of friends. There are plenty of tables and ample room to move around—a phenomena not usually found in New York City. The wait staff was quick and friendly, always making sure to refill water glasses and check that we were doing fine. However, once the food was brought out, the experience went downhill. The noodles smelled like something noodles should never smell like—the fish section of a pet store. Once I got the distinct scent of fish, I couldn't NOT taste it. One bite and I was done. I would rather eat a 50-cent package of Top Ramen before I eat this dish again.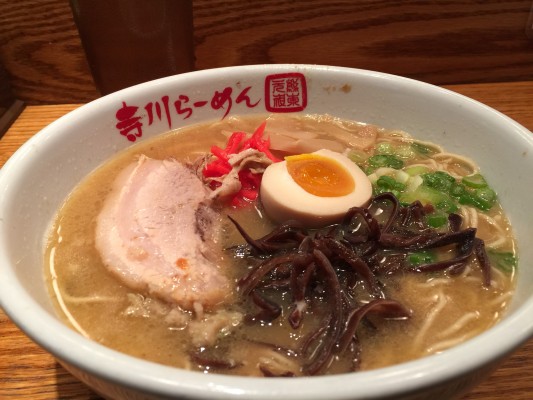 Terakawa Ramen
Dish, Location, Price, Delivery: Terrakawa ramen with pork and straight noodle. 885C 9th Ave. Next to Morton Williams. $9.50. Delivery and Takeout. Cash only
Rachel: So good! Large portions for $10, I could not finish my bowl and I had noodles and broth left over. I used to go here at least once a week last semester when they had an A grade, but since the Health Department recently gave them a B, I'm a bit concerned. I don't like to eat at places with grades lower than an A (because food safety is a must, especially in this dirty city) so I probably won't frequent Terakawa as much as I used to. But if I'm really hungry—like empty stomach hungry—and craving noodles, I would definitely fill up here.
Elena: I loved this ramen! The presentation was great; so much so that the taste was almost as colorful as the dish itself. The portion was very large, however. Although I got a lot of food for $10, it was definitely more than I could eat in one sitting. I would most definitely take this over Top-Ramen. I loved the setup of this place as well. The bar-style seating made for an interesting eating experience, and overall the service was friendly and fast.
Morgan: This is what ramen is supposed to be. At first I was skeptical because of the price (the bowl is $10), but the serving was huge and filling. Seating is very limited in the restaurant, so this is not the best go-to place for a large crowd of friends. However, for just a small gathering of a few people, it is perfect. The ramen itself was delicious—the broth was one of the best broths I have ever had. The pork was also tender, and the noodles were cooked almost to perfection. The bowl itself was colorful, combining lots of other foods, such as bamboo shoots and ginger, to accent the taste and appearance of the ramen. Overall, this is an excellent choice!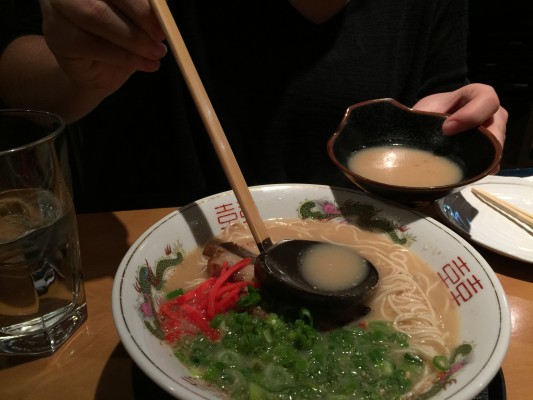 Donburi-Ya
Dish, Location, Price, Delivery:  Nagahama Fu Tonkotsu Ramen, pork based broth. 253 West 55th Street New York, NY. Next to Soup Man. $11.00
Rachel: Sold! I didn't think anything could top Terakawa but Donburiya did. The broth was rich and hearty. The diced garlic elevated the flavors of the pork and noodles (I don't remember tasting garlic in the broth at Terrakawa). The straight noodles were on the thinner side, which I prefer, the pork wasn't as fatty as I would have liked but still delicious. I would definitely eat here again, and again and again.
Elena: This was the best tasting Ramen by far. The broth was flavorful, and the noodles were cooked just right. What the presentation lacked, the taste made up for it. I would eat this over Top-Ramen any day. The restaurant itself was really awesome as well; the ambiance was very chill and the service was fast. There was even a karaoke bar upstairs, for some after-ramen fun. I really enjoyed my dinner at Donburi-Ya and would definitely return!
Morgan: This ramen was INCREDIBLE! After visiting Terrakawa, I was not expecting to find another restaurant that tasted better…yet Donburi-Ya was exactly that. The broth, seasoned heavily with garlic, complemented the taste of the noodles and heightened the overall taste of the dish. While the presentation was not amazing, the taste was worth the trip. Although Donburi-Ya was the most expensive choice out of the three restaurants we visited, it was by far the best. For $11 a bowl, one receives a huge serving of delicious ramen, a friendly waiter, and the option to sing karaoke upstairs after their meal. I will definitely be visiting Donburi-Ya again!