Sound Check: Flow Tribe at The Hall @ MP
On Feb. 12, Flow Tribe gave a performance that can best be described as eclectic and, as they describe themselves, "with the delicacy of a sledgehammer" at The Hall @ MP, a new venue in Brooklyn created by Chef Michael Psilakis.
Founded in New Orleans in 2004, Flow Tribe  is comprised of six high school friends, including a lead vocalist who also plays the trumpet, dueling guitarists and a percussionist who switches between a fratois (washboard), a harmonica and a keyboard.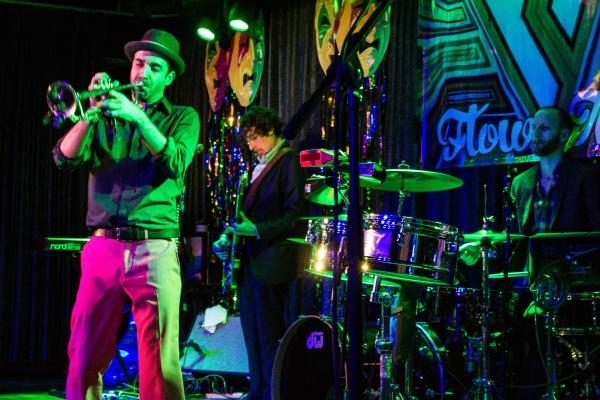 The opener was Madaila, a talented Vermont-based band that was a little too enthusiastic and energetic for their own good, but featured impressive guitar solos, keyboard and vocals.
Taking the stage after Madaila, Flow Tribe's setlist was a combination of their own songs and covers from an array of genres.
Once they started playing, opening with their song "Gon Gitcha," the music seemed endless.  With the exception of one instance halfway through the concert where the band tried to fool the audience that the concert was over by all but walking off the stage, one song flowed right into the next.  This rapid pace kept a constant, if sometimes exhausting, energy to the performance that had audience members on their feet and dancing throughout the night.
Among their own songs performed were "Run With You" and "Hungry For You," a song that starts off with a steady bass line and quickly builds with drums, trumpet and a lengthy guitar solo that many audience members couldn't help but to dance to.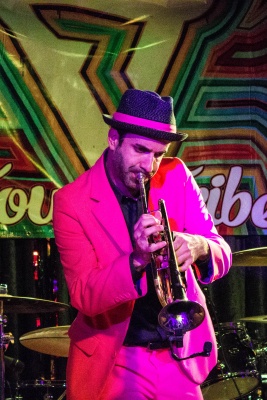 Another one of their songs performed was their hit "Gimme A Line," where K.C., the band's lead singer and trumpeter, showed off his impressive trumpet skills.
One could tell, however, that Flow Tribe is a band with a style of its own when they started playing covers.  Among the strange selection of covers that fit surprisingly well with Flow Tribe's sound were Nelly's "Hot in Herre," Mark Ronson's "Feel Right," The Sugar Hill Gang's "Rapper's Delight" and even the theme song from "The Fresh Prince of Bel Air", which got cheers from an audience that sang along.
Flow Tribe's sound can be best described as a mixture of jazz, hip-hop and rock. Defined by a steady groove, their sound is built by K.C., a talented bass player, dueling guitarists that provide entertainment unto themselves and percussionists.
While Flow Tribe's sound and relentless playing may not be for everyone, their passion and vibrancy, helped by K.C.'s bright pink suit, ensures that audience members take part in their energy and want to join in the created atmosphere of an endless Mardi Gras party.
The band hopes to release a new full-length record this year.  Flow Tribe is on Instagram and Twitter as @flowtribe and on Facebook at facebook.com/FlowTribe. Their music is available on Spotify and iTunes.