Clare Cirillo Talks College, Kanye and Her Career
What would it feel like to see yourself on a billboard in Union Square?  Could you imagine getting texts from your classmates saying they saw your face in the mall? For Fordham College at Lincoln Center (FCLC) senior, Clare Cirillo, this is all just a part of her journey as a model on the rise.  She humbly laughs, "It's just kinda weird. It's more funny to see how people react." Cirillo is not your average, 21-year-old communications major. When she isn't in one of her four night classes, she's making a splash as an upcoming, fresh-faced model. Most recently, Cirillo scored a major campaign with American Eagle. Just take a quick trip over to the Times Square AE billboards to see for yourself.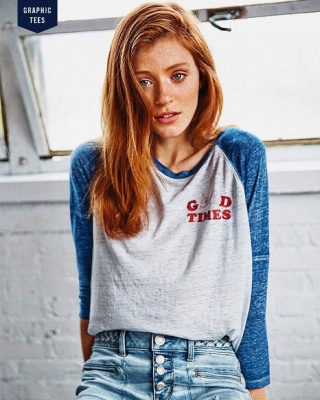 When Cirillo met me in the Atrium, she was wearing a slouchy baseball tee paired with black leggings and over-the-knee boots. Her defining, golden red hair was swept into a low ponytail, and her envy-inducing freckles looked as if they were perfectly painted on. Cirillo is the epitome of the girl next door, completely presenting herself with "model-off-duty" poise. Her effervescent personality was immediately noticeable as she began to discuss her career with me.
Cirillo stepped onto the modeling scene only two years ago, and what a busy two years she has had. Before transferring to FCLC, Cirillo attended Quinnipiac University in Connecticut. Cirillo was scouted by a family friend who encouraged her to pursue a modeling career, and with the support of her mother and Fordham graduate father, she made the move to New York City."I never planned on modeling or moving to the city, it just kind of fell into my lap," she said. After auditioning in front of a six person panel, Cirillo booked her first job with Kohl's. "I didn't think anything of it. I [thought], 'Oh, I'm not going to get that, that was my first audition.' And I ended up getting it," she explained.
In the past decade, the industry has overseen sufficient change, as modeling is transforming into more than just posing for a camera. Social media now plays a prominent role in the industry and Cirillo notes that her success is greatly influenced by her digital presence. With 18.4 thousand Instagram followers, Cirillo often has her profile to thank when she lands new jobs. She gave me a modest, "Eh," when I applauded her on this impressive amount of followers. After auditions and castings, she told me "the first thing they do when you leave the room is look on your Instagram. And that's your portfolio in a sense."

Cirillo keeps her contact information accessible on all of her social media accounts, so companies can easily get in touch with her. She smirks, " I know it's really silly, but you really have to be cautious of what you post and what you don't post, and you have to be active on social media all the time if you want to get people to notice you." Cirillo's work with American Eagle even began this way, as the Creative Director stumbled upon her profile and immediately booked her for a spring transition shoot in Pittsburgh. Cirillo proved herself in this first shoot and the company gave her their full Spring campaign, which was shot over a week in Big Sur, California. In addition to American Eagle, Cirillo actively works on e-commerce shoots for Target, Kohl's, and Amazon.
Although she sticks to mostly commercial work, Cirillo has also been featured in editorials in Seventeen Magazine and Interview Magazine. Cirillo matter-of-factly laid out the industry to me, explaining that there are two types of models: commercial and editorial. She said, "To be really successful you want to be a model that can do both editorial and commercial. I always use Karlie Kloss as an example, because she can literally do anything. If I were to be in a Vogue editorial, it just wouldn't really look right, because I don't have that look to me. Which is fine. I'm totally great with [working for] all American brands."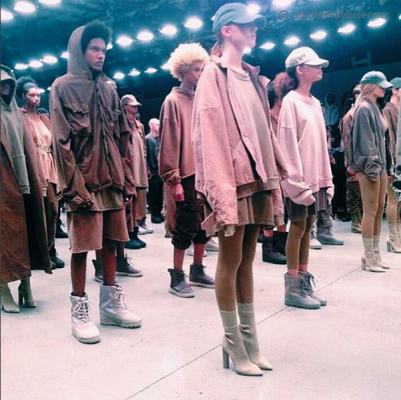 Recently, Cirillo made a transition into runway modeling with a debut in New York Fashion Week 2015. One of her first shows? Kanye West's Yeezy presentation, alongside Kylie Jenner and Bella Hadid. As if being a part of the show isn't crazy enough in itself, Cirillo detailed the audition to me in the most cool and collected manner. She recounted that she was one of many girls who showed up for the audition and, humble per usual, she was not expecting to be chosen. She says without hesitation that she stuck around mainly "to peep the scene." She described the audition experience as intense and quick, telling me, "We had to change into a nude leotard. And, basically… they just photograph you and ask you [two questions] about yourself, 'Where are you from? What's your name? Ok, get out." However, Cirillo was approached by panel members who were intrigued by her style. The panel was excited that she was a New York local and were attracted to her cool, down to earth personality. Cirillo was then invited to a fitting the next morning, where West himself was styling her. I was star-struck when she told me, "I go to the fitting and Kanye is there, and I was like 'holy shit.' … He was literally putting things on me."
Cirillo explained that she spent a full day at the fitting without any solidification that she had received the job in the show. Her eyes widened, "The thing with fashion week is that everything happens literally in two days." After the stressful but exciting fitting, Cirillo received a call that night at 10:30 p.m. saying she had been booked and to be ready for the show at 6 a.m. the following morning. Cirillo laughs, "That's fashion week in a nutshell. You really don't know what you're doing until the night before, which is very stressful." Cirillo also walked in Banana Republic, Claudia Lee, Vivienne Tam, Concept Korea and Matthew Marano during NYFW Fall/Winter 2015.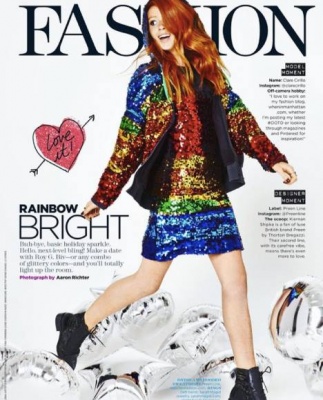 As much as Cirillo enjoyed her NYFW experience, she plans on sticking to commercial modeling. While runway modeling may have more pizzazz, Cirillo says there are intense expectations regarding fitness and weight. "It's a lot of pressure leading up to it. Not that they [told me,] 'You have to be really skinny,' but you definitely have to start watching what you eat a month before and getting in shape for it," she explains.  This, to her commercial clients, is a problem, as they want their models to be healthy. Cirillo feels she can be herself in commercial modeling, sharing, "This is my body. And this is what commercial [clients] like." In her words, "They like girls that can be related to."
As for NYFW 2016, Cirillo's presence is undetermined, as her agency will be showing her portfolio to casting directors and clients in the coming days. Following graduation, Cirillo sees herself continuing her modeling career, as well as focusing on fashion blogging with her budding site, When In Manhattan. Cirillo says her blog enables her to have "a platform that people can just go to and see what [I'm] up to and really get a sense of [my] style and fashion." She adds, "You can definitely make a living blogging." For now, Cirillo will continue her balancing act of being a full-time student and model as she continues to take in the exciting feelings that came along with being recognized by friends, family, and even acquaintances.
The time I spent with Cirillo was not enough, as her larger than life presence made every minute fly by. Cirillo is the girl that so many yearn to be: charming, modest, funny, and best of all, real. In an industry that is often clouded by negative stigmas, it is a rarity to discover such a driven and down to earth "cool girl." Cirillo's energy and passion is contagious and there is no doubt that she will make her mark on the industry. Clare Cirillo is a model of the moment with so much to come.