Where Do Daily Fantasy Sports Go From Here?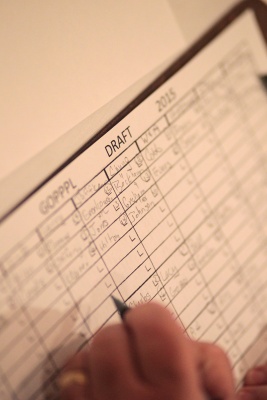 Regardless of your personal interest in the sporting world, anyone that watches television has been assaulted by the deluge of advertisements for the two giants dominating daily fantasy sports: DraftKings and FanDuel. According to an analyst for the financial firm Nomura, FanDuel and DraftKings combined to spend $150 million in the third quarter of 2015 alone on television and Internet advertising. This far-fetched phenomenon of "investing three dollars and winning two million dollars" has become firmly seated in the American consciousness, and it doesn't look like it's going away anytime soon. But these fantasy sports companies have recently been questioned as to whether or not the rules of these daily contests actually constitute gambling. This debate over the definition of "gambling" has led many states to ban these websites, most recently New York State in November. In addition to state legislature countering the creeping influence of daily fantasy leagues, internal scandals have called the validity of this business model into question. So, where do these fantasy sports enterprises go from here?
Fantasy sports have been popular across the world since the inception of the Internet, and the concept of a fan choosing a dream roster of his favorite players has changed the way in which the mass audience consumes sports games. The latest innovation that reinvigorated the fantasy scene was brought about by these two companies that offered "one day games" and the alluring change that a customer could re-pick their teams every day, as opposed to the original system of choosing a team for an entire season. The popularity of the new model has exploded in the years since FanDuel and DraftKings were founded in 2009 and 2012, respectively. But several stumbling blocks have slowed their quest to monopolize advertising during any and every televised ballgame.
The most confounding obstacle facing the future of these games is the semantic struggle over the definition of gambling and whether or not DraftKings and FanDuel fall into that category. The debate seems to rest on whether daily sports were considered games of skill or chance. By state law, games of chance are a form of gambling that most states outlaw. However, these companies seek to define their product in terms of skill. In short, DraftKings and FanDuel's conjecture is that it takes skill for customers to choose the best players for their fantasy teams, instead of the crapshoot indicated by a complex formula containing infinite variables affecting athletes' performance. Legislators have been largely unconvinced by this defense, which has led to increased pressure on these companies to change their current business practices.
In addition to governmental interest in these affairs, an inter-corporate scandal between DraftKings and FanDuel has weakened their public image. In October of last year, it was revealed that a DraftKings employee had won over $350,000 on FanDuel, opening up allegations of "insider trading-type" misconduct. According to the Wall Street Journal, DraftKings is under investigation by the FBI and the Department of Justice since the scandal was brought to light. After mounting incidents like these, the future of competitive online fantasy games has become unclear.
While the operation of FanDuel and DraftKings was suspended in New York, it has been granted permission to continue business throughout the appeal process. Daily fantasy sports have become a major powerbroker in the world of professional sports, with Major League Baseball (MLB) and many other teams owning interests in these companies. FanDuel and DraftKings are at worst corrupt bandits, and at best an annoying bombardment of advertisements, and their character seems to be demeaned every day. Perhaps with some rebranding and more transparency, these companies will continue to dominate the marketplace they themselves have thrust into the national consciousness.