Ailey II Spring Season, Right Around the Corner
Just off a tour of 25 cities in the United States as well as Italy and France, Alvin Ailey American Dance Theater's junior company, Ailey II, gave the audience a taste of the season they have in store for this March. The company previewed four new pieces, which will be performed this season along with some old favorites, at the Ailey Citigroup Theater on Tuesday, Jan. 26. 
At the start of the program, Ailey II artistic director Troy Powell stepped onto the stage and promptly exclaimed, "Look, I'm wearing a suit!" to the amusement of the audience. He then went on to introduce his company.
The first piece previewed was titled "In & Out," choreographed by Jean Emile. "In & Out" began with a duet featuring company members Nathaniel Hunt and Annellyse Munroe, and grew into the full company's stunning portrayal of contemporary life. The piece integrated silence and stillness with movement and music in an inventive way.
The second piece of the night, "Gemeos," choreographed by Jamar Roberts, stood in stark contrast to the first. A duet between Lloyd A. Boyd III and Fordham/Ailey BFA senior Gabriel Hyman, the performance was a comical portrayal of sibling dynamics. "Gemeos" translates to "twins" in Portuguese. Hyman said, "It comes naturally for Lloyd and myself, because we have that relationship in real life." The audience adored "Gêmeos," cheering louder and longer for it than any other piece. 
Next on the program was "Something Tangible," choreographed by Ray Mercer. The piece began with a haunting trio featuring Hunt and Hyman, as well as Fordham/Ailey BFA senior Courtney Celeste Spears. The rest of the company joined them later in the piece and created a visual manifestation of the spectrum of emotions that humans feel, reflecting a depth of feeling that can seem almost tangible.
The final piece of the night, "I Am The Road," choreographed by Kyle "JustSole" Clark, was a first for the company—never before had Ailey II performed a hip hop piece until this season. "I Am The Road" was an upbeat, lively and soulful take on hope and inspiration, depicting "the struggles of being an artist," as JustSole said in his introduction of the piece.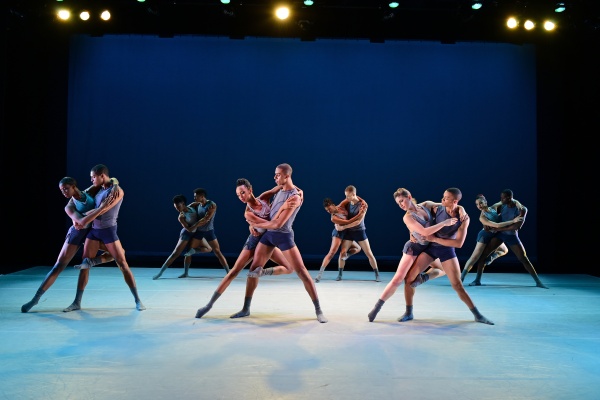 At the reception following the performance, the dancers were thrilled as they greeted their supporters with hugs and smiles. Hyman and Spears were particularly ecstatic as they celebrated their homecoming from their first tour as well as the start of their first Ailey II season.
"I actually started in hip hop, but kind of strayed away from it coming to Ailey, so getting back into it was so much fun," said Hyman of the first hip hop piece in the company's history. "It's very rare for a company, especially a second company to have contemporary ballet work, classic modern work and hip hop work so we're lucky."
"It's so funny because our teachers tell us all the time, they try and prepare you for it, but there's nothing like actually doing it," said Spears about her first time touring with the company. "It's surreal. It's surreal to travel the world with the art of dance."
Ailey II's Spring Season at the Ailey Citigroup Theater runs from March 30 to April 10. Tickets go on sale on Wed., Feb. 10. To purchase tickets, visit alvinailey.org/aileyii or call 866-811-4111.