An Evening With Carl Hancock Rux
On the evening of Jan. 26 in the 12th Floor Lounge of Lowenstein, Fordham's Creative Writing department (in conjunction with the Fordham-based literary magazine, CURA) sponsored a prose reading and Q&A with Carl Hancock Rux, a celebrated and award-winning poet, playwright, novelist, essayist and recording artist, in which he read excerpts from his first book of poetry titled "Pagan Operetta" and his dystopian fiction novel "Asphalt."

Three of the four excerpts Rux read came from "Pagan Operetta," a book that was published in 1998 and that Rux described as a mixture of poetry, prose and memoir. Rux felt inclined to provide the audience with a brief summary of his background, and started with this statement: "the very first part of my life was really traumatic. You name it… whatever could've happened, happened to me."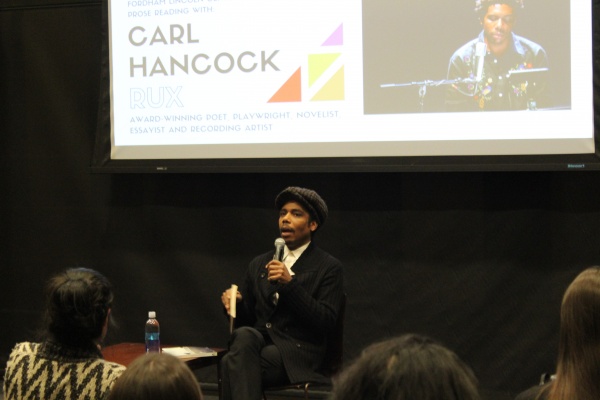 Rux then went on to share a few important details about his upbringing: his biological mother being an institutionalized paranoid schizophrenic, being raised by his alcoholic grandmother in East Harlem for the first four years of his life and then being in foster care until the age of fifteen when he was adopted. "Being a ward of the state, I'm proud of that. I survived it, got through it, went to college… so this book is sort of about that journey in a way." After that preface, when the audience slowly began to grasp the gravity of what they were about to hear, Rux began reading.
While the pieces that Rux shared were certainly compelling in their own right, what really tied everything together was his delivery. Rux's voice had a captivating quality to it; you couldn't tune him out even if you wanted to. In addition to his effortlessly nuanced voice, each piece had different linguistic markers which served to ground events that would otherwise be unfathomable to us—yet, in a way, these elements only made the stories being shared all the more jarring.
The first piece, titled "Environment of Memory," was read with a mixture of wispy singing and the author's naturally dark-timbered voice. The switch between the two was made so suddenly and so often that by the time your brain registered the current tone, it had changed again, and the entire poem felt like a game of catch up.
The second thing Rux read, "Blue Candy," was an account of his grandmother's death from the perspective of his four-year-old self. The poem is purposely naïve and repetitive, full of worrying observations that he was too young to make sense of and explained in the simplest of terms—and even so, that probably exhausted his limited vocabulary. This poem was then characterized once again by Rux's delivery, particularly the incorrect accenting and pronunciation of words—a quality that is considered endearing only if possessed by a small child. 
The last piece that Rux read from "Pagan Operetta" was titled "Postcard from a Ledge," which is a letter written to a friend of his while studying abroad in Ghana and Paris. This letter runs in circles, talking about the places that Rux had been and the places he still needed to go, and the tone in Rux's voice as he read was frantic and desperate. In the end, however, the outward mania could not contain Rux's real motives and emotions, gradually revealing themselves as the letter went on. In truth, Rux was in search of escape from a pain that was looming back home—the impending death of his ill friends. As the letter goes on, the mania wears down and Rux is faced with loneliness and regret, and the hollow resignation in his voice was nothing short of disquieting.  
After reading these three excerpts and a section of "Asphalt," the Q&A portion of the evening took place.
One audience member posed the question of whether or not Rux dealt with self-doubt when it came to his writing, to which he responded: "I felt something akin to self doubt, not about the literature itself, but something similar. I had some family members who were upset with me for having written ['Pagan Operetta'] and for having exposed a lot of secrets. But it was another writer, Dael Orlandersmith, who's a playwright and a good friend of mine, who then said to me: 'you reserve the right to invade your own privacy. Always.' And so that helped me get over whatever anxiety I was feeling."
After fielding a variety of questions concerning what kind of writer Rux believes he is, his process, and creating versus observing, Rux closed out the Q&A by sharing his top three pieces of advice for aspiring writers.
1)   "Tap into yourself. Tap into the part of yourself that is incomplete, and understand that whatever is incomplete about you is actually the gift that you need to give yourself."
2)   "You know more about what you're trying to do than anybody else does."
3)   "Everything has been written before. But not by you."