The Joy of Writing with Mary Bly
She could have been researching for her next academic work as a scholar of Early Modern theater; she could have been writing the next in her long line of bestselling romance novels or grading her students' Shakespeare papers, but instead Dr. Mary Bly spent her entire Thursday creating a single, delectable, chocolate trifle. She transformed herself for the afternoon into one of the Regency heroines from her historical romance novels, following a custard recipe from a centuries-old cookbook. She boiled milk, added sugar, beat the eggs, and combined them. Thickening the custard without corn starch meant whisking it madly over a low heat, and when it was finally thick enough, she added brandy and poured it over the chocolate cake she had spent the morning baking. On top she layered cherries and the whip she had made the day before.
There are plenty of grocery stores near her Upper West Side apartment that carry corn starch, but that's not the point. Mary Bly thoroughly enjoys the process of creation. In the same way, under the romance-writer pen name Eloisa James, she enjoys writing her books, mixing ingredients together into a delicious happy ending. In the literary world, many would consider romances trifles—sweet, rather than mentally nutritious, but Eloisa is as thoughtful and creative in writing her stories as she is in making her trifle. It's pure fun for her; if her stories were desserts, she would be licking her fingers as she wrote.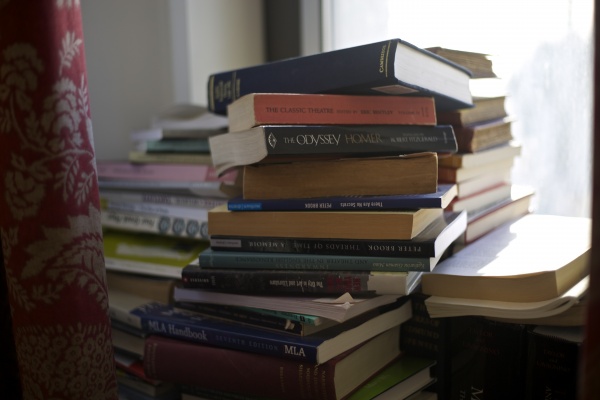 Although she is an expert in the Renaissance, Bly writes historical romances set in the Regency period. "I know too much about the Renaissance period," she tells me, "I have to be deliberately inaccurate at times, especially about gender relations, and that would really bother me in my own area of expertise." She describes herself as "tinkering with historical fact." In her novel Three Weeks With Lady X, for example, the heroine has a job as an interior designer. "I couldn't really figure out who was doing that work, and that really interested me, because there were a lot of people making a lot of money and then buying old estates and remaking them. So somebody is doing that work, and I assume it's men, but I couldn't find any, so might as well be a woman."
Nevertheless, her novels still reflect the historical period in interesting ways, and writing has become Bly's way of creatively answering her own questions of what living back then would have been like. "Some part of the conflict has got to rise out of the historical period. I've done a lot of novels in which it's come out of what was known about this kind of illness in the period, and you have to spin a plot out of that. So, for example, I wrote a book set in the Georgian period, in which the heroine was frigid, and I didn't know why, I just thought it was a good way to start. They were already married, and as the thing was going along I figured it could be because her wig, which you wore all the time, also to bed, she was allergic to the powder in it. But it took a long time, like months, to figure out exactly, and it was really fun once I figured it out."
Solving the problem is just as much fun for her as discovering what it is. For her novel, When the Duke Returns, for example, part of the conflict arises from the fact that the hero's father has just installed wooden pipes for the toilets, which have rotted and left the house smelling of sewage. For Bly, "that one was fun because I had to figure it out. I know that happened, I don't know how they dealt with it, so I made up a whole company of men in London who basically excavated toilets, and they charge a lot for this incredibly filthy job. It was fun writing their language—they were some east-enders."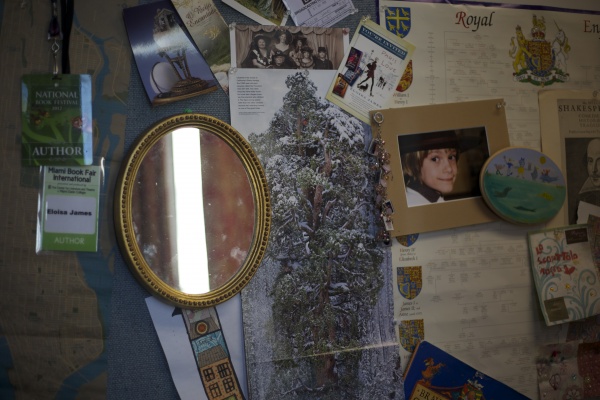 That process of creating characters is another one she thoroughly enjoys. She thinks about her characters for months or years in advance, imagining what they would say and how they would act. When she tells me about them, she talks as if they're acting independently of her, as if she's discovering them and she's thrilled by their actions. She tells me proudly of the husband of the woman who's allergic to her wig, "that night that they both figure out, he cuts off all her hair. He just cuts it off right in the bath. That was the solving that." I feel as if she's filling me in on some gossip—a secret from their marriage that she just has to share.
At ten to five, I'm standing in the rain in a small crowd outside the IFC center, on 6th avenue in the West Village, where they're showing a documentary about the hugely profitable and warmly welcoming romance industry, which features Bly as a beloved writer. Bly arrives with an umbrella, gives me an air kiss and then greets the many friends and colleagues waiting out front for her. At five we are ushered into theater one, a large room with brick walls. It's a jovial atmosphere; people greet their friends and chat with strangers. One of the employees gets up to check that everyone's in the right room — "Theater one is Love Between the Covers" — and throughout the room claps, snaps, and cheers abound.
The filmmaker, Laurie Kahn, introduces the documentary and then the film begins. In it, Bly talks to her readers at a Romance Writers of America conference, writes in her living room, teaches a class at Fordham, tells an aspiring writer to add more sex to her novel. She informs the interviewer, "romance is one of the only meritocracies left. Cooking is a meritocracy, and romance is a meritocracy."
Afterwards, the rain is coming down harder, so we scuttle to the subway and take the train uptown to her apartment.  Her husband Alessandro and daughter Anna are lined up by the door to greet us, but our first welcome is from Lucy, an energetic dachshund who races into the hallway and back into the apartment, jumps onto the plump, bright red couch, loops through not one but two sitting rooms. The wooden floors are laid with beautiful, intricately designed rugs and lined with bookshelves, and trays of food are arranged throughout. The place feels warm and cozy.
After mingling a bit, I receive instructions from Mark Bly, a Fordham professor and distant relative of Mary Bly: "Try the trifle. It's incredible." So I spoon myself some trifle and move over to a group of writers from the Romantic Times magazine. "She made it herself," one of them tells me excitedly, "It's a Regency trifle, just like one of her heroines would make."
Bly fell in love with romance during fifth grade choir practice, when she borrowed a classmate's copy of The Flame and the Flower, by Kathleen Woodiwiss. Her parents, however, were National Book Award-winning poet Robert Bly and short story author Carol Bly, who insisted that for every romance she read, she also had to read a classic. So, as Bly wrote in an op-ed for The New York Times, she had "finished Mark Twain's works by the time she was thirteen." Growing up, she watched her parents toil over literary pieces for years and realized she had no desire to suffer so much over a single work. "My dad was Bach," she told me, "I watched him write a poem and then rewrite it for 25 years. And I'm not gonna do that."
As a child, she would sometimes write plays for her siblings to act out, which always involved some sort of romance. In her early twenties she wrote a romance novel, but no one would publish it, so she continued her education at Harvard, Oxford, and Yale. She married another academic, Italian literature professor Alessandro Vettori, and they had a son, Luca. Bly desperately wanted a second child, but Vettori insisted they couldn't afford it, so, in a (successful) attempt to pay off her student debts, Bly wrote her first published romance, Potent Pleasures. She took lessons from the several romance authors she had been reading, including Katherine Coulter and Judith Mcnaught, and successfully implemented their techniques in her own books. Since then, she has published over 30 books, 12 of which have been New York Times bestsellers.
Unlike her parents, Bly writes almost exclusively for enjoyment—her own, and her readers'. One of the most important ingredients in her novels is "reader satisfaction moments"—her readers are "reading for something that's deeply satisfying, and often that has a tinge of revenge in it, against the men in your life or the whatever in your life. It's got a tinge of, like, 'and up yours too'."
Another important ingredient her romance novels is a fast pacing. "The key when you're writing genre fiction is that when the person puts down the chapter, you want them to wake up and open it up, just to read one chapter before they go to work. It's not the cliffhanger every chapter, but you're holding enough back, and the momentum is such that they can't. That just 'I gotta, I gotta, I gotta." Each novel is paced to keep the readers engaged, and to take them on an emotional journey with the characters. Bly says one of her favorite comments is "you're crack for intellectuals." Her novels are so enjoyable that people just don't want to stop reading.
The day after the screening, I am back at Dr. Bly's apartment, sitting in a window nook in her kitchen. The walls are purple, the table is covered with a flowery pink tablecloth, and the window looks down into the street below, which grows darker as the November light fades into evening. She's wearing a purple v-neck with "Pride and Prejudice" printed on it and peacock feathers extending up towards her shoulders. There is a bright streak of red at the front of her short, strawberry-blonde hair. On the wall behind her is framed the poem "Mary Bly," by her godfather, James Wright. "I remember when it was anthologized and showed up in a school book of all places, when I was in 6th grade," she explained to me, "I said that was me, and the teacher said I was fibbing, and my mother had to go in and straighten her out."
After reading countless articles about the romance industry and learning that the chair of her department told Bly she wouldn't get tenure if people knew about her novels, I expect her to be a bit defensive of her genre and her writing. But she is not. When I ask her if she would like more acceptance from the literary world, or the world at large, she replies, "I don't really care very much. I think there is an enormous difference between literature and genre fiction, and I think some writers get confused about that, whereas I honestly think there's an enormous difference. You know, literature can change the world. Literature can change the way an entire country thinks about war. Literature is Catch 22—it's a just war, we all think differently afterwards. Teaching something like that or teaching Shakespeare, you can see, you know, Romeo and Juliet arguably changed the way all of England thought about marriage; it's a turning point in the history of companionate marriage, so-called."
That kind of world-changing literature is what her parents sought to create, and it is clear she has a deep respect for those works, but she does not want the stress associated with trying to write them. "Romance is not going to do that," she emphasizes, "romance is a very small thing, and its triumphs are very small." She does rejoice in those triumphs, though, in the fact that her books can "change one person's world." She gets letters from "a lot of doctors, a lot of people in stressful situations, people who are dying, or whose parents or siblings are dying, who are reading great literature but reach a point when they're too tired. A lot of people in the military, a lot of women flyers, for example, cause it's stressful and it's tiring, and there are long, long, long, sandy afternoons when you're doing nothing and you don't want to read blood and guts or deep literature." It occurs to me that the type of people reading her novels are the type of people that the great literature is written about. She replies to every one of those letters.
She also emphasizes that romances are quite feminist. They represent interesting, strong women, and they give an extremely positive view of women's sexuality. "A romance can be incredibly feminist," she tells me, "and I've gotten a lot of letters that said, 'I decided I don't need to take this, X, horrible thing anymore.' Those are triumphs, they're just much smaller triumphs. But they're just as good in their own way. Romance has a huge effect on literacy, for example, because it's read in domestic abuse shelters."
Bly insists, "I don't have a talent for great literature," although she has not yet tried to write it. When I ask why she is so sure, she replies "the shape of my brain, the way I shape sentences is very good for what I do, but I don't have that kind of harsh incisiveness that I think great literature often has. I have a natural turn towards the nostalgic and the sentimental, and I write treacle really really well." In Bly's eyes, that doesn't make her any less of a great writer.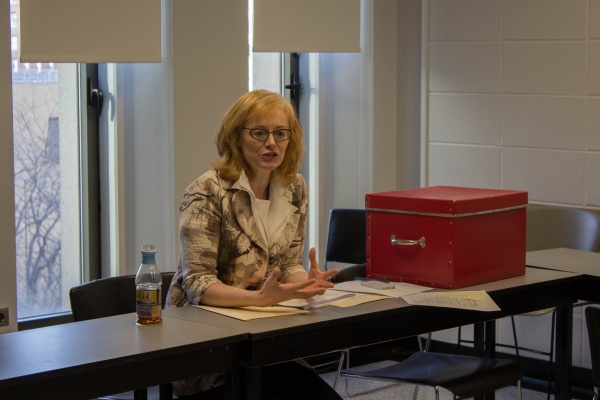 She enjoys the freedom that comes from writing romance. "It's the most creative genre there is, if you ask me. 'Cause you're free. You can do anything in these books. Nobody is going to go after you, you're not reviewed in the New York Times book review. You can do anything." And so she does. In her novel, When Beauty Tamed the Beast, for example, her hero is based on Dr. House, from the TV show House. "I was in a plane and the show was on, and I thought 'this guy is so arrogant, but if he didn't have all those tests what would he do?' Back in the regency you couldn't, so I had to find a doctor who was that arrogant. I read like four years of scripts of Dr. House, and then I wrote a whole series about medicine in that period—he's dealing with an epidemic—and those are all historical. So I found a doctor, Dr. William Withering, in the period, so you have the Dr. House character merge into this real historical character." House is not the only outside influence in this book: she also incorporates TS Eliot's The Love Song of J Alfred Prufrock throughout the entire novel.
For another novel, This Duchess of Mine, Bly "took a whole part of a Pratchett novel, and [she] wove it into one of [her] books, and if you love Pratchett you can pick it up just enough to recognize it and salute it." That book landed her a seat on the memoir panel for Terry Pratchett at Comic-con. She also sometimes incorporates characters from older novels into her new books, and she and another writer, Julia Quinn, have even had characters enter each other's books. Bly likes including so many different references because it means that a reader "could pick it up on a lot of different levels: pop culture, historical, literary, and that is fun because I get lots of different letters then, and it's also more of a challenge for me. It's a real challenge. It's fun."
Despite all the fun she has with romance, Bly considers herself first and foremost a professor. When she interacts with readers or keeps up her active social media presence, she describes herself as having "a very, very ironclad Eloisa front to the world." She does love her readers, and she's not just acting as Eloisa, but when she goes on tour she has to "tone down the instinct to teach, or the sort of high-wired way that New Yorkers talk to each other, which is sort of my natural. I fit in with academics, and academics don't talk to each other in the way that everyone else does, so I just try to be more observant so that people can hear me rather than being afraid."
Because of her parents' literary success, being in the spotlight is not new for Bly. "We never went out to dinner without people interrupting us," she tells me, "I lived on a farm and there were lots of people, and people would hitchhike there all the time." With the release of her memoir, Paris in Love, her own family entered the spotlight, but Bly says that "the teflon Eloisa protects" her life as Mary Bly, with academics, publishers, writers, and her family, "whereas it does leave readers kind of distanced."
That private life is of major importance to her, and she balances it with her romance world with surprising grace. While publishing at least a novel a year, she also garners her students' adoration (every student I talked to sings her praises), raises her two kids, travels extensively, replies to every letter from her readers, maintains her presence in the world of academia, and hosts large numbers of people regularly. One of her co-workers described her as "the most efficient woman I know," claiming that she "lives in a time zone different from that of regular mortals" and that she must have "three extra days to her week." Bly sees it differently. While she is incredibly efficient, she has also been learning to enjoy wasting time—she's even considering writing a book about it. Her day of baking wasn't unusual—she actually cooks for 15-20 people every Sunday. Like her parents, she hosts writers and poets, as well as Luca, now a Junior in college, and several of his friends. For her, "that means a lot of planning and a lot of thinking and a lot of putting your energy otherwise than on your book, or on the things that you think are terribly, terribly important. But they're getting done too. It's really interesting." It is clear that Mary Bly enjoys not only the process of cooking and the process of writing, but also the process of living.