What Seeing Colbert Live Taught Me About the "Real Stephen Colbert"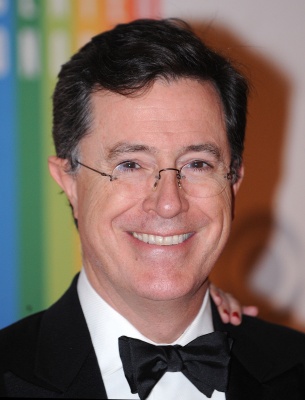 On Friday, Nov. 6, 2015 I went to a taping of "The Late Show with Stephen Colbert" at the Ed Sullivan Theater. It was supposed to be a bunch of FCLC students wearing Fordham paraphernalia to get the warm-up comic, or Colbert himself, to make some jokes about our school during the commercial breaks. In September when I reserved my tickets, there were seven FCLC students going, but that eventually dwindled down to five, to three and finally to just me. Still excited, I wore my maroon Fordham baseball cap and went alone Friday night and, to my delight, I was seated in the last seat in the front row on the left-hand side of the stage, which probably would not have happened if I went with an entourage of seven people. So instead of Fordham-izing "The Late Show" with my friends, I inadvertently learned about the nuances of the show's new host, the "real Stephen Colbert."
Before the taping began, the warm up comic cracked a few jokes, Jon Batiste & Stay Human (Stephen's Band) played "If You're Happy and You Know It" and Colbert held a Q&A session with the audience. During the Q&A, someone asked, "What's the difference between 'Stephen Colbert, the persona,' and 'Stephen Colbert, the man.'  Colbert answered, "For one, I no longer have to hide that I'm enjoying myself." He elaborated on the fact that the Colbert the world came to love (or hate) from "The Colbert Report" was just a character and not "the real [him]." During the Q&A he insisted he's not really a "disgruntled right-wing conservative divorcee" and that on the "Late Show" he can finally be himself. When he shared this nugget, the cheesy adage about celebrities being people too began to bounce around the back of my mind, so for the rest of the taping I decided to figure out what he meant by all of this.
So who is this nine-time Emmy, two-time Grammy and three-time Peabody award winner/former satirical news anchorman turned late night talk show host/the real Stephen Colbert?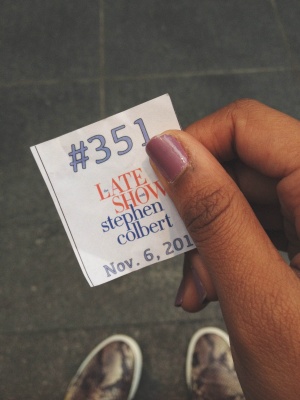 He's a family man: During the Q&A Colbert told us that back in September 2015 when he initially took over for David Letterman, he made his wife sit in the audience for the first few weeks of taping to remind him who he is. He said he told her that her presence and her face reminded him to stay honest and be his non-Colbert Report self. He said that she reminded him to be happy, because with her he is happy.
He's comfortable making mistakes: The last late-night talk show taping I went to took all of 30 minutes to tape, so I thought all late-night talk show tapings would take about the same amount of time. I was wrong. "The Late Show with Stephen Colbert" runs for 45 minutes on tv, but the taping took nearly two hours. Why? Because Colbert kept messing up (and it was hilarious). We weren't five minutes into the episode when Colbert dropped something behind the desk which caused him to miss his line which encouraged him to crack a joke that stopped production for a good 10 minutes. Some moments later while he was giving a joke about J.K. Rowling, he fumbled on a word and just started laughing at himself. Instead of ignoring his mistakes or getting angry for any reason (which I've seen hosts do), he just asked his stage manager, "Can we take that back?" Colbert's ability to make every moment on set productive even after he messed up showed me his prowess not only as a comedian but as a person. He doesn't take himself too seriously, and that was refreshing.
He's actually funny: This came as a shock to me. Sure, the scripted content that we as audience members are told to laugh at garnered a few chuckles out of me, which was primarily due to his execution. However, the "jokes" that made my sides hurt were the things he said off-camera replying to peoples' comments, answering questions from the audience, sharing personal anecdotes and responding to his crew. Sitting in that audience I realized his comedy isn't forced and doesn't get shut off with the cameras.
Ultimately, I learned the "real Stephen Colbert" is a pretty cool guy. To experience him for yourself you can try to get free tickets on showclix.com and if you can't, "The Late Show with Stephen Colbert" shows at 11:30 p.m., Monday to Friday on CBS.