Gabelli Creates Doctoral Program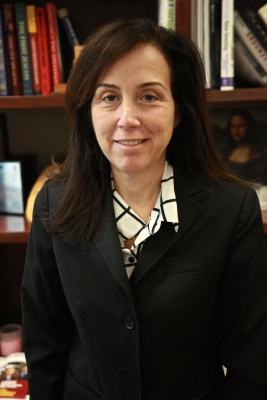 Fordham's Gabelli School of Business is currently creating a Ph.D. program in business administration that is poised to be launched next year, in the fall of 2016. Based at the Lincoln Center campus, the program is to be funded by Mario Gabelli and will feature a cross-disciplinary study of the major areas of business education, as well as an intensive research component.
Spearheading the creation of this program is Iftekhar Hasan, Ph.D., professor of finance and Corrigan Chair in International Business and Finance. Over the past two years he, with the help of his colleagues and the Provost's office, has been organizing what he calls the"significant process" that comes with creating a first-time Ph.D. program.
He has worked to meet the New York State's Board of Higher Education's requirements for the program's contents and syllabus, created teams of faculty, administrators, and external advisors, and determined the best way to "maximize [Fordham's] resources in the most cost-effective way."
In a nutshell, the program will be five years long with two broad emphases: capital markets and strategy and decision making. This interdisciplinary program will have a significant number of common core courses such as Philosophy of Science, Research Methods, Data Analysis, and Econometrics. There will also be many theoretical, empirical and research seminar courses in the two areas of focus, along with independent studies geared toward students' disciplines and dissertation areas at the culmination of the program. Specific areas of concentration which students can choose include marketing, finance, accounting and many others.
"There will be a strong emphasis on applied research, which will interest all students," said Donna Rapaccioli, Ph.D., dean of the Gabelli School of Business. She expects that this emphasis will give students greater access to those who can mentor them in their studies. She adds: "the doctoral seminars [offered with this program] will be open to all students."
When asked what Fordham hopes to accomplish with this new program, Rapaccioli cites two ultimate goals: creating "a new emphasis on scholarship" and "completing [Fordham's] responsibility to educate the next generation of educators." Also, with schools "right in our backyard" such as Columbia University and NYU offering similar programs, it is imperative that Fordham does not lag behind—"we need to expand [Fordham's] network and really get out there,"she said.
Hasan feels similarly, expressing his confidence that this program is on par with similar programs offered at other universities. He wishes to "inspire students to become professors" by "preparing them for research and business education" while also promoting a culture of research for the entire Fordham community. He believes passionately that this will be an important program for Fordham, calling any Ph.D. program "a core element of the academic completion of an institute—the final stage of an academic program."
Hasan said, "I am extremely proud for my school, university and fellow faculty members, as this program is another significant effort to our commitment and contribution to Fordham's academic excellence."