A Legendary Voice Honed on Fordham's Airwaves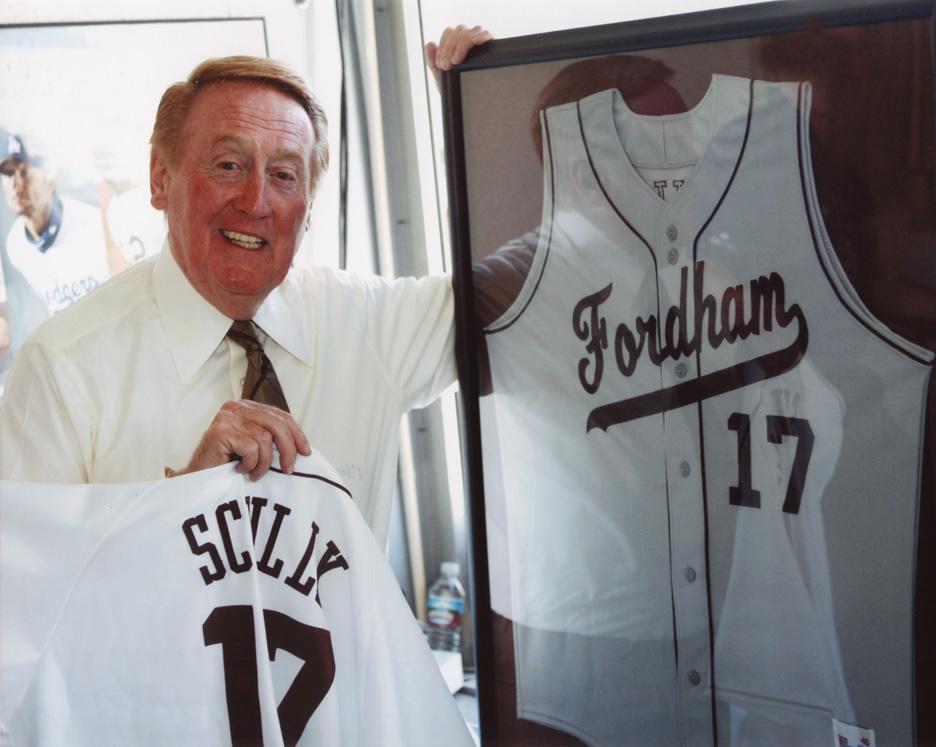 Published: March 12, 2009
Perfection—the only way to describe how Vin Scully calls a game. Vin Scully, FCRH '49, is arguably one of the greatest play-by-play announcers in sports history. His illustrious career earned him a spot in the broadcasters wing of the Baseball Hall of Fame and a nomination to the Radio Hall of Fame. Scully called seven World Series, two all-star games, two perfect game and Hank Aaron's record-breaking homerun, not to mention he called nearly every baseball and football game for the Fordham Rams.  Even as a student caster, Scully called games with perfection, which is why he is the third inductee to the Fordham Hall of Fame.
He was known not simply for the incredible moments he called but moreover for the way he called them with such elegance and detail. In 1965, Koufax finished off his fourth no-hitter—and first perfect game—with a strikeout, and Scully finished his call with an equally memorable line: "On his fourth no-hitter, he made it a perfect game," Scully said. "And Sandy Koufax, whose name will always remind you of strikeouts, did it with a flourish. So when he wrote his name in capital letters in the record books, that 'K' stands out even more than the 'O-U-F-A-X.'" More notably for New York fans, Scully was in the booth at game six of the 1986 World Series, and it is his voice behind the famous call, "A little roller up along first; behind the bag! It gets through Buckner!"
Scully began his broadcasting career as a student at Fordham University. He was one of the founding members of the University's FM radio station, WFUV. His sheer talent set him apart right from the start, but it was his outstanding work ethic that pushed him to another level during his time with WFUV. When he took time off from the broadcasting booth, he found himself running down fly balls in centerfield for the Rams.
Scully caught his first break with CBS to be a fill-in for college football coverage. Such talent did not go unnoticed for long. In 1950, Scully stepped in to become the play-by-play announcer for the Brooklyn Dodgers and followed them to Los Angels in 1958.
Scully's style is so descriptive and easy, a fan does not need to watch the game on television. His style is so elegant and his voice so graceful that the audience is able to capture every detail and every emotion of any play.  In this way, he serves as the gold standard for any student who aspires to be a sportscaster.
"Because [Scully] began his career at WFUV," said Greg Caserta, FCRH '10. "I am motivated by what he has accomplished every day."
"You listen to him call a game, and you know exactly everything that's going on in the ballpark at that precise moment, and he's able to describe the action with a charm and mastery of the English language that truly makes him a poet. His voice is soothing, and he makes you believe that there is no other place in the world he'd rather be," Caserta said.
It's no wonder the National Broadcaster's Association ranked him number one on the list of greatest announcers of the 20th century.
Scully, now 81, is still calling games for the Dodgers. Though he typically enjoys staying on the west coast, Scully takes every opportunity to reach out to the university where he began his legendary career. He frequently converses with the heads of Fordham athletics. Scully even went so far as to give a lecture via phone conference to the entire WFUV staff last year. He offered them valuable advice as well as simply chatted with the student broadcasters, showing off his calm and friendly demeanor.
"I remember the smile I had on my face anytime he spoke because he truly is the voice of heaven," Caserta said. "He has said he still fondly recalls the time he spent [at Fordham] because it made him a better person and broadcaster. If it wasn't for WFUV, he thinks he wouldn't have had the opportunity to become what he is today."