Alvin Ailey Hosts Book Launch Event to Honor Artistic Director Robert Battle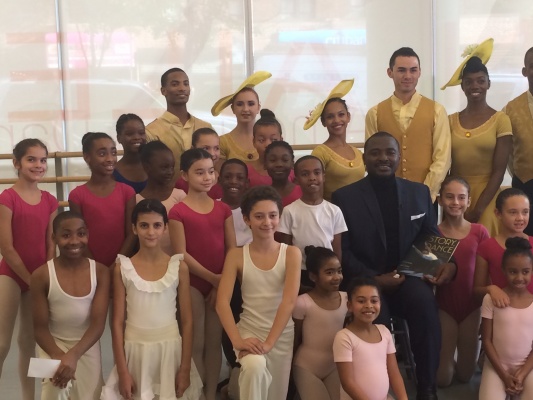 Last Thursday, Alvin Ailey hosted the Launch Event for their artistic director Robert Battle's children's book, titled "My Story, My Dance." The book covers Battle's story of poverty, disability, perseverance and achievement through his life, all while realizing his ultimate dream of becoming a dancer. Several heads of the book's development, as well as the Ailey School, were present for the event including Battle himself, the Ailey School's co-director Tracy Inman, several members of the book's publishing company Simon and Schuster and the husband and wife team of Lesa Cline-Ransome and James E. Ransome as the author and illustrator, respectively.
Speaking to Mr. and Mrs. Ransome on the project, they expressed their appreciation for dance, as well as the Ailey dancers. "We've always been fans of Alvin Ailey," Lesa said.
"When we were approached to do the project, we were very excited to explore the history and Robert Battle's journey," Lesa went on. James called it "a wonderful opportunity to create artwork for this book about Robert's life" and labeled it an "honor" to do it.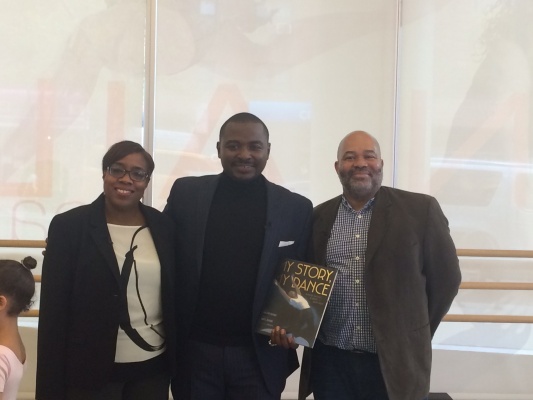 Because it is a picture book for children, Lesa had to focus on "what his childhood experiences were, what his struggles were, and how those…impacted his future," she said.
As the illustrator, James explained, "I had visuals. I actually went to the neighborhood that he grew up in; I came to see a rehearsal…I felt very close to Robert's story…it was…seeing [these] things and understanding dance." When asked about his style of drawing, James said he drew inspiration from the 19th century French artist Edgar Degas, who used pastels to illustrate ballerinas.
After becoming artistic director, talk about a book came up when, "[Ailey's] director of PR and the people at Simon and Schuster [got in contact] and thought this would be a great story that could make a great children's book, and that's kind of how it came about. It became a much broader story, about hope and inspiration that we wanted to share with people," Battle explained.
He wants to convey that hope and inspiration directly through his trials as a child. Battle was born bowlegged, which impeded his ability to walk properly and required him to wear leg braces at a young age. "I just remember as a kid…wanting to walk…and knowing that someday I would…So dance was always a part of my life because I had to dance my way out of those braces, so that I could walk. Movement was profound to me early on because of that." Battle didn't grow up with a lot of money either. "I grew up in one of the most underserved communities in Miami, Florida…Liberty City. I witnessed a lot of friends who didn't make it and ended up incarcerated or worse than that," Battle said.
Illustrated in his book, the Ailey production "Revelations" is what finally made him realize his dream of being—as he puts it in the book–"the black Baryshnikov."
Battle described what this dream meant. "The amazing dancers! Seeing them do stuff that could defy gravity…when they'd leap in the air, it seemed that they would never come down to the ground. The sense of grace and beauty and power is something that strikes [me], and it still does that for people today…[The pure aesthetic]…the spirituality in there… that it wasn't just movement, but they were dancing about something; that really was inspiring to me," Battle recalled.
Still, beyond all his strife and hard work, one must ask what Battle contributes to Ailey as artistic director and not a dancer. "He's a leader," Inman said. "He understands the organization and understands where the organization needs to go, and I think that's what makes him worthy."