What It's Like Being Average "In These Parts"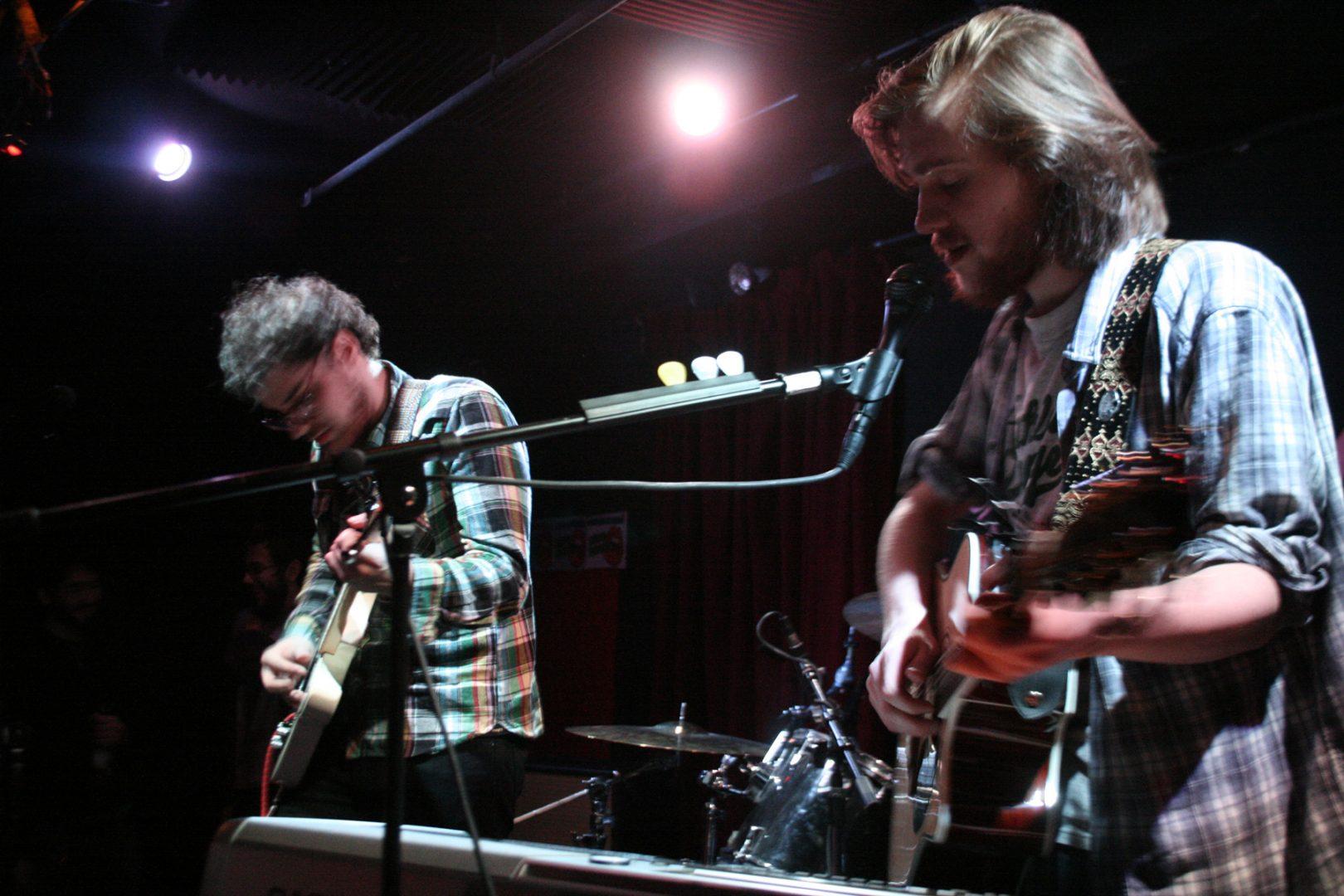 Published: March 12, 2009
With its newly released Debut EP "In These Parts" currently for sale on their Web site and four upcoming shows in the New York and Brooklyn area, Average Girl might be one of the most prominent bands here at Fordham. Yet the members of Average Girl have still managed to remain three self-effacing guys who are prone to wearing plaid shirts and spending Saturday afternoons catching the lunch special at the nearby Mee Noodle Shop. Based in Manhattan, Brooklyn and Mountaintop, Pa., they have an alt-country band sound which they poetically quip is like "Schlitz in a backpack." Recently, Cary Kehayan (vocals, guitar, keys and harmonica) and Matt Benjamin (vocals, guitar), both FCLC '10 and two of the three members of Average Girl, sat down with the Observer and answered a few questions about their band:
Observer: I recently saw your show at Fontana's Bar. The crowd seemed to enjoy the performance. How do you think it went?
Cary Kehayan: Well, it was the first time the three of us played together in front of anyone else, except my dad. I'd say we're pretty proud with how it went.
Observer: That's right—you recently acquired a drummer, Burton Frey. How did you meet him?
CK: Matt and Burton grew up in the same town, Mountaintop, Pa. He would often come up to Fordham to visit with Matt, and we would all hang out. Then, he moved to Bushwick, got a drum kit and started filling in the gaps in our percussionless arrangements. He's a very talented drummer and has improved our sound 500 percent. Also, he has improved our image with his striking good looks.
O: How did you two first meet?
CK: Well, this is a good story, kind of. Our mutual friend Theo introduced us one day out on the plaza. I found out that he liked Uncle Tupelo. Not many people know about Uncle Tupelo. Later, we became roommates for a year.
O: Would you say that Uncle Tupelo is one of your influences? Who are your other influences?
Matt Benjamin: Yes, definitely. Also, I would say Lucero, which is a country band from Tennessee.
CK: And I think when you're from New Jersey, Bruce Springsteen definitely has to influence your sound.
Observer: How would you describe your sound?
CK: We're still trying to discover what our sound is. We could never be criticized for having our songs sound the same. That's not necessarily a bad thing, since we just started out; we're still in the exploration phase.
Observer: At times that is certainly evident from listening to your CD, "In These Parts." What was it like putting the CD together?
MB: We did it in Cary's parents' basement in a makeshift, non-sound-proof studio in Glen Rock, NJ. I think we should say that Cary's parents are the nicest people in the world.
CK: My parents have always been very supportive and have certainly done a lot to make Average Girl possible. As well as Gabe Blankenship, FCLC '10, who created the design for the album and our photographer, Theo Legro, FCLC '10.
Observer: One of my favorite songs on the album is "Idaho State Fair." What was your process for writing it?
CK: It took us four to five months to write. I think it was because it was actually one of the first songs we wrote together. We liked the idea that we were both singing, as if we were talking to each other. Also, we like story songs. We came up with a concept; we knew we wanted to write about a state fair.
Observer: Why a state fair?
MB: They don't get that much musical coverage. We are worried now, though, that we might be pigeon-hold as the "fair-ground band" with "Idaho State Fair" and "Going to the Bazaar." Next, we might have to move on to flea markets, knitting circles, fish fries…
CK: It's all part of being an Average Girl.
Observer: That brings me to my next question, why the band name "Average Girl?"
CK: It [has] always been a difficult question to answer. We lead average lives, but we're not average girls. The obvious choice is our fascination with blue collar music.
MB: Theo first came up with the name. I guess band names that are self-deprecating have always been appealing, but we couldn't call ourselves the Embarrassing Idiots, because that would be stupid. Also, a lot of the good ones were already taken. We're open to a name change. Average Girl has a nice ring to it, but we're not completely sold with it.
Observer: What are you currently working on?
CK: We are putting songs together for an LP.
MB: We have a working title, but we are not sure if we should reveal it. It is a pretty intimidating title, and we are not sure whether or not we can live up to it. Also, we don't want people to steal it.
Observer: I think your fans would love to hear it…
MB: "Reynold's Creek Experimental Watershed."
Observer: Wow.
MB: Yeah, as it's pretty impressive and intimidating.
Observer: So with another album on the way, does that mean that the two of you are interested in pursuing music as a career?
MB: Hm. Well, when we went to the guitar center to get our guitars repaired, mine was in better shape than Cary's, and the man who repaired our guitars didn't think [Cary's] would last much longer. We asked, "What do you think we should do?" And then he said, "Ride it until it dies."
CK: Since then we've adopted that as our mantra.
Observer: So is that a yes or no?
MB: I guess to better answer your question—yes… maybe.