Change At New York Fall Fashion Week 2009 Not for the Better
The Recession Brings us the Late '80s, Early '90s and a Whole lot of Boring in Black
Published: March 12, 2009
If change is the theme of the year, then oh, what a change we have seen with the 2009 fall collections at New York Fashion Week. Unlike the spring lines, which seemed to be immune to the recession or even the idea of it, the fall lines (which showed in Bryant Park Feb. 13-20) are all about black, black and more black. With luxury out of the picture, designers chose to show us clothing that is more practical and slightly uniform than exuberant—working hard instead of hardly working.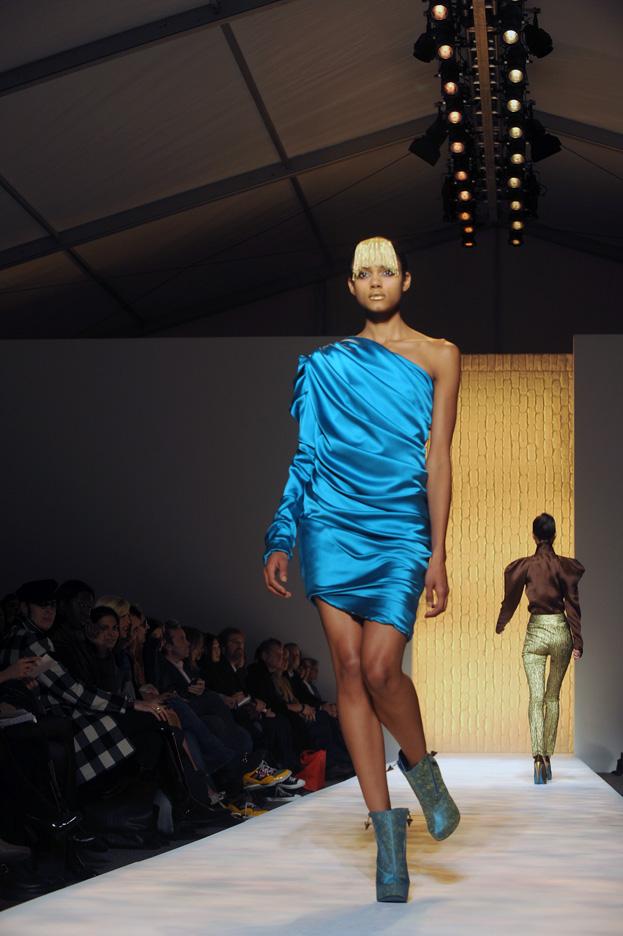 Donna Karan showed us this chic practicality with both her DKNY and Donna Karan Collection labels. DKNY was like watching the 1950s housewives go to work and seeing what they would wear—classic pencil skirts, pleated harem pants, tailored blazers, pillbox hats and lace-up ankle booties. Though the base color for the collection was black, Karan incorporated true red, green, gray and tan to give pieces that little extra something. She kept the lines neat and tailored; classic and fitted, but she cut her coats with a bit of modernity and architectural flare that resembled the work of Francisco Costa.
For her Collection line, Karan extended her tribute to the working woman, but on a more updated, yet still very basic scale. Simple and structured dress lines were accented with thin belts and matte statement jewelry; there was nothing about the line that screamed "luxury." Although, to keep the sense of comfort in the clothing, Karan turned to fur pieces to give everything a polished look—because who says you can't be pulled together in a recession?
This brings us to Carolina Herrera, the woman we can count on to always dream in "pretty," no matter what our economic situation may be. But like Karan, Herrera's line did not show any signs of being over luxurious. Amidst all of the pretty and luscious aesthetics, she managed to stay comfortable, even with tapered pencil pants in metallic colors and belted short, cropped jackets in plush hunter green velvets. Herrera may have been one of the few designers, like Isaac Mizrahi, who managed to stay away from near all-black color palettes with her choices ranging from hunter greens and bronze to gunmetal, plums and steel blues—all so quaint for autumn.
Derek Lam went in the same direction as Karan by turning to furs in an unzealous manner to make his line appear comfortable. Whether it was used for the collar, a waist-length coat or a circle scarf, the idea of the fur is purely comfort—to help us through the recession and keep us looking our best, just like a cup of hot cocoa can set things right in the world on a snowy day. Lam's cuts were varied, as some were form-fitting and others were not, yet they all possessed a certain flow to them.
But this flowing quality was truly owned this season by "Project Runway" winner Christian Siriano, with his marvelous and first official collection looking nothing short of liquid gold. The colors Siriano used were reminiscent of those in Gustav Klimt's Adele Block Bauer—I (1907), while the flow and form of the draping was like the sensual and sexual figures of the women in the opening credits of "James Bond: Goldfinger."
However, for all the clean shapes, basic color palates and appropriate furs, there were some designers who strangely reminisced on where they were during the recession in the late 1980s and early 1990s and unfortunately channeled those memories in their fall collections.
Michael Kors's line bordered the early '90s, with double-breasted suit dresses and highlighter yellow fur coats, and the present, with sleek lines and a modern quality—a combination that could potentially attract Lady GaGa as a client.
Narciso Rodriguez was another designer who straddled different time frames as his modern shapes and contemporary color palate were wonderful, but certain cutouts in his dresses could remind someone of an early '90s disaster worn by Amber in "Clueless."
But Rodriguez seemed to be the smallest of the "but WHY?" expressions. Zac Posen, unfortunately, was the designer whose collection was seriously stuck in a time warp. From all the beautiful past collections he has shown, this one was like his tribute to "Dynasty."
Usual fan favorite, Alexander Wang, was also not so much of a favorite this season. He was another designer who showed us something '80s-related, like his just-above-the-knee bike shorts with leather jackets and biker boots. If it did not scream Madonna circa "Desperately Seeking Susan," what else could?
Marc Jacobs was less of a concern, though his Marc line was completely shapeless and materially heavy—like Mary Kate Olsen's "Bag Lady" days—and not to mention boringly monochromatic. (Not that all monochrome collections are like this—Ralph Lauren did a beautiful job). Thankfully, the Marc Jacobs Collection was a bit more promising with its array of colors, materials and shapes, as well as its wearable nature—a large improvement from his spring 2009 show.
It would have been nice to say that even though we are in this downer of a recession, we could turn to our wardrobes for a ray of hope and inspiration. Clearly, that is not happening. As much as designers tried to instill comfort in us through their collection, it looks like we're back to basics in our wardrobes just like we are back to basics in rebuilding our country—for this season at least.