Fordham Still Searching for First League Win
Rams Fall to Holy Cross on the Heels of Win Against Non-conference Marist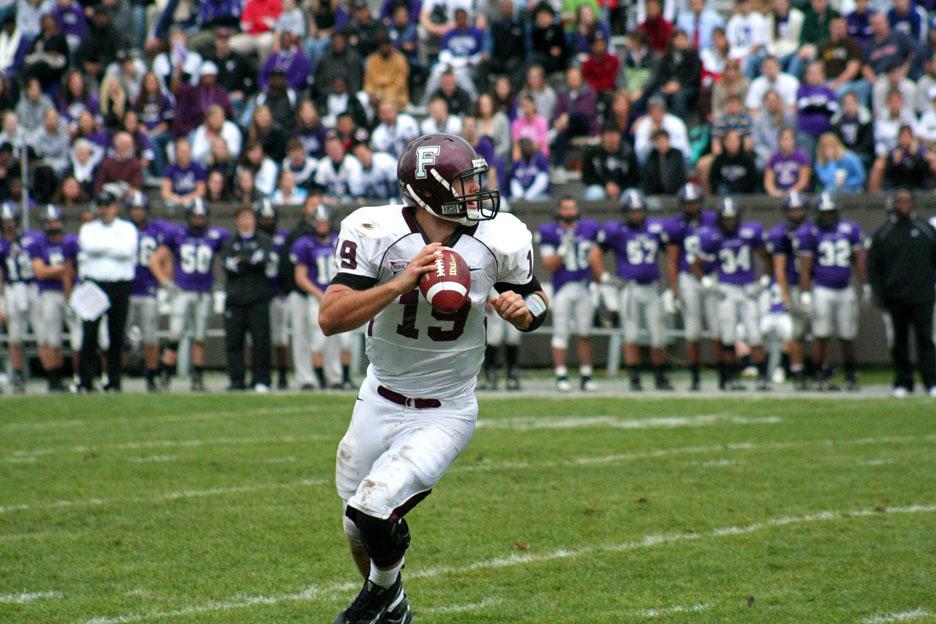 Published: November 13, 2008
Wins just don't seem to come in twos for the Fordham University football team this season. On Nov. 8, the Rams fell 38-17 at the hands of the Patriot League leaders College of the Holy Cross one week after offing non-conference Marist 45-21, dropping Fordham to 4-5 on the year and a dismal 0-4 in league play.
Fordham had to have expected a tough game heading up to Worcester, Mass., as Holy Cross averages a league-best 36 points per game. But the Rams came out sluggish, managing only one field goal out of their first nine drives and thrice surrendering the ball on downs inside Holy Cross territory. Quarterback John Skelton, FCRH '10, had an efficient day, completing 14 of 31 passes for one score, but against a normally porous defense, it was surprising not to see the Fordham signal caller record one of his standard 200-plus yard afternoons.
Instead, it was Holy Cross quarterback Dominick Randolph who dominated the game, uncorking a remarkable 59 attempts, netting 39 completions and five touchdowns. In one impressive stretch from the second to third quarter, Randolph led the Crusaders on three straight touchdown drives, eating up a combined eight minutes of play. Holy Cross handily won the time of possession battle by ten minutes.
The Fordham defensive effort was not a complete bust, though, as the Rams forced three interceptions and one fumble. One of those interceptions was nabbed by defensive back Kelvin Colbert, FCRH '10, and returned 75 yards for Fordham's final score of the contest.
Fordham's 0-4 Patriot League record is their worst since 2006, the year head coach Tom Masella took control of the reins. The last time they went 0 for league play was 1999. But with games against Georgetown (0-4) and Bucknell (1-3) remaining, the Rams should avoid that distinction. Rams' head coach Tom Masella was quick to point out after the Holy Cross loss that victories in both games would actually give Fordham a winning record.
On Nov. 1, Fordham easily defeated non-conference challenger Marist College 45-21. Skelton threw for 341 yards and four touchdowns in the contest while tailback Xavier Martin, FCRH '11, contributed 122 yards and two running scores.
While those numbers are impressive, it came against a Marist team that has won only three games all season. Ditto for the 16-0 season opening shutout over the now 2-8 Rams of Rhode Island. Fordham has also been surprisingly unable to capitalize on their wins this year, as they are yet to win consecutive games. Beating bad teams is fine for Fordham's record, but until this team can win hard-fought, meaningful games in consecutive weeks, 2008 will go down as a bust.