Tom Hanks Finds Fordham ID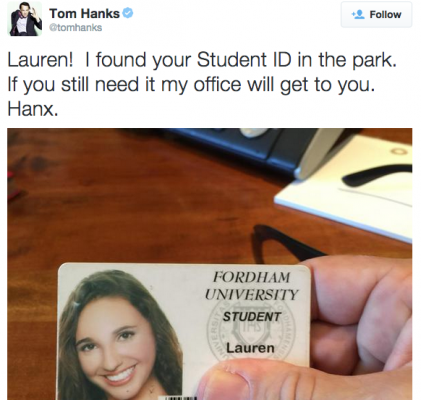 UPDATED: 9:47 p.m., October 6, 2015

On Tuesday, Oct. 6, Tom Hanks tweeted a photo of a Fordham ID he found in "the park." As of 1:00 p.m. the Tweet had 2,300 retweets and 5,000 favorites. Lauren Whitmore, Fordham College at Lincoln Center '16, the student who lost the ID, frequently runs in Central Park, quelling the speculation about which park the 59-year-old actor was referring to.
Whitmore recounted that on Monday morning around 11 a.m. she, "went for a run in the park and [she] took [her] phone out to take a picture, and it must have fallen out there."
On Tuesday morning, Whitmore was sitting in the library when she found out about the Tweet. One of her professors from the American Catholic Studies department emailed her a link to the Tweet with the explanation, "You're famous!" Whitmore posted a screenshot of the Tweet on her Facebook page and it has garnered upwards of 350 likes and 100 comments. Whitmore's mother and aunt also shared the post, contributing to the mammoth sum of notifications she received from friends and family alerting her about the Tweet.
How does she feel about being thrown into the spotlight after this cyber game of lost and found? "Yeah it's a little weird," she said. She was thankful that the ID photo was from Junior year of high school. "It doesn't really look like me that much," she said.
Several other people replied to Hanks' Tweet, complimenting him for his outstanding character. One Twitter user @SimonZerafa even commented about how this,  "sounds like the opening plot line for a cool movie."
Hanks, best known for playing Captain Miller in Saving Private Ryan, the eponymous character in Forrest Gump and voicing Woody in the Toy Story franchise is an Academy Award winning actor. While he resides in Los Angeles, Hanks is currently in New York filming the Clint Eastwood-directed biopic Sully, according to United Press International.