Imagining Whole Worlds
Q & A: Two-time Obie Winner Matthew Maguire Talks About His Career and His New Role with Fordham Theatre
Published: August 30, 2007
If you had been at this year's Obie Awards, at which the best work in off-Broadway theater is honored, you would have seen the Best Director Award go to Fordham's new theater chairman, Matthew Maguire. This prize for his direction of the play "Abandon" (which he also wrote) is his second Obie. He previously won the award for a performance in 1998.
Maguire, who is the head of Fordham's playwriting program, became permanent chair of the theatre department this summer after serving as acting chair for the past two semesters. The Observer spoke with Maguire about his latest Obie and his ambitious new plans for the theatre department.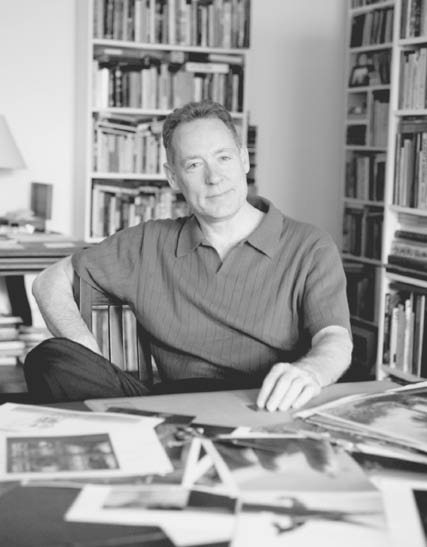 Observer: Congratulations on winning your second Obie Award! What was it like winning for "Abandon," this time for directing?
Matthew Maguire: Recognition is always satisfying, but especially so in the theatre, where it can be so elusive.  In this case, it was particularly sweet, because the play was a labor of love created as a gift, an homage, to Ellen Stewart.  Ellen is the artistic director of La MaMa; she is La MaMa, and she produced my first play. I created the play with a cast of actors whom I loved, four of them Fordham alum, over a period of four months.  The process was a joy, so the award was a capper.
Observer: As the new chair, what aspects of the Fordham theatre program would you like to see continued or strengthened?
MM: Larry [Sacharow] inherited a program that was entirely devoted to acting, and he maintained that identity as our leading edge.  After a lengthy and exciting process with the faculty, during which we re-imagined our mission, we have decided to place a new emphasis on collaboration between all the disciplines of theatre [acting, directing, playwriting, and production].
Observer: The Fordham community was saddened by Professor Sacharow's death last summer.  What do you think is his greatest legacy in terms of the Fordham Theatre Department?
MM: Larry Sacharow pulled off the remarkable feat of bringing the Theatre Program to national recognition as one of the top undergraduate training programs in the country.
Observer: You have a broad theatre background that includes playwriting, acting and directing.  You seem to have embraced all these aspects of theater, but is there one that is personally most compelling to you?
MM: Acting was my first love, but at a certain point in my career I was drawn to playwriting because I gained so much satisfaction imagining whole worlds.
Observer: What first got you interested in theatre and what made you pursue it professionally?
MM: When I was 16, I went to the St. Louis Repertory Theatre to see "Othello."  It was my first play. The great New York actor Earle Hyman was playing Othello. When he ran from the room howling in an agony of jealous rage, I got chills all over my body. The seed of a thought was planted in that moment that I'd like to be able to move people in the same way that I'd been.
Observer: What can Fordham Lincoln Center students expect in the upcoming Fordham mainstage season and from the studio shows?  Are there any big surprises in terms of change of direction?
MM: I expect that Fordham audiences will perceive a subtle change in direction in this season and the coming ones. Because I'm a playwright, there will be a greater emphasis on new plays by contemporary writers on our mainstage. Each season, we will do a classic. This season it's Calderon. Grappling with the classics is important for our actors. But producing new work with live playwrights in the room is also good for our writers, directors, designers and production students. It is our hope that Fordham will become an important place for the development of new writing in the professional New York theatre. Our studio productions will continue to be challenging incubators for emerging talent.
Observer: I know that there had been some talk in the spring of mounting a musical—which is unusual for this department. What are your thoughts about this?
MM: Theatre and music are perfect partners. We are rarely able to mount full-fledged musicals because of the scale, but many of the plays that we produce include music, such as the songs in our production last season of Brecht's "Man Equals Man."
Observer: Are there any new directions in which you'd like to take the Fordham Theatre program?
MM: Our goal is to make Fordham synonymous with theatre training in New York and to advance our recognition as the pre-eminent undergraduate theatre training program in the country. We want Fordham to be the first name on people's lips when they ask where they should look to recruit or hire the smartest, most imaginative, most versatile emerging theatre artists. We have travelled a great distance along the path of making this recognition a reality. The following… are designed to accelerate our move to the next level.
Create Professional Alliances:  We are planning to expand our producing relationships with the New York professional theatre.  We are in negotiations with the Public Theater to create a consortium to produce a developmental production of MacArthur-winning playwright Naomi Wallace's play about the Middle East Crisis, "Twenty One Positions."
Curricular Redesign:  We will put consistent emphasis across the tracks on the principles of collaboration…. Acting I will be centered on freeing the impulses of the body and the voice, expanding the imagination, and embracing the ensemble. Senior Audition will empower the actor with multiple strategies to survive in a typecasting world by always enlarging his or her range beyond type…. We will also add a course in "Acting for the Camera," because television and film work is part of an actor's craft and a necessity for survival in the field.
….[In] "Collaboration Workshop," a two-course sequence….students across each track will create short pieces as a team with leading roles circulating.
The City as Lab: The Program has resolved to increase our students' exposure [to] New York City theatre… [and] at least one class in each track will have a live performance component.]
Recruitment:  ….We intend to reverse the loss of some of our top applicants who, while professing Fordham to be their number one choice, must go elsewhere because our competition [e.g. NYU] offers them a full ride. We believe that the University should support its artists at the same level as its athletes.
Alumni Relations: We [also] want to build alumni involvement at every level:  as guest artists, as faculty, as members of the advisory board, as alumni panelists to talk to students about career issues, and socially through regular reunions. We are establishing an alumni relations network. We plan to create an alumni theatre company. This company would rehearse in the summer at FCLC and then tour during the school year to high schools with strong performing arts programs, with the goal to enhance our recruitment.
Observer: What do you consider the highlight of your creative life so far?
MM: So many memories come to mind that I want to avoid playing favorites, and so I'll say it's the arc of my work and my growing pleasure in discovering the why and how one project leads to the next.  Certainly I can celebrate the enormous influence teaching at Fordham has had on my artistic work.  More and more I see the two strands as entwined. Perhaps I should celebrate, most of all, having survived.  I have come to see success as the ability to continue to do what you love, and in that regard, I've been blessed.