Fordham Professor to Cover Papal Visit
Patrick Hornbeck II, chair and associate professor of theology at Fordham University, will join Al Jazeera America in its coverage of Pope Francis' visit to the U.S. Starting Sept. 22. Hornbeck will take the role of a 'presenter's friend' throughout his visit.
Sheri Jennings, the interview producer for Al Jazeera America (AJAM), explained this role "as an expert that stays with the anchor throughout the live broadcasts and can commentate on any breaking news or just converse during down time and explain how the events are unfolding."
[quote_right]Hornbeck has appeared on AJAM approximately 20 times since the network began in 2013.[/quote_right]
According to Fordham's website, Hornbeck's education includes a Ph.D. in theology and  ecclesiastical history from the University of Oxford, England, as well as degrees in both theology and medieval studies from Georgetown University, Washington D.C.
Jennings cited his extensive education as reasoning for the network's partnership with Hornbeck, and specifically mentioned  "his passion and expertise in the subject matter."
"We [AJAM] were also attracted to his youth and the energy he creates interacting with our anchors," Jennings said.
When asked about his experience with the network, Hornbeck echoed Jenning's enthusiasm, stating that "[he] deeply enjoyed working with Al Jazeera over the course of the past two and a half years."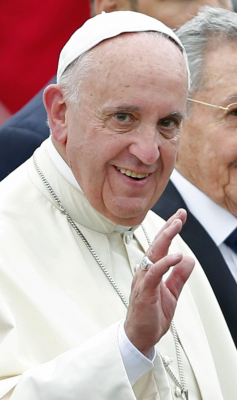 Hornbeck has appeared on AJAM approximately 20 times since the network started in 2013 to contribute to theology discussions of all types, including an interview where he discussed Pope Francis' Synod in 2014 that directly addressed homosexuality. Hornbeck is particularly well-versed in these types of contemporary social issues of the church, given that his research interests include such topics as  marginalization in contemporary Roman Catholicism as well as sexual diversity.
Hornbeck stated that Fordham, despite its Jesuit identity, does not intervene or limit any staff in expressing their personal views when it comes to matters of the Catholic Church. He explained that "the notion of academic freedom here at Fordham means, just like it does at every major university, that faculty are free to express their views on subjects that they are experts."
When asked about Hornbeck's  background, Jennings remarked that "it's great that Patrick comes from an Episcopalian background so he is not Catholic himself – which gives him important distance from the subject matter. As a theologian he is an expert in religion with a focus on Catholicism so he can speak to church matters without being part of that church."
Hornbeck commended Pope Francis for his openness in discussing a wide range of social issues.
"This Pope has adopted, during the course of his papacy, a whole series of different initiatives that seem designed to bring the Catholic people and [other] people generally more closely together," he stated.
[quote_right]"Some of the most interesting things that have happened during Pope Francis' visits to other countries have happened off script." [/quote_right]
Pope Francis is set to arrive on Sept. 22 in Washington D.C. and Sept 24 in New York, before heading south again to Philadelphia. Among the highlights of his visit are a planned address to a joint session of Congress, a speech to the United Nations General Assembly, as well as a trip through Central Park in his papal motorcade.
Hornbeck mentioned that Pope Francis' address to Congress was one thing in particular he was looking forward to as it is something no other Pope has done. However, he was most excited about what was not planned for the visit.
"What is fascinating about Pope Francis is that he has been in many ways a Pope of surprises and some of the most interesting things that have happened during his visits to other countries have happened off script. I have a feeling that the things people will talk most about is something that none of us can predict," Hornbeck said.
Hornbeck will appear on air in this role starting on Sept. 22 and will contribute to AJAM online with additional editorial content during the week.
Additional reporting by Ana Fota (News Co-Editor)