Fordham Skater Shines in National Competition
Joelle Forte Stages Comeback On One of Women's Ice Skating's Biggest Stages After A Hiatus
Last month at the 2009 U.S. figure Skating Championships in Cleveland, Ohio, Joelle Forte, FCLC '10, finished 12th overall in the Senior Ladies Division.  During the telecast of the ladies free skate, the television announcers watched mostly in silence. There was very little they could say about Forte. Who was she?  How did she get to Nationals?  How could someone at 22 be skating at such a high level?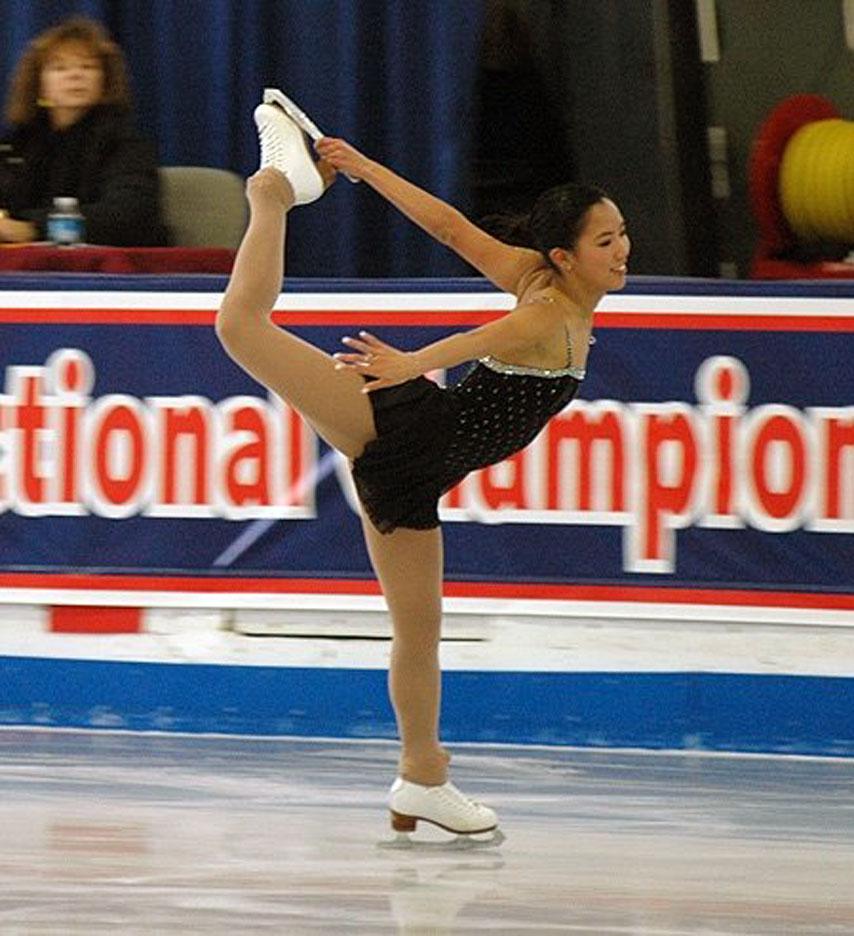 About five years ago, Forte, who has been skating competitively since the age of four, quit the sport after losing interest.  She decided to pursue her college degree and enrolled first at Nassau Community College and then Fordham University.    However, after a year and a half away from the ice, she decided to make a comeback.  As it turned out, the rededication to the sport was worth the effort.
Forte has made a triumphant return to skating world at the age of 22.  That age might not sound old for a comeback, but in the world of figure skating, it is unthinkable. At the 2009 U.S. Figure Skating Championships, she was the oldest in the field of 23 skaters and eight years older than the youngest competitor.  However, Forte isn't looking to join the old folks home just yet.  There is still much on the ice to accomplish.
"I've kind of realized this year to not look at competition as a big thing," Forte said. "I've tried to look at it as another day that you practice. I say to myself, 'I've done this in practice a million times.  I can do it again.  You can get back into your zone. If you don't do it in practice, you won't do it in competition.'"
While Forte may have been portrayed as an underdog on television, her skating friends were not surprised in the least about her success.
Brady Chin, a junior at Stony Brook University who has known Forte since he was 11, admires her demeanor on the ice.
"Joelle is incredibly goal-oriented and stays so cool under pressure," Chin said. "She knows what she wants in her skating career, and she knows exactly how to approach it.  She's not afraid to succeed either; that may sound very strange, but a lot of athletes don't believe in themselves enough to think they deserve success."
Taylor Chang, a freshman at New York University who has known Forte for the last five years, loves her raw skating ability.
"She is very powerful on the ice," Chang said. "When she jumps, its like a whooshing sound. It might sound so cliché, but she really makes it look a lot easier than it really is."
With that mindset and skill, Forte had one of her greatest skating season in 2008-09. She was able to win the 2009 North Atlantic Regional Championships in October and the 2009 Eastern Sectional Championships in November. However, her grit and determination helped her win the Eastern Sectional, which had served as an obstacle for many years in qualifying for the Nationals.
In all three competitions, Regionals, Sectionals and Nationals, Forte was able to skate six clean programs achieving the consistency needed in securing a place at the top of the sport. However, that journey toward perfection had been a long time in the making.
Forte, who is the youngest of five children, enjoyed skating at an early age. As a toddler, she used to rollerblade inside and outside of her Merrick, NY home.  However, Forte gives credit to her sister Caitlin for her beginnings on the ice.
"I always used to follow my sister," Forte said. "We were at a rollerblading party. A lady there said I should take private lessons. Since we lived five minutes from the Newbridge Arena, my mother suggested to my father that maybe I could do that on ice."
At the age of four, Forte started competing. She became a natural skating talent and began winning trophies. Her first major competition took place at age nine when she finished third at the Juvenile level in the North Atlantic Regionals. It was the first step toward becoming a successful career.
The following year Forte advanced to the Intermediate level. While she still desired to have fun, as she grew older and more disciplined, her competitive spirit grew for the sport.
"As you get older, everything becomes harder, and then you start putting pressure on yourself if you mess up," Forte said. "You only have a couple of minutes to show what you can do on the ice."
In 2000, Forte made what she believed would be one of many trips to the Nationals. She finished ninth at the Novice level. Unfortunately, what appeared to be a road to stardom came to a screeching halt.
"I really didn't get that much better, as your supposed to every year," Forte said. "I didn't have the harder jumps down consistently, and I had a lot of back problems. Also, it's tougher in the Eastern Section because there are a lot of talented skaters."
Forte's successful return has encouraged her to move forward, though, assisted on her journey by two great coaches. Elaine Zayak, a former U.S. and world champion, and Dmitri Gromov have helped her development. While the national media has hyped other skaters, Forte has worked hard to achieve her goals without a lot of attention. She practices two to three hours a day, five days a week, in different ice rinks in New York and New Jersey. She will participate in skating events throughout the summer as a way to tune up for the start of major competition.
Next season, Forte receives an automatic spot in the Eastern Sectionals because of her first-place finish in November.  She hopes to advance to the Nationals and improve on last month's 12th-place showing. While Forte may never appear on a Campbell's soup can or a Wheaties cereal box, she will try to defy her age and long odds to attempt to become a U.S. figure skating champion.