Virginia Woolf's "Freshwater" at Women's Project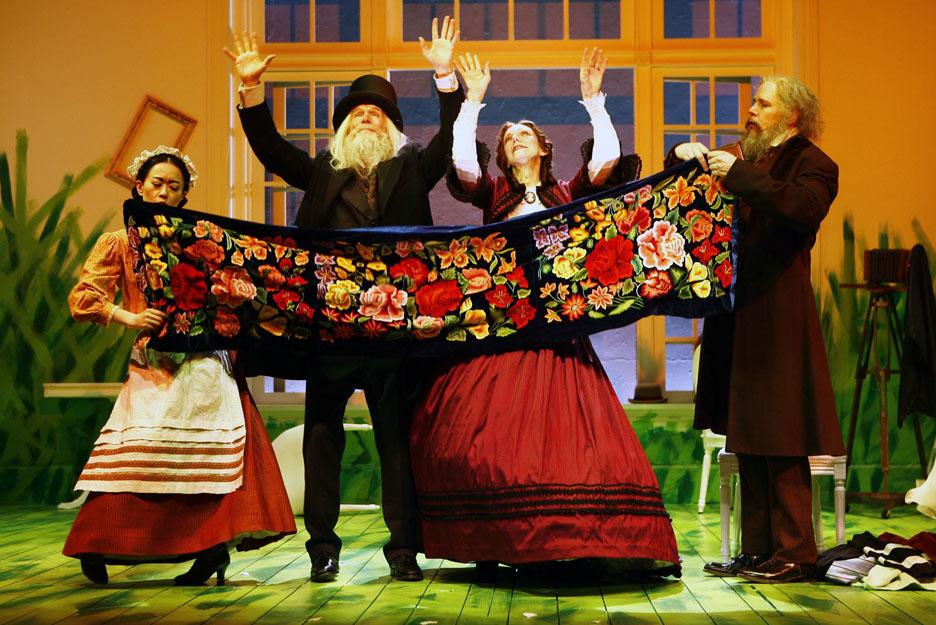 Published: February 12, 2009
In September of last year, Theresa Rebeck, writer for the Guardian, posted a controversial blog which reported that over 12.6 percent of shows on Broadway for the 2008/2009 season were written by women. A startling rate when you consider that in the 1908/1909 season (eight years before women were granted the right to vote) it was 12.8 percent.
It's numbers like these which make organizations such as the Women's Project a pertinent part of culture within New York City theatre. In a space of their own, better known as The Julia Miles Theatre on West 55th Street (a mere five blocks from Fordham College at Lincoln Center), the Women's Project, a nonprofit theatre company, aims to develop and produce the work of female playwrights and directors. Though the size of their stage might be meager compared to most on Broadway, their ambitions are certainly not. Since it was founded in 1978, the goal of the organization has been to increase the 20 percent of women nationwide who are given opportunities to produce their work.
One of the women working toward that mission is Columbia University professor and producing artistic director of the Women's Project, Julie Crosby. Crosby is a veteran of the stage.
"After two years of working in the commercial theatre as a producer and manager, I was recruited by the Women's Project. I deeply believe in their mission, and I knew I could make a difference," Crosby said. It was Crosby who suggested the company's current project, "Freshwater" by Virginia Woolf, a play she first attempted to teach to her students at Columbia; however, it proved unsuccessful as a teaching tool.
Crosby's struggles mirror Woolf's own when she was writing the play. In 1923, the same year that she was writing her most prodigious novel, "Mrs. Dalloway," Woolf finished the first version of her play, "Freshwater." Originally, "Freshwater" was written to be performed by and for Woolf's own family, but when Woolf wrote a second version in 1935, she intended to have it produced for the stage. Sadly, though, it was never produced—that is, until now.
Now, 127 years after the anniversary of her birth, Woolf's play has been selling out houses and is becoming the most acclaimed play produced by the Women's Project to date. (So much for a play intended for a few friends and family members.)
Set in a summer in Victorian England, "Freshwater" chronicles a day with the Camerons—Julia Maragaret and John Cameron (Woolf's aunt and uncle)—and their friends: painter George Frederic Watts, actress Ellen Terry and poet Alfred Lord Tennyson. Unlike the bulk of Woolf's work, "Freshwater" is a comedy at its core, complete with porpoises, coffins and loose turkeys.
The play's success is also in part due to the amazing team assembled at the Women's Project; among them is director Anne Bogart, with whom Crosby had the opportunity to work on Laurie Anderson's "Songs and Stories from Moby Dick."
"Anne rocks. I knew she was the perfect person to bring Woolf's wacky script to life, and about two minutes after I put it in her hands, she became as excited as I was about it and agreed to come on board for the production," Crosby said.
Another successful component of the Women's Project has been their collaborations with actors from renowned troupes such as the SITI Company, who participated in "Freshwater." "They are so smart, so dedicated and so passionate—just the qualities that make for exciting theatre," Crosby said.
Woolf once wrote in her essay "A Room of One's Own" that it is not that women lack the talent to be great artists, but rather the resources which are so readily afforded to men to produce their works. It is women and men like Julie Crosby who help make Woolf's work and words a reality.
"If one of the greatest women writers of all time can't get her play produced, then what hope does the younger generation of women artists have? I like providing hope."