Do FCLC Students Fear a Rumble in the Bronx?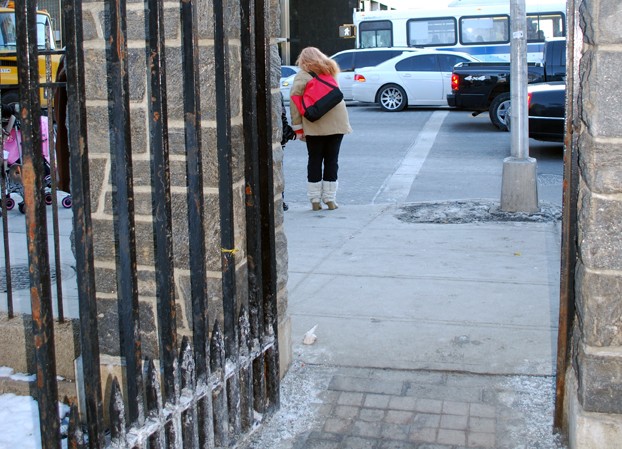 Published: February 12, 2009
Security Alert: On Feb. 2, a student was robbed while stumbling back from Howl on Arthur Avenue at 3 a.m. The assailant was tall and wore a hoodie, so the victim couldn't see his face. He demanded the student's money and iPhone, and when the student refused, the perpetrator reached in his pocket, pulled out a magic wand and zapped the belongings out of the student's pockets. He then fled southbound, a trail of glitter following his footsteps.
Wait, what?
To many students at Fordham College at Lincoln Center (FCLC), security alerts reporting incidents at Rose Hill have become so common that their eyes glaze over when another appears in their inbox. Because of the frequency of the alerts, it's possible that FCLC students could develop a certain image of Fordham College at Rose Hill (FCRH) that would make it a less-than-desirable place to visit. But are these frequent e-mails about robberies and assaults indeed driving FCLC students away, or does their indifference supersede the threat of falling victim to a similar attack?
Either way, John Carroll, director of security services, reports that the university is required by law to report all incidents that occur on or around campus.
"Every university in the U.S. is under the Jeanne Clery Act, which was named for a woman who was raped and murdered at Lehigh University," said Carroll. "It is the responsibility of security or the police force to report incidents to students."
In regards to the security e-mails, many FCLC students aren't afraid to admit that they have become conditioned to hearing about incidents around the FCRH campus.
"At first I was frightened by [the security alerts] but now, to tell you the truth, I tend to ignore them," said Vincenza Di Maggio, FCLC '11.
"I generally ignore the safety e-mails from Rose Hill because I view many of the incidences as the result of the victims not using common sense," said Dana Chafiotte, FCLC '11, "For example, I've heard stories of a student who was robbed while carrying two hundred dollars in [his] wallet. Anyone walking anywhere with that much money on them is asking for trouble."
"I ignore the e-mails from Fordham Security for the most part—we get them so often that it's hard to pay attention to them anymore," said Nina Bova, FCLC '10.
Other students read the e-mails and recognize their significance, but refuse to allow the alerts to make them feel uneasy.
"I read the e-mails, but they don't frighten me," said Amy Almukhtar, FCLC '11.
"When I receive e-mails from Fordham Security about a fellow student being robbed or assaulted in the Bronx, I don't ignore the e-mails, but I don't get too worked up about it either," said Ada Chiu, FCLC '12. "Since I grew up in New York City, stories about murders, assaults, robberies and the like don't really surprise me."
Carroll stresses that very few communities have such an organized system of informing residents about what's going on in their neighborhoods.
"We put out the alerts because we're dealing with a population of young adults who should take this information and use it to best protect themselves," Carroll said.
Those who have ventured to Rose Hill, either for class or fun, gave mixed reports on how secure they felt on and around the campus.
"I never felt that while I was at Rose Hill I was in any danger, but there certainly are aspects of that campus that feel unsafe, such as the surrounding neighborhood," said Bova, who has taken a class at FCRH. "It's fine during the day, but I wouldn't want to go there at night. I was also there when there was a mentally unstable individual apprehended at Walsh Library. [While] I didn't feel threatened, it definitely brought into harsh contrast the issue of security that the Rose Hill campus faces."
"I have been [to Rose Hill] for parties a couple of times because they're fun, but I was definitely nervous walking around at night, from the Ram Van to the off-campus houses," said Mona Ariton, FCLC '09. "One time, two of my girlfriends and I we were there after the last Ram Van and needed to get back to FCLC. It was raining and my friend wasn't feeling well. We asked the dorm guard if he could call a cab for us or at least give us a number, but he told us to just go out and catch one on Fordham Road (Three girls, freshmen, each barely over five feet tall). We finally went to the gatehouse, soaked and cold, and got a number from the gatehouse guard, who was more annoyed that we interrupted his DVD viewing. That whole experience turned me off from Rose Hill for a while."
Although students occasionally feel a chill down their spine when roaming the surrounding neighborhood, Carroll stresses that most security issues in and around FCRH are the result of irresponsible student behavior.
"Problems for students at Rose Hill happen at 3 or 4 a.m. when students are coming back from bars. We as a university provide all kinds of services, like vans around the neighborhood for kids to get back to campus, but some still walk back in the middle of the night when they're not best able to take care of themselves."
Carroll claims that the largest security issues that occur on campus at Rose Hill are vandalism and petit larceny committed by students. Although reported incidents off-campus could generally be categorized as more threatening to a student's safety, FCLC students don't seem to be avoiding FCRH out of fear. Most FCLC students who choose to stick around their own campus give reasons that have more to do with personal preference.
"I don't go [to Rose Hill] because I simply don't feel a need to go there. Most of my friends are at Lincoln Center, and I don't know that many people at Rose Hill," Chiu said.
"The commute becomes too long to go [to FCRH] just to spend my free time at the library or Arthur Avenue," said Bova. "Also, compared to Manhattan, there's not that much to do; rather, the things that are available at Rose Hill aren't very varied, so generally I find that if I'm there it's for a very specific reason."
"I just prefer spending my time in Manhattan," said Almukhtar. "I'd rather be out and about at restaurants/bars/museums/galleries than at some house party up at Rose Hill."